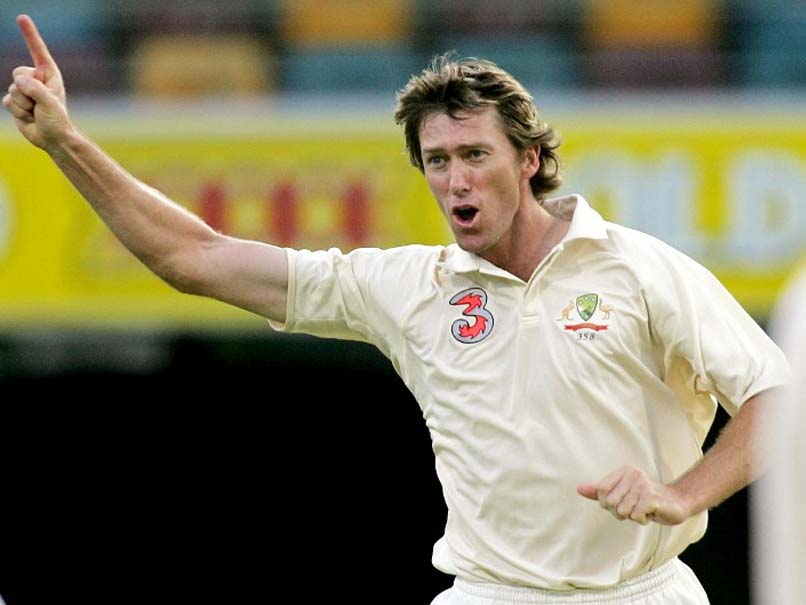 Glenn McGrath excelled on Indian pitches during his career, picking 31 wickets from 7 Tests.
© AFP
The Virat Kohli-led Indian cricket team has been flying high in Test cricket over the last few months. Ranked no. 1 in the world now, Team India is on a 19-match unbeaten run in the longest format of the game. India handed West Indies, New Zealand and England comprehensive drubbings over the last few months, before notching a 208-run win over Bangladesh in a one-off Test on Monday. With Australia visiting India for a four-match series starting from February 23, legendary bowler Glenn McGrath has offered some advice to the visitors' pacers.
Speaking to cricket.com.au, McGrath, who boasts of an enviable record on Indian pitches with 31 wickets from seven matches, asked his compatriots to go on the attack against Indian batsmen, who have been in devastating form over the last few months.
"People say I was not an over-attacking bowler, or a defensive bowler – to an extent that was probably right but it meant I could have really aggressive field placements (in Australia) and that's how I looked to take wickets," McGrath said.
"In the sub-continent, you don't have that bounce, you don't have that seam, you don't have that carry. Okay, how are we going to take wickets? The new ball will still carry through quite well, so you're looking to take wickets caught in the slips, caught behind with the new ball," he stated.
"Then you go through a patch when the ball really does nothing – it's not carrying through, it's not reverse swinging, so then you really have to dot it up (stop the scoring). Give them no easy runs, bring in maybe a short mid-wicket, a short cover and just ring the field up. Work on the ball, the wicket's going to be abrasive and after a while it will go reverse swing," McGrath added.
"As soon as that ball starts reverse swinging, it's a little bit more in favour of the bowler and you can attack a bit more. And be prepared to bowl long spells, build pressure and look to take wickets that way. So that's my mindset in the sub-continent," the Australian great said.
Batsmen more the issue for Australia
McGrath went on to add that the Australian batsmen will have to do better if they are to do well in India. Referring to the Aussies' humiliating 3-0 series drubbing in Sri Lanka last year, the former pacer said the team will need to come up with a plan to excel on Indian tracks.
"Our batsmen have been more the issue in the sub-continent, they don't know whether to attack or to defend. At times they look like they over-attack, and at times they look like they over-defend – there's no in-between," he said.
"In Sri Lanka, it just seemed that they went really hard or they just closed up shop. And they tried different things but it didn't work, so they have to come up with a plan of 'okay, what shots are we going to play to keep the score rotating'," McGrath concluded.
The four-match Test series between India and Australia will start in Pune from February, with India being widely seen as the overwhelming favourites to extend their 19-match unbeaten streak, as well as a 20-match unbeaten run at home.