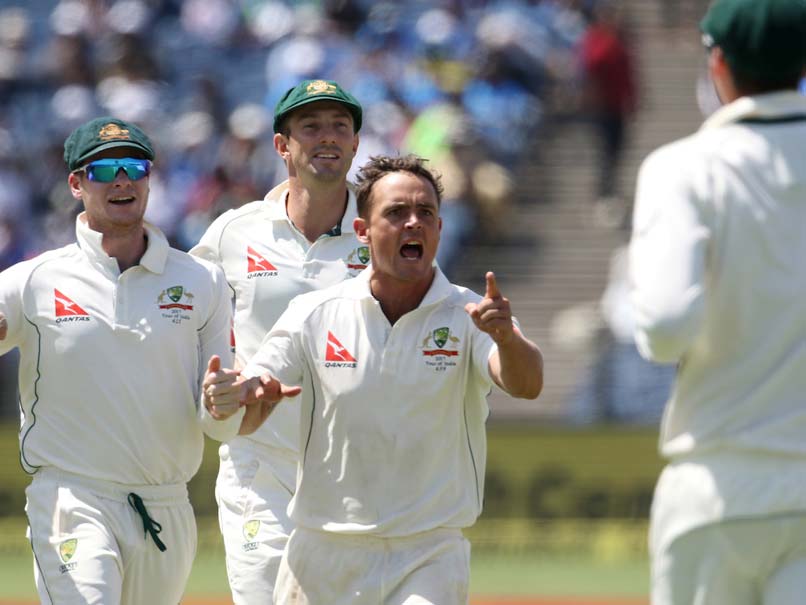 India vs Australia: Hosts lost the match by 333 runs
© BCCI
Riding on Steve O'Keefe's superb performance with the ball, Australia decimated India's batting line-up to hand them a massive 333 runs defeat in Pune to take 1-0 lead in the four-match Test series. India's batting were in shambles again as they survived for only 33.5 overs in the second innings and were all-out for a paltry total of 107 runs (SCORECARD)
Catch the highlights from Day 3 of the 1st India vs Australia Test in Pune
15:40 IST: That's it from us. Hope you enjoyed our coverage. Adios!!
15:36 IST: India can't afford to breathe easy now. The next Test will be played from March 4 in Bangalore. Still a week to go 
15:30 IST: Not only outplayed, India have been completely outbatted and outbowled in this Test match. It's a defeat which will be remembered by this team for a very very long time. 
As @ShaneWarne told me, an occasional kick up the backside is good because it gets you focussed again. This could awaken India.

— Harsha Bhogle (@bhogleharsha) February 25, 2017
15:25 IST: Steve O'Keefe: It's a good feeling. The first innings was a bit of a blur. For myself, the ball tended to skid on more than spin and it exposed the stumps. We know how hard it is to win over here but we still have to do a bit of work if we have to win the series. I'll remember the Hill End forever now. It was great to have the belief of the captain who backed me after my first six overs. Lyon bowled brilliantly as well. Our batters have been working very hard to not get beaten on the inside. I've enjoyed all my experience in India so far. The crowd's been very nice. Looking forward to Bangalore, a very beautiful place again. Looking forward to the challenges.
15:23 IST: Steve O'Keefe is Man of the Match. 
With figures of 12-70 off 28.1 overs, Steve O'Keefe is the Player of the Match! https://t.co/wIEKYM46fO #INDvAUS pic.twitter.com/KiLruLq95a

— cricket.com.au (@CricketAus) February 25, 2017
15:21 IST: Steve Smith after the match: Really proud of how the boys have performed. Winning the toss was a bonus. Guys had good plans. 260 was a good total and bowlers backed us up. O'Keefe was outstanding throughout. We've got some good players of spin in our squad. We've got a well rounded squad. We thought if we had a bit of luck and played to our plans throughout, we'd be a reasonable show. I'm proud of this achievement. Mitchell Starc's batting in the first innings was important. To have a lead of 160 is massive on this wicket. Spinners were consistent and let the wicket do the natural variation bit.
Steve O'Keefe was disappointed with the way he started. Probably bowled a bit too full. But when he pulled his length back, he looked like taking a wicket every ball. He's worked really hard for it. I had a bit of luck, but to score a hundred on a second innings wicket like that took a lot of grit and determination. I was pleased that I was able to get the team to a good score.
15:20 IST: Virat Kohli after the match: We got outplayed in this game. No two ways about it. Australia were much better. We've got to take it on the chin. We never took them for granted. That's probably our worst batting display in the last two years. It was a case of not applying ourselves. Have to sit down and think what we did wrong.
Batting was more disappointing than the bowling. We know that Pune is generally low and slow. They exploited it better than us and bowled at a good pace. There was a lot of pressure created on us. They deserved to win this game. I think we did pretty well. If you don't hold onto the chances, it's tough to get back in the game. As I said, I get no excuses, I take the loss on the chin. Big learning Test for me too. Sometimes you want to do stuff as a captain but there's only so much you can control. 
Sing it LOUD boys! @CricketAus #Proud

— Peter Siddle (@petersiddle403) February 25, 2017
What a win by the boys in Pune.@stevesmith49 @darren_lehmann. Enjoy the moment start of something special.#go Aussies

— Mark Waugh (@juniorwaugh349) February 25, 2017
Incredible Aussie performance in Pune. So happy for Steve O'Keefe!He has toiled so hard for this. @stevesmith49 amazing 100 too.

— Shane Watson (@ShaneRWatson33) February 25, 2017
14:48 IST: That's it!!! The final wicket goes and India face a massive defeat by 333 runs. Australia's first win in India after 2004
14:42 IST: OUT!!! So, the No.9 Ishant Sharma goes for a duck. Lyon gets his third wicket. India just a brink away from a loss 
14:40 IST: OUT!!! Ravindra Jadeja goes now. For a change, Nathon Lyon takes the wicket 
14:32 IST: All of them are playing for the turn and Steve O'Keefe is bowling the straight deliveries
14:31 IST: OUT!! The Indians are completely clueless about Steve O'Keefe. Pujara's resistance comes to an end at 31
14:30 IST: We are back after tea!!
That's tea! Time to take a deep breath because this is truly incredible. SOK on another level this Test: https://t.co/XqvYc0QYaV #INDvAUS pic.twitter.com/WzBWHUCLcu

— cricket.com.au (@CricketAus) February 25, 2017
14:09 IST: OUT!! Another wicket for O'Keefe as he completes his 5-fer. Saha is not happy with the LBW decision but he can't do anything about it as there are no reviews left. It's Tea too
Who has two thumbs and has just taken a Test 10-fer... #INDvAUS pic.twitter.com/H0td6jBXvJ

— cricket.com.au (@CricketAus) February 25, 2017
14:07 IST: FOUR!! a low full toss by O'Keefe. Perhaps the first bad ball in ages.
14:00 IST: O'Keefe shows the ball as he completes 10-wicket haul in the Test
13:58 IST: OUT!! Decision overturned by the third umpire and the 5th wicket goes for India. 
13:55 IST: Wrapped on the pads and O'Keefe appeals for an LBW. Not-out says the umpire but Australia going for a review
13:53 IST: Nine wickets already in the game for Steve O'Keefe. He has been a real find for Australia
13:52 IST: FOUR!! Ashwin, the new batsman, reverse sweeps it with the turn and for a boundary. 
13:46 IST: WICKET! Rahane goes for the drive. Couldn't keep it down and finds the man at covers. Lyon makes no mistake and India lose their fourth wicket. O'Keefe picks up his third wicket of the innings
13:45 IST: Rahane sweeps and sweeps well. Gets it past the man at deep square-leg and picks up a boundary
13:43 IST: Now Pujara gets into the act. Just helps it round the corner and picks up a boundary. Lyon needs to get his line right coming round the wicket
13:41 IST: Four more! This time it was a much more controlled shot from Rahane. Rocks back and hits it in front of square for a boundary.
13:40 IST: Four!! Rahane goes for the cut, gets the edge and it flies off the bat over the top of the slips. O'Keefe continues to get purchase from the track
13:35 IST: O'Keefe continues to trouble the Indians. Rahane struggling to cope with the turn, beaten twice in the over
13:33 IST: Australia keep pegging away at the wickets. India need a partnership with Pujara and Rahane at the crease
13:23 IST: OUT!!Steve O'Keefe dislodges Virat Kohli and he is pumped up. India in big big trouble
13:22 IST: FOUR!! Pujara hits it towards the third man area for a boundary
13:20 IST: So, Josh Hazlewood comes into the attack now. He bowled well in the first innings
13:15 IST: FOUR!! Good shot by Kohli and that's his real self. He reaches on 11 with that boundary 
13:10 IST: O'Keefe appeals for an LBW but the umpire says not-out. UltraEdge reveals that the ball clipped the pad before hitting bat. Virat survives 
13:00 IST: Virat Kohli and Cheteshwar Pujara will have to bat exceptionally well here minus reviews. India are 27/2 in 10 overs. Kohli 5*, Pujara 2*
Only one half century partnership by India yet in match. Best pair in the middle. Pujara & Kohli must show wherewithal & put up fight

— Cricketwallah (@cricketwallah) February 25, 2017
Both openers gone! Eight to go for the Aussies. Kohli to the crease.https://t.co/XqvYc0QYaV #INDvAUS pic.twitter.com/iXxuTGaJ9G

— cricket.com.au (@CricketAus) February 25, 2017
12:50 IST: OUT!!!Poor and selfish to go for the review. It's a plumb in front and KL Rahul goes for 10
12:49 IST: Nathon Lyon appeals for an LBW and given again by the umpire. KL Rahul goes for the review 
12:48 IST: Cheteshwar Pujara is the new batsman in.
12:44 IST: OUT!! The ball tracking shows the ball hitting the stumps and the third umpire stays with the decision. Vijay is out on 2
12:43 IST: Wrapped on the pads of Murali Vijay and Steve O'Keefe appeals for an LBW. Given out by the umpire. India are going for a review
12:39 IST: Puff of dust and the ball rises sharply. Great effort by the forward short leg fielder to grab it. It had definitely hit Rahul's gloves
12:32 IST: FOUR!!  Nathon Lyon pitches it on middle, gets it to spin further down leg. Beats Wade and runs away to the fence. 4 byes for India 
12:31 IST: Nathon Lyon to share the attack and first runs for India. KL Rahul off the mark
12:30 IST: Starc starts off with a maiden.
12:28 IST: The Indian batsmen will have to come up with something spectacular to save the blushes
12:26 IST: The highest chase in 4th innings in India is 387. India will have to achieve highest chase ever 
12:25 IST: So, mammoth target ahead of India. Vijay and Rahul are at the crease. Vijay is on strike. Starc will open the attack
12:02 IST: We will be back after the lunch!!
Innings Break! Australia all out for 285, lead India (105) by 440 runs. Follow the game here - https://t.co/Px6Gu2Qz1R #INDvAUS pic.twitter.com/4ryRC8F8ch

— BCCI (@BCCI) February 25, 2017
11:47 IST: Ultra technique shows the edge and the third umpire stands by the decision. Australia are all-out on 285 and set India a target of 441 runs. 
11:46 IST: Loud shout of a caught behind and the umpire raises his finger. Australia goes for a review  
11:45 IST: Australia are 285/9 after 87 overs, lead India by 440 runs. Steve O'Keefe 6*, Josh Hazlewood 2*
Suit-Boot waali Batting. India need soojh-boojh waali Batting. First Australia ko all out karo. Lunch reminds of school Recess time#IndvAus pic.twitter.com/FCLR59AZHb

— Virender Sehwag (@virendersehwag) February 25, 2017
11:40 IST: FOUR!! What a brilliant on-drive by Steve O'Keefe. Right from the middle of the bat
11:35 IST: It's the last wicket so the lunch has been extended
11:30 IST: OUT!! Wrapped on the pads and the umpire raises his finger. Umesh Yadav continues to impress as Lyon goes for 13
11:27 IST: SIX!! Now, Lyon joins the party and hits the maximum
11:24 IST: Australia are 269/8 after 81 overs, lead India by 424 runs. Nathon Lyon 6*, Steve O'Keefe 0*
11:22 IST: FOUR!! Nathon Lyon sweeps to backward square leg for a boundary
11:16 IST: OUT!!! Carrom ball by R Ashwin and traps Starc. He goes on 30
11:15 IST: SIX!! In the arc again and hammers that over the deep mid-wicket
11:13 IST: SIX!! Starc sees a tossed up delivery and launches it over long-on
One of the skippers greatest knocks that, well played Steve "Smudge" Smith, awesome !

— Shane Warne (@ShaneWarne) February 25, 2017
11:07 IST: After a brilliant 100 Smith's innings comes to an end. He scores 109 
11:06 IST: OUT!!! Steve Smith has been given OUT lbw, but he decides to review. 
11:05 IST: The highest chase in 4th innings in India is 387. India will have to achieve highest chase ever 
11:00 IST: SIX!!! Starc uses his reach again and absolutely bludgeoned that ball. The lead is getting out of the reach now for the Indians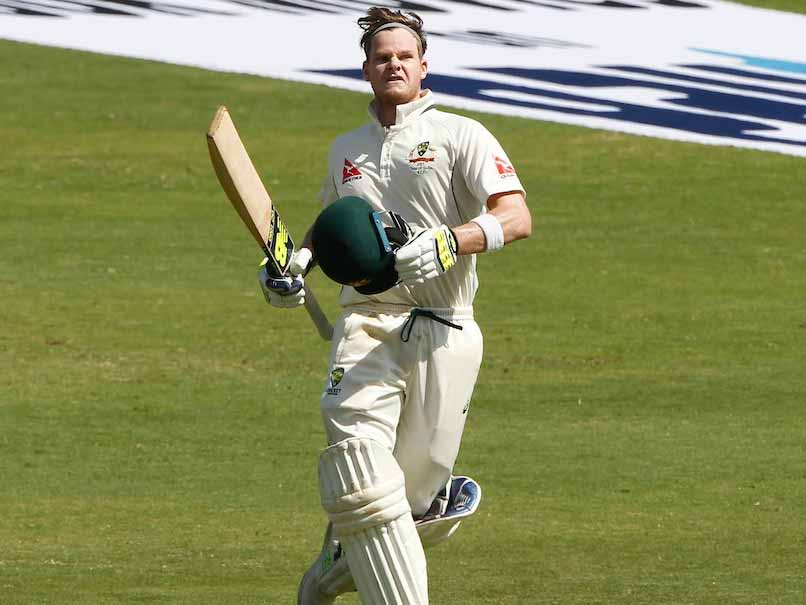 10:59 IST: FOUR!!! Piling on the agony here Australia. Starc is dealing in boundaries now
CENTURY! @stevesmith49 you beauty! What a knock! A gritty ton from the Aussie skipper - his 18th in Tests and his first in India #INDvAUS pic.twitter.com/baYqnaznEs

— cricket.com.au (@CricketAus) February 25, 2017
10:53 IST: Steve Smith completes his 21st Test century and he is pumped up!!! you beauty Smithyyy. 10th Test ton as a captain in 21 Test matches and 37 innings
10:52 IST: FOUR!!! Excellent touch by the Australia captain and he is on 98 now
10:50 IST: Steve Smith is on 93 and nearing his 18th Test ton
10:45 IST: FOUR!!! Yadav overpitches and Starc smokes it towards extra cover boundary
10:42 IST: Umesh Yadav has bowled well in this match, may be Virat Kohli has under bowled him 
10:39 IST: Mitchell Starc, who scored a 50 in the first innings, comes to the crease now
10:37 IST: FOUR!! Poor delivery by Jayant Yadav and Smith spanks it for a boundary. 
10:32 IST: OUT!!  Edged and caught! This time Matthew Wade walks and makes the call easy for the umpire 
10:27 IST: FOUR!! Umesh Yadav overpitches slightly and Matthew Wade caressed it nicely for a cover boundary
10:25 IST: Australia's lead cross 350 now. Steve Smith 83*, Matthew Wade 14*
10:20 IST: Australia have scored 50 runs in the 16 overs of the session so far and lost 1 wicket
10:14 IST: FOUR!! Little bit of width on offer for Matthew Wade by Jayant Yadav and he cuts it for a boundary
10:10 IST: Australia are 184/5 after 60 overs, lead India by 339 runs. Steve Smith 80*, Matthew Wade 6*
10:04 IST: Matthew Wade sweeps it in front of square for two runs. 
09:59 IST: FOUR!!! Smith comes down the track and hits it over the infield towards the mid-wicket for a boundary. 
09:53 IST: Australia are 171/5 after 54 overs, lead India by 326 runs. Steve Smith 72*, Matthew Wade 1*  
09:50 IST: OUT!!! India get the first wicket. Just a feather touch from Mitchell Marsh's bat and Wriddhiman Saha grabs it. He goes for 31 off R Ashwin
09:49 IST: DROPPED!! It goes for a boundary too. Smith lunged forward and got an inside edge but Rahane was very late to react and missed a chance early in the morning
09:43 IST: Australia have started off well and will look to stretch the lead beyond 400
I would imagine we'll have a fourth day if Aus bat out mist of first session. Can't see India collapsing as staggeringly as they did y'day

— Cricketwallah (@cricketwallah) February 25, 2017
09:42 IST: FOUR!! Mitchell Marsh goes at the backfoot again and cracks it through cover off R Ashwin
09:40 IST: The ball turning viciously now. Not easy for the batters at all
09:38 IST: FOUR!!! Backfoot punch by Mitchell Marsh and races away to the boundary 
09:36 IST: Ravindra Jadeja to share the attack with Ashwin. Turn straightaway for him
09:34 IST: Appeal for a run-out, but Smith put in the dive and that might have saved him. Yes, he is safely in and gets 2 runs. Australia's lead goes past 300
09:28 IST: So, the players of both the teams are on the field. Steve Smith to face the first ball and India's most successful bowler in the game, R Ashwin to start the proceedings
Bull versus Bison #INDvAUS pic.twitter.com/Ts1HAtAlwD

— cricket.com.au (@CricketAus) February 25, 2017
Shout of "Kohli" from a kid in the crowd and the captain obliges #TeamIndia #INDvAUS pic.twitter.com/myXCpBGLca

— BCCI (@BCCI) February 25, 2017
09:15 IST: "The cracks have opened up a lot more and the batting will be all the more difficult,"warns Sunil Gavaskar at the pitch report.
15 minutes to go for Ball 1 on Day 3 #TeamIndia #INDvAUS @Paytm Test cricket pic.twitter.com/9rHIvqbdqq

— BCCI (@BCCI) February 25, 2017
09:11 IST: So, Australia are 298 runs ahead of India and if they bat out two or more sessions today, the hosts will be under serious trouble. On the other hand, Virat Kohli and Co. will look to emulate the heroics of Sunil Gavaskar and Virender Sehwag in the past, but they have a huge task ahead of them.
09:05 IST: Hello and welcome to the live blog
India started off on a poor note as Murali Vijay (10) was the first one to go back to the pavilion with the score on 26. Cheteshwar Pujara (6) soon followed Vijay to the dressing room as India found themselves in a spot of bother after losing two early wickets.
Indian captain Virat Kohli didn't trouble the scorers much as the 28-year-old was dismissed for a rare duck, caught at second slip with Starc doing the damage with the ball.
Despite KL Rahul's half-century, India suffered a spectacular collapse after the opener threw away his wicket with a risky shot that was promptly caught. India lost their last seven wickets for just 11 runs to hand the initiative to Australia.
During the visitors' second innings, skipper Steve Smith was dropped thrice as he went on to end the day unbeaten on 59. With six wickets still in hand for Australia, who have a lead of 298 runs on a challenging track for batsmen, India will have all to do come Saturday morning.