Story Progress
Back to home
India vs Australia: Anil Kumble Backs Ajinkya Rahane, Says No Question Of Dropping Him
India coach Anil Kumble thinks it is time to move on from the Pune defeat and look forward to the next Test match to be played in Bengaluru.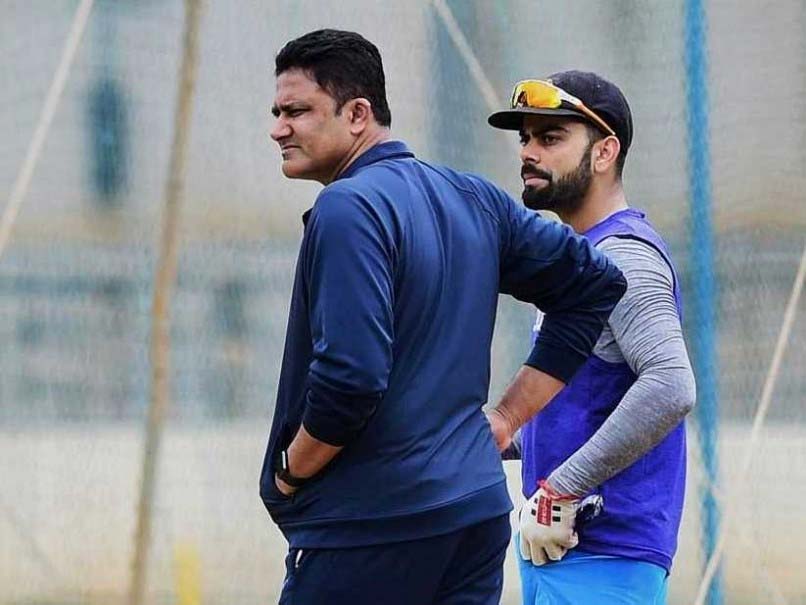 Anil Kumble wants to look forward ahead of the second Test match
© PTI
Highlights
Anil Kumble wants India to look forward to the second Test match

The loss in Pune is far behind, says Anil Kumble

There is no question of dropping Rahane, feels India coach
India coach Anil Kumble has come out in support of middle-order batsman Ajinkya Rahane, who off late has not been in the best of form, but the former India leg-spinner still has a lot of faith in the batsman. With people raising eyebrows on why Karun Nair was made to sit out after his triple-hundred, it seems the team management will still persist with Rahane.
"There is no question of dropping Rahane. He has scored really well. He has been extremely successful for the last couple of years. There is absolutely no question about that. In terms of the team composition we still haven't discussed on that. All 16 are available. Yes, it is unfortunate that Karun Nair missed out after he scored the triple hundred but that's the way the composition of the team has been that we look to play five bowlers and it was unfortunate he came in as a replacement."
Kumble thinks that the loss in Pune is far behind and it is time to look ahead for the next Test match. He also said that the Chinnaswamy wicket will be a good batting surface and hopefully it would be result-oriented.
"It has always been a good batting surface. I am sure it will be a result wicket. We are hoping it will be a result wicket," said Kumble in the press conference leading up to the second Test match starting on Saturday in Bengaluru.
"I don't want to look back. As a coach it is more important to look ahead. Yes, it was one of those games where things didn't go our way and you just need to move on. Another three Test matches are there in the series and we are looking forward to that. We have had a fantastic home season. It is just one of those games where things didn't go our way. More importantly for me as a coach is to look ahead and that's exactly what we have been doing as a team that what has happened is done and dusted. You can't really worry too much about that. Australia played really well. We didn't play well on that surface and it was challenging but we didn't adapt and every game you need to adapt and that's exactly what we are looking forward to."
Talking about the five-bowler theory and whether or not it is working for India, the former India captain said, "No. I don't think so. It all depends on what we believe is the right combination to win a Test match. If we believe that four bowlers are enough or five bowlers are needed, which four bowlers or which five bowlers all that depends on what we look at and our aim is to win every game."
The loss at Pune meant that India's unbeaten streak of 19 Test matches came to an end but it isn't something that is bothering the Indian coach.
"You can't keep winning every game. It has to come to an end at some point of time. Like I mentioned, winning games in the current scenario of Test cricket is quite challenging for an international side to keep going out there and winning and that is what this team has been able to do across conditions.
"We beat Sri Lanka, England, West Indies and against quality sides. We have won from difficult situations. We have adapted to various conditions and also various situations and that's what we did not do in the last game and that's why the result didn't go our way. We keep looking forward to this game so that we can start on a winning note."
Promoted
The use of the Decision Review System (DRS) has been an issue with the Indian team. Kumble defended all concerned on that too.
"We keep talking about it and I don't think we messed it up. If we look at the two series where DRS was introduced we did certainly better than the opposition, both against England and also against Bangladesh. It is too early to talk about that and you can always have hindsight but those calls were pretty close. I don't see a reason why we need to worry too much about that."
Topics mentioned in this article