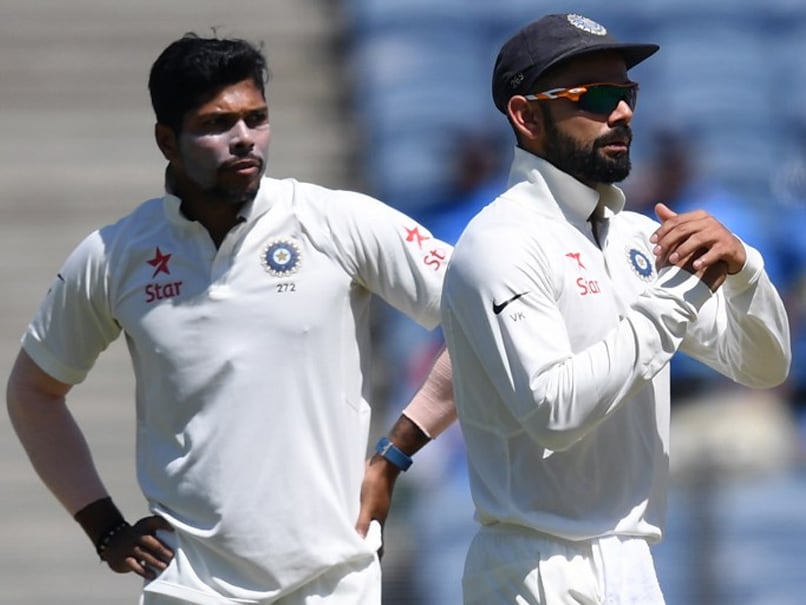 India wasted four fielding reviews in the first Test against Australia.
© AFP
It was a horror show from the Indian team in the first of the four Tests against Australia in Pune last week. The Virat Kohli-led team could only manage a combined total of 212 runs from their two innings as they suffered a 333-run humiliation at the hands of the visiting side. While India's formidable batting line-up crumbled under pressure in Pune, the team's hurried and inefficient use of the Decision Review System (DRS) also raised a few eyebrows.
During India's second innings, openers Murali Vijay and KL Rahul both wasted the hosts' two reviews during their lbw dismissals inside just six overs, leaving the team on shaky ground well before their second batting collapse within two days.
It hasn't been long that the DRS has been in use in India. The BCCI, earlier opposed to the concept, agreed to use DRS for the first time during a bilateral series during the five-match Test duel against England.
A total of seven Tests have been played by India with the DRS in use. The numbers related to its use by India, however, do not make for very good reading.
A total of 55 referrals have been used by India during the seven matches. Only 17 of them have resulted in an umpiring decision being overturned, which takes the team's success percentage in using referrals to 30.9 percent.
Of the 55 decisions, only 13 were batting reviews. The success rate during batting referrals by India is much higher, with seven of them being correct.
The problem lies with the fielding referrals. Out of 42 reviews, only on 10 occasions have India had a successful referral.
During the Pune Test against Australia, India wasted all four of their reviews while fielding, and only had one successful review while batting.
Wicketkeeper Wriddhiman Saha, who has a major influence on fielding reviews, and skipper Virat Kohli, who takes the final call, will have the burden of helping the side make more judicious use of the DRS, starting from the second Test against Australia in Bengaluru.
(With inputs from PTI)