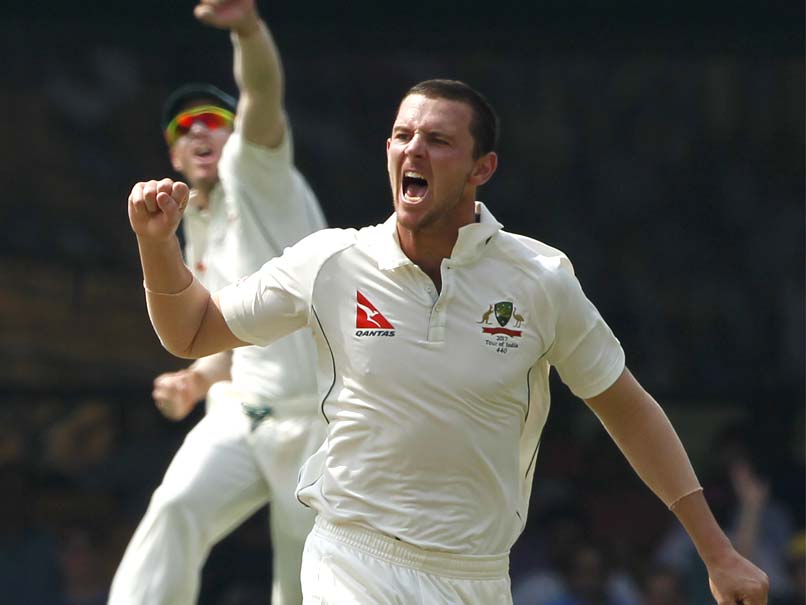 Josh Hazlewood says India will be feeling the pressure in Dharamsala.
© BCCI
Australia fast bowler Josh Hazlewood said on Thursday that it will be India and not the visitors who will be under pressure when the fourth and final Test match gets going at the Himachal Pradesh Cricket Association Stadium in Dharamsala from Saturday. Australia stunned the hosts when they humiliated India by winning the first Test in Pune by a mammoth 333 runs. India came back strongly to clinch the second Test in Bengaluru by 75 runs and level the series 1-1. The third Test in Ranchi ended in a draw.
Hazlewood expects a result-oriented pitch in Dharamsala.
"I think the wicket will determine a result. They need to win so the wicket they serve up will bring a result into the game. The pressure is firmly on them. We can draw it but we obviously want to win it, win 2-1 and win a series in India, which rarely happens," Hazlewood said.
"Before we came over, they were expected to win 4-0. The pressure is still firmly on them being 1-1 going into this decider and all the pressure is on them. I think the whole Indian team has (felt pressure), and probably the skipper more so. There's a little bit more pressure on him. It's just that they are expected to win in their own backyard, just as we are at home. So the more pressure we can put on the better."
Australia say the pressure is firmly on India ahead of the fourth Test https://t.co/OPdjQGoesu #INDvAUS pic.twitter.com/AxX91Zgike

— cricket.com.au (@CricketAus) March 23, 2017
Talking about the likely nature of the pitch at the HPCA Stadium, he said, "I'd love to see it fast and bouncy. But that's what they said in Pune as well and we did not quite get that. I think the way they saw Pat Cummins bowl the other day, they don't really want it any faster than Ranchi, I wouldn't think. We'd love it to be that way, would feel a bit more like home, but I don't think we'll get that."
On the physical toll of spending more than two complete days in the field in the last match, Hazlewood said, "You're probably going to bowl that many overs in a Test match, it's just the fact we did it one go.
"It was a long time out in the field but that's what you prepare for and that's what a Test match brings. Everyone has pulled up well and ready to go again. I might roll the arm over lightly just to see how it goes. We've bowled enough so far this series and we've been playing non-stop for a long time now so we know what we're doing bowling-wise it's just a matter of recovering and preparing for the next Test as best we can.
#INDvAUS pic.twitter.com/vmOTUhgblE

— cricket.com.au (@CricketAus) March 23, 2017
"It's pretty exciting. We had that win in Pune, feels quite a while ago now, but we've competed for every day of Test cricket so far. We're pretty excited that if we can put a couple of good days together here in Dharamsala against a great opposition that we can come away with a win which is something you'd never forget."
(With inputs from PTI)