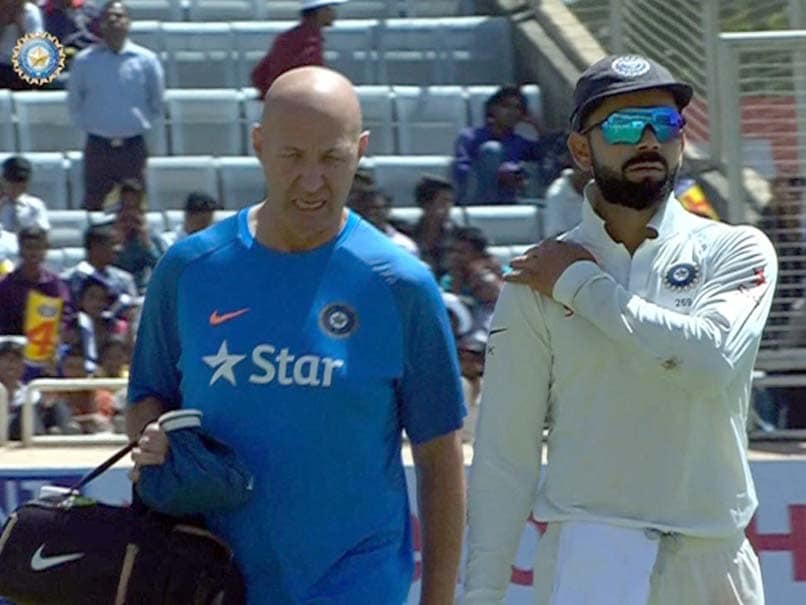 Virat Kohli injured his right shoulder while fielding in the third Test in Ranchi against Australia.
© BCCI
Indian captain Virat Kohli, it seems, has not completely recovered from his shoulder injury sustained during the third Test against Australia in Ranchi. NDTV has learnt that the Indian team skipper's injury has flared up again but he is taking precautions.
On Thursday, he turned up at the training nets in Dharamsala in a sleeveless training jersey, his shoulder heavily strapped. Kohli did a few underarm throws during India's fielding practice but did not bat in the nets.
Sources say that this is a precautionary measure. Kohli will take a final call on his participation in the crucial Test, starting on March 25, on the morning of the match and nothing can be said of his participation just yet.
India were dealt a big blow on the opening day of the Ranchi Test after the skipper fell down and injured his right shoulder while trying to save a boundary. Scans later revealed that he suffered a strain on his shoulder. Despite that the Indian captain batted at No.4 and even came out to field on the final day.
Meanwhile, the Board of Control for Cricket in India (BCCI) has called up Shreyas Iyer for the fourth and final Test as cover for Kohli.