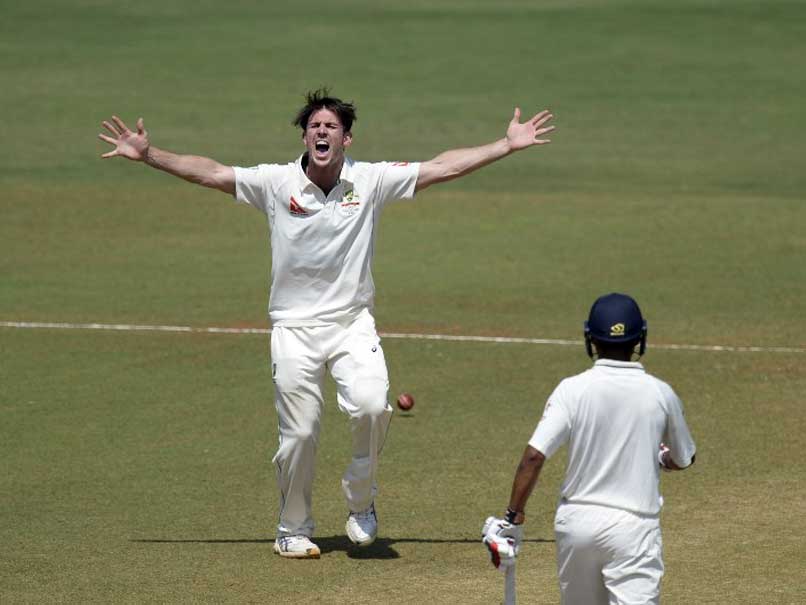 Mitchell Marsh is hopeful of a spot in the playing eleven against India
© AFP
Mitchell Marsh did his chances no harm for the upcoming Test series against India as he bludgeoned his way to a well made 75 in the three-day warm-up match against India A played at the Brabourne Stadium, Mumbai. Marsh, who is in the reckoning for a spot in the final eleven of the Australian line-up, enhanced his chances after the knock, and in all likelihood will take up the all-rounders job on February 23 in Pune. Marsh is touring India for the first time for a Test series and feels confident to do well in the tour.
"I probably knew that I had a chance for India due to the all-rounders' slot and the make-up of the team. I knew that I had a chance. I always knew I was going to be in the mix. If I do play, it'll probably be at No. 6.
"Tours like this are exactly why we train hard and get ourselves to the position where we can put up to the vigours of Test cricket, especially in the sub-continent. So yes, I am confident about my body and the fitness," said Marsh after the second day's play.
Talking about his knock, Marsh said, "...the later you hit the ball, the easier it is to find the gaps, especially when it's (ball is) turning. That's just something I have learnt from my debut in UAE, Sri Lanka and now here and playing in IPL and playing spinners all the time. So hopefully if I get a chance, I can implement it."
It is imperative for a player to rotate the strike against spinners and Marsh seems to have learnt his lesson.
"I've faced a lot more spin over time, and I've learnt that rotation of strike is really important, especially in the sub-continent, getting off strike. I've adapted my game, and hopefully, I can get better at it," added Marsh, who is expected to be named in the first Test XI at Pune on February 23 along with brother Shaun who scored a hundred yesterday.
He said he has opened the attack with the new ball for Australia in limited over cricket and was ready to do it with the red ball too, just as he did today alongside Jackson Bird.
"Yes. I've done it in the past, not for Australia, but I've taken the new ball for Western Australia and for Australia in white ball cricket. So I'm certainly comfortable with that. I practice with the new ball every now and then, so if that opportunity arises, I'll be ready."
Asked about Shreyas Iyer, Marsh said Indian players were good against spin.
"He is a good player. All Indian players in the sub-continent attack our spinners. But at the same time I think Nathan Lyon came back really well at him. But yeah, he looks a good player," he said.
The pitch for the three-day game had a tinge of green, but he's under no illusion that the Test wickets would be similar in looks.
"I would imagine the Test wicket would be nothing like that wicket, but we will wait and see. We spoke to the umpires and they said all first class games it nibbles around a bit for half an hour and then it flattens."
(With PTI Inputs)