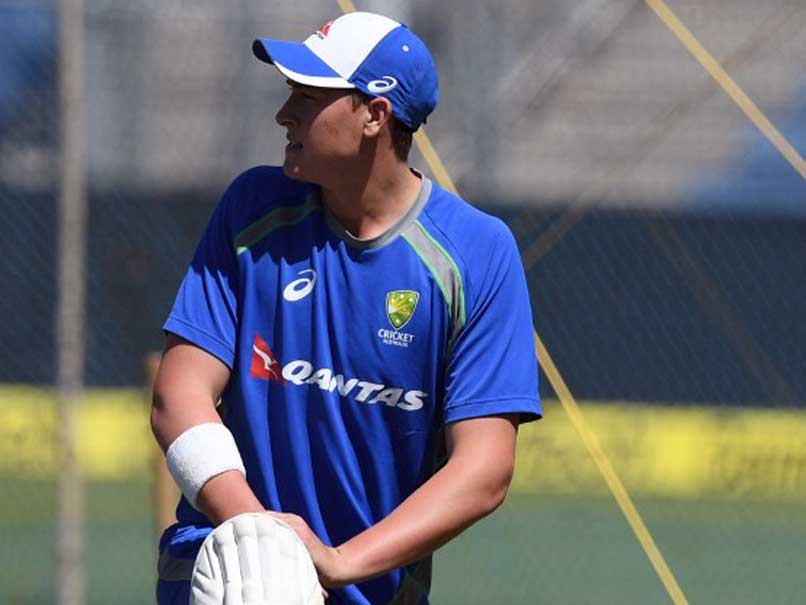 Australia opener Matt Renshaw is playing his first Test match in India.
© BCCI
Pune:
Australian opener Matt Renshaw on Thursday became the talking point after he was forced to take a "toilet break" just when David Warner was dismissed, an act of desperation that certainly didn't amuse his skipper Steven Smith. Just when Warner got out, Renshaw was seen talking to skipper Smith, who had just come in and then after speaking to on-field umpire Richard Kettleborough was seen rushing out. While some may have had a laugh at the 20-year-old's expense, he was quite a sport when asked to revisit morning incident. In fact not everyone has to answer more questions on nature's call than his gritty 68.
"It came pretty suddenly. Maybe 5 or 10 minutes before Davey (Warner) got out, I asked Richard (umpire Kettleborough) how long there was till lunch and he gave me the answer of "half an hour" and I was struggling a bit then. It wasn't an ideal situation to be in," said Renshaw.
So how did skipper Smith react knowing about his problem, Renshaw answered: "He (Smith) wasn't too thrilled about it but he understands that when you need to go to the toilet, you've got to go to the toilet."
"It wasn't an ideal scenario but it's life, pretty much. Obviously, we just lost a wicket so there would be two new batsmen out there but it's a hard scenario to be in and he understood. We've had a chat now and we are all good."
Renshaw said that he wasn't sure about the ruling. "I wasn't too sure on the ruling," he explained.
Matt Renshaw's first day of Test cricket in India was certainly one to remember, writes @ARamseyCricket #INDvAUS https://t.co/GjExg0xr8r

— cricket.com.au (@CricketAus) February 23, 2017
"I didn't know you could retire ill so I thought I just had to get out there and make sure I batted until lunch. Then coming back it was probably a bit strange for me waiting to bat because as an opener you just go straight out there and bat. That was probably the most challenging bit, waiting to bat."
Renshaw admitted that when two new batsmen were at the crease, he started feeling guilty about his condition despite the fact that he had no control over it.
"I felt quite bad knowing that I could be letting the team down, so that's why I went back out there. I wanted to do my bit for the team and try and make sure we had a good day."
Matt Renshaw explains the decision to retire his innings during the morning session on day one #INDvAUS https://t.co/17vJGU5fCT

— cricket.com.au (@CricketAus) February 23, 2017
India's assistant coach Sanjay Bangar understood his situation.
"When you answer nature's call, no amount of will power or mind power can control that. He had to go, probably he held back. He was having that conversion with (captain Steve) Smith as well, whether he could do it or not. But beyond a point, it wasn't controllable. Such incidents happen, it all adds to the colour of Test cricket.
"Credit to him, the way he came back. He started really well as well, applied himself. He showed a lot of character. So for a young player, he showed a lot of character playing in his first Test in India," Bangar added.
Border blasts Renshaw
Former captain Allan Border has slammed Matt Renshaw for retiring midway through his innings due to the "stomach bug" and feels the young Australian opener had to be "half dead" to be back in the dressing room on Day 1 of the first Test.
However, Renshaw's approach did not go down well with Border. The opener came back into the middle and ended with a fighting 68 in his first ever Test match in Asia.
"I hope he's lying on the table in there half dead," Border told Fox Sports. "Otherwise, as captain, I would not be happy. I don't think I've ever seen that before. He's obviously just got an upset stomach to some degree and he was probably trying to use the situation where David Warner had just been dismissed to race off the ground and go to the toilet.
"What happened in the ensuring time there, I can't ever think of a situation like that that's happened before where someone's gone off because they're a bit ill," Border was not at all sympathetic.
"If David Warner hadn't got out then he wouldn't have even thought about it. It's a bit of an odd situation. He probably thought he had time to race off the ground and get back on while the new batsman was coming out to the crease.
"I can tell you what, if Shaun Marsh was dismissed in those last 15 minutes I would've been ropeable as captain," Border added.