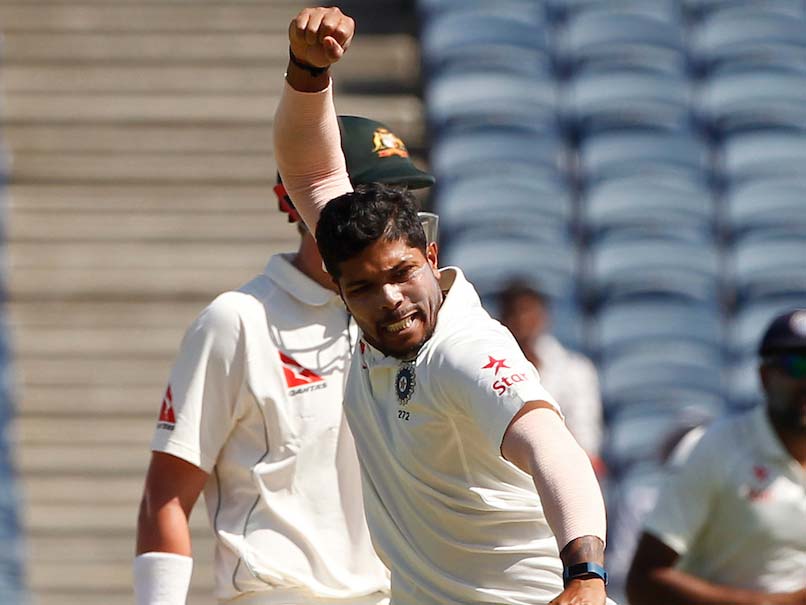 India vs Australia, DAY 1: Australia finished the day with 256/6 at stumps
© BCCI
Umesh Yadav picked up four wickets as India reduced Australia to 256/9 at stumps on day 1 of the Pune Test. Matt Renshaw was the only saving grace with 68 but credit should be given to Mitchell Starc who played a handy cameo and still unbeaten on 57. As expected, Indian spinners came back strongly in the second session and dented Australia's middle order. Ravindra Jadeja and Ravichandran Ashwin took two wickets each while Jayant Yadav got one wicket. (LIVE SCORECARD)
Catch all the highlights from Day 1 of the 1st India vs Australia Test in Pune
16:57 IST: That's it from us, see you tomorrow. Adios!!
16:55 IST: Umesh Yadav: I was practicing with Anil (Kumble) and Sanjay (Bangar) about what my line and length should be in the practice sessions. The hard work that I have done in the last six months has been paying off now. That is very important on such wickets. I was trying to bowl very tight lines on this wicket and hope for the batsmen to make mistakes. I was trying to minimise the bad balls and the scoring opportunities. I knew if they go for their shots they would play the false stroke and I would be helped by the reverse to get wickets. (On Warner's wicket) My spell started late and I knew that the ball was moving around quite a bit. I tried to get it much fuller to him and prevent him from freeing his arms. That is exactly what I wanted. (On Saha's catch) When someone takes a catch like the one Saha took, it helps a bowler immensely. There are very few catches of this kind that are taken because the ball was moving very fast. Hats off to him to take that and he showed that he has the capability to take such catches.
Good comeback by Australia. Can't be such a bad pitch if an inexperienced overseas team can bat 94 overs on it!

— Harsha Bhogle (@bhogleharsha) February 23, 2017
At Stumps on Day 1 of the 1st Test, Australia are 256/9 (Renshaw 68, Starc 57*) #INDvAUS pic.twitter.com/9ESeLLp61d

— BCCI (@BCCI) February 23, 2017
16:30 IST: STUMPS!!! Australia are 256/9 in 94 overs. Mitchell Starc 57*, Josh Hazlewood 1*
16:28 IST: Ishant Sharma to bowl the last over of the day
16:21 IST: Starc has also passed 1000 runs in Test cricket
16:18 IST: These are all bonus runs for Australia and the last wicket partnership has already reached 47 off 56 balls
16:14 IST: FOUR!! Starc pulls it towards the fine-leg and reaches his 9th Test fifty. What a brilliant cameo he is playing 
16:12 IST: FOUR!! Starc is dealing in boundaries and sixes!!! He is one short of his 9th fifty. 
16:06 IST: SIX!!! Starc goes big again and hits it for a maximum. He has quickly accumulated runs to reach to 43
16:04 IST: FOUR!! Starc goes big and using the long handle to good effect here. 
16:00 IST: SIX!! The ball sailed over long-on for a maximum. Good shot by Mitchell Starc off Jayant Yadav
Brilliant from Saha. Such catches can lift bowler's effort too & Yadav comes up with a yorker first ball for Lyon. Advantage of toss gone...

— Cricketwallah (@cricketwallah) February 23, 2017
15:57 IST: FOUR! Good shot by Mitchell Starc which came from the sweet spot of the bat
15:52 IST: Good bouncer by Umesh Yadav. Intimidating delivery by him.
15:51 IST: India take the second new ball
15:46 IST: Australia are in big-big trouble now. Umesh Yadav has bowled brilliantly for his 4 wickets and deserves the fifth one.
15:51 IST: Appeal again for an LBW and the umpire raises his finger. Nathon Lyon goes for the review and third umpire stays with the decision. Australia 205/9
15:40 IST: OUT!!! Annnddd Wriddhiman Saha takes it. What a lovely, gorgeous catch by the wicket keeper. He dived full length to take Steve O'Keefe's edge 
15:35 IST: Good news for India!! 80 overs are complete and they get their 2 reviews back
15:28 IST: Umesh Yadav is bowling really well and making the ball reverse 
India are fighting back. Going to be tough for both teams in the 2nd innings on this pitch.

— Michael Clarke (@MClarke23) February 23, 2017
Given nature of pitch & how Aus innings has transpired, Renshaw's was a sterling knock. Now he's gone too, tail's exposed, India on top

— Cricketwallah (@cricketwallah) February 23, 2017
1st Test: WICKET! Matt Renshaw c Murali Vijay b Ravichandran Ashwin 68 (156b). Australia 196/7 (78.3 Ovs). #INDvAUS pic.twitter.com/H2I4sV0wgY

— NDTV Live Scores (@CricketNDTVLive) February 23, 2017
15:18 IST: OUT!!! Brilliant delivery by R Ashwin to dismiss Renshaw for 68. 
15:12 IST: Mitchell Starc is the new man in for Australia.
15:10 IST: OUT!!!Third umpire stays with the decision and Wade goes for 8. Australia now 190/6
15:08 IST: APPEAL for an LBW by Umesh Yadav!!! Umpire raises his finger but hang on!! Mathew Wade goes for a review
15:01 IST: FOUR!! Steps out and hits a straight boundary. Renshaw is growing in confidence now
14:55 IST: FOUR!!! Matt Renshaw comes down the track and smashes Jayant Yadav for a boundary
14:49 IST: FIFTY! That's Matt Renshaw's second Test fifty. The left-hander has shown great character in this innings. He needs to get a big one for Australia now.
14:45 IST: WICKET! Jadeja traps Mitchell Marsh lbw for 4. Australia lose their fifth wicket.
14:32 IST: FOUR!!! Matt Renshaw doesn't want Ravindra Jadeja to settle 
14:31 IST: We are into the final session now!!
At Tea on Day 1 of the 1st Test, Australia are 153/4 (Renshaw 38*). Follow the game here - https://t.co/Px6Gu2Qz1R #INDvAUS pic.twitter.com/WsiErb8vO3

— BCCI (@BCCI) February 23, 2017
14:10 IST: TEA!! Australia scored 69 runs in the session. They are 153/4 in 63 overs. Matt Renshaw 38*, Mitchell Marsh 2*. India came back strongly and took 3 wickets in the session
14:02 IST: REVIEW!! Not-out given by the third umpire and Marsh survives
14:00 IST: Appeal for a caught behind!!! The umpire gives it out but Mitchell Marsh goes for a review
13:58 IST: OUT!! Double blow for Australia and a straight forward chance for Virat Kohli at mid-on. Australian captain Steve Smith departs for 27 as Ravichandran Ashwin strikes this time.
13:57 IST: Matt Renshaw comes back to the crease now. It will not be easy for him 
13:55 IST: OUT!!! Big appeal for an LBW and umpire raises his finger. It was plumb in front and Peter Handscomb, after a good innings, departs on 22
13:52 IST: Australia are 149/2 after 59 overs. Steven Smith 27*, Peter Handscomb 22*
13:50 IST: Australia have scored 64 runs in the session so far and lost one wicket 
13:47 IST: Matt Renshaw is padded up and will come into bat next
13:37 IST: FOUR!! Through the mid-wicket area this time and back to back boundaries for Peter Handscomb
13:35 IST: FOUR!! That's a poor ball from R Ashwin. Only two men on the off-side and he dishes out a half-volley. Predictably, gets punished
13:30 IST: Australia are 133/2 after 55 overs. Steve Smith 24*, Peter Handscomb 10*
13:17 IST: If India get one more wicket here then Australia will be under tremendous pressure
13:14 IST: Ishant Sharma comes back into the attack 
13:05 IST: Australia are 127/2 after 49 overs. Steven Smith 21*, Peter Handscomb 7*
13:04 IST: FOUR!! Peter Handscomb, the new batsman, glances it down the leg side for a boundary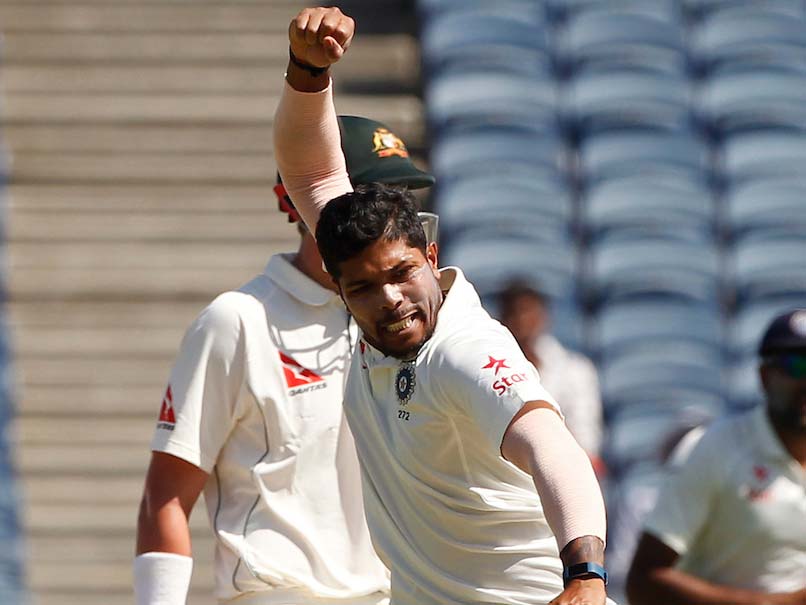 12:57 IST: OUT!! Shaun Marsh departs on 16 as Jayant Yadav strikes. The change of angle has worked wonders for Jayant and simple catch for Virat Kohli at the leg-slip
12:54 IST: Steven Smith and Shaun Marsh consolidating the strong position. Australia are 119/1 after 46 overs. Smith 20*, Marsh 16*
12:47 IST: FOUR!! Jayant Yadav drops it short Marsh uses the pace on the ball and cuts it late for a boundary
12:45 IST: FOUR!! A long-hop by Ravindra Jadeja and Smith smashes it for a boundary
12:37 IST: It was Wriddhiman Saha who had suggested for the review and he got it wrong on both the occasions 
12:34 IST: Australia are 104/1 after 39 overs. Steven Smith 11*, Shaun Marsh 10*
12:33 IST: REVIEW!! Virat Kohli goes for the review and the third umpire stays with the not-out decision. India have lost both their reviews now
12:32 IST: Wrapped on the pads as Umesh Yadav appeals for an LBW. Not-out given by the umpire
12:31 IST: FOUR!! Umesh goes down the leg side and Smith gets his front leg out of the way for a boundary towards the deep fine-leg
12:30 IST: Australia have certainly done a great deal of homework. They have looked to play straight and have made full use of the poor deliveries.
12:28 IST: 100 up for Australia. It has been a wonderful start by the visitors. Renshaw and Warner provided a good platform and these two are taking it forward
12:24 IST: FOUR!! Length delivery on the pads and too easy for Shaun Marsh. Poor delivery by Umesh Yadav
12:20 IST: No ball!! This time by Ravindra Jadeja. India have bowled three today.
12:16 IST: FOUR!! Hit on the up by Shaun Marsh off Umesh Yadav. Not an easy shot to hit on this pitch
12:10 IST: Welcome back after the lunch. It has been a great start for the visitors, losing just one wicket for 84 runs. Jadeja to start the proceedings 
At Lunch on Day 1 of the 1st Test, Australia are 84/1. Follow the game here - https://t.co/Px6Gu2Qz1R #INDvAUS pic.twitter.com/QDv5MvZBzi

— BCCI (@BCCI) February 23, 2017
Umesh Yadav's favourite Test victims
5 Shaun Marsh/David Warner
3 Steve Smith#IndvAus

— Mohandas Menon (@mohanstatsman) February 23, 2017
11:26 IST: LUNCH!! Australia are 84/1 after 33 overs. Shaun Marsh 1*, Steve Smith 1*
11:21 IST: Steve Smith has an average of 93 (approx) vs India and scores at 41.6 in Asia 
11:19 IST: So, two new batsmen at the crease now. Steve Smith and Shaun Marsh. Even God is with Indians 
11:18 IST: Hearing that Renshaw retired ill on 36
11:17 IST: And a bit of drama here!! Shaun Marsh also comes into the middle for Matt Renshaw. Not too sure why he left the field.
11:15 IST: So, Steve Smith comes to the crease just 15 minutes before Lunch, last thing he would have wanted 
11:11 IST: OUT!! Inside edge onto the stumps and Umesh Yadav provides first breakthrough to the hosts. Warner out on 38
11:10 IST: Umesh Yadav comes into the attack and starts with a big no-ball
The glistening Border-Gavaskar trophy up for grabs #INDvAUS pic.twitter.com/CmDWz7mgC8

— BCCI (@BCCI) February 23, 2017
11:07 IST: Australia have done their homework well. Renshaw and Warner both have been very impressive and Indian spinner haven't been able to produce any wicket
India..
in their last 19 Tests home/away (Won 15, Drawn 4)
in their last 19 Tests at home (Won 17, Drawn 2)#IndvAus

— Mohandas Menon (@mohanstatsman) February 23, 2017
Time to get Umesh. Find some reverse-swing. #IndvAus

— Aakash Chopra (@cricketaakash) February 23, 2017
11:02 IST: FOUR!! Full-toss by R Ashwin and Warner will not miss those
11:00 IST: SIX!!! Matt Renshaw steps and hits it for a maximum. India under pressure now
10:58 IST: FOUR!! A bit wide by Ravindra Jadeja and Warner played an upright sweep shot.
10:52 IST: FOUR!! Now, Renshaw steps out and spanks it for a boundary. Not a bad delivery by Jadeja though. Australia are 62/0 after 22 overs. David Warner 26*, Matt Renshaw 29*
10:50 IST: Warner is looking to attack and Renshaw is playing an anchor's role. Good ploy by the Aussies
10:49 IST: FOUR!! Renshaw hits it very fine off R Ashwin
10:43 IST: 50 up for Australia!!! They are 50/0 after 19 overs. David Warner 25*, Matt Renshaw 20*
10:37 IST: FOUR!! Just a fraction short by Jayant Yadav and Warner goes for it
10:35 IST: So, Australia have not lost any wicket in the first hour of the day and the Test match. Impressive batting by both the openers
10:26 IST: No Ball!! David Warner was out bowled but no-ball signalled by the umpire. The ball crashed into the leg stump but a big big overstep by Jayant Yadav. Virat Kohli is very unhappy 
10:22 IST: FOUR!! Anything loose and Warner will pounce on it. Short and Warner is quick to rock back and pummell the pull to the deep mid-wicket fence. 
10:16 IST: Australia are 28/0 after 12 overs. David Warner 16*, Matt Renshaw 12*
10:15 IST: R Ashwin is turning it square in the 12th over of the Test match itself
10:13 IST: REVIEW!! Nothing on Ultra edge. Renshaw played slightly inside the line of that and missed. It beat the bat and the sound was the bat hitting the pad. So, the third umpire stays with the not-out decision 
10:11 IST: APPEAL!! Wriddhiman Saha goes staright away for a caught behind appeal and Ashwin looks confident too . Not-out given by the on-field umpire Nigel Llong and Virat Kohli is going for the review 
10:08 IST: FOUR!! Punched on the back foot by Warner and goes for a boundary again
10:07 IST: FOUR!! Warner steps out and smashes it for a boundary. He is looking to counter attack
10:05 IST: Jayant Yadav, right-arm off break, comes into the attack replacing Ishant Sharma 
09:59 IST: Warner tries to attack Ashwin. Very lucky there. It seems he wants to make his mark against Ashwin early on but nearly got out. Used his feet and tried to hoick across the line
09:50 IST: The last time a spinner opened the bowling in the inaugural Test at a venue before Ashwin was Kumara Dharmasena of Sri Lanka v NZ in Galle, 1998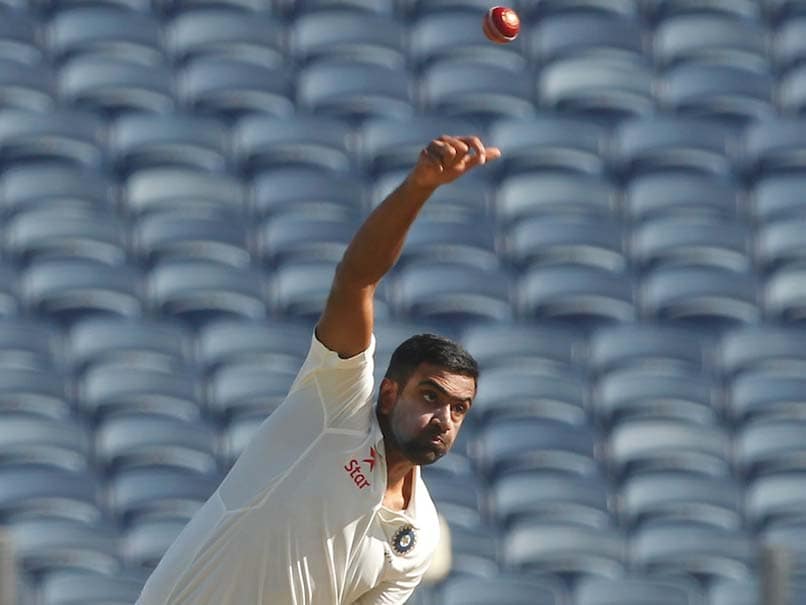 Live Cricket Score, India vs Australia: R Ashwin looks for first breakthrough. 
Photo Credit: BCCI
09:47 IST: Ooohh!!! First real hint of turn here in the pitch. Ashwin bowled a superb delivery to Renshaw and it literally deceived him. Just short of the first slip
09:45 IST: Australia are 11/0 after 3 overs. David Warner 2*, Matt Renshaw 9*
Good idea to go in upfront with Ashwin. Probably what they least wanted, given the skew in Warner's home and Asia average

— Harsha Bhogle (@bhogleharsha) February 23, 2017
09:40 IST: So, it's the first day of the Test match and R Ashwin comes into bowl the second over of the match. Clear indication about the pitch by the Indian captain
09:35 IST: Virat Kohli's team are unbeaten in the last 19 games and they have not lost a Test in India for the last 20 Test matches.
09:31 IST: FOUR!!! Renshaw starts the series and Australia's campaign in India with a boundary. Ishant bowled outside off and the ball edges towards the third man area
The MCA stadium in Pune becomes the 25th Test venue in India #INDvAUS pic.twitter.com/a9Fb2ZsQ11

— BCCI (@BCCI) February 23, 2017
09:30 IST: David Warner and Matt Renshaw are at the crease for Australia and Ishant Sharma to start the proceedings for India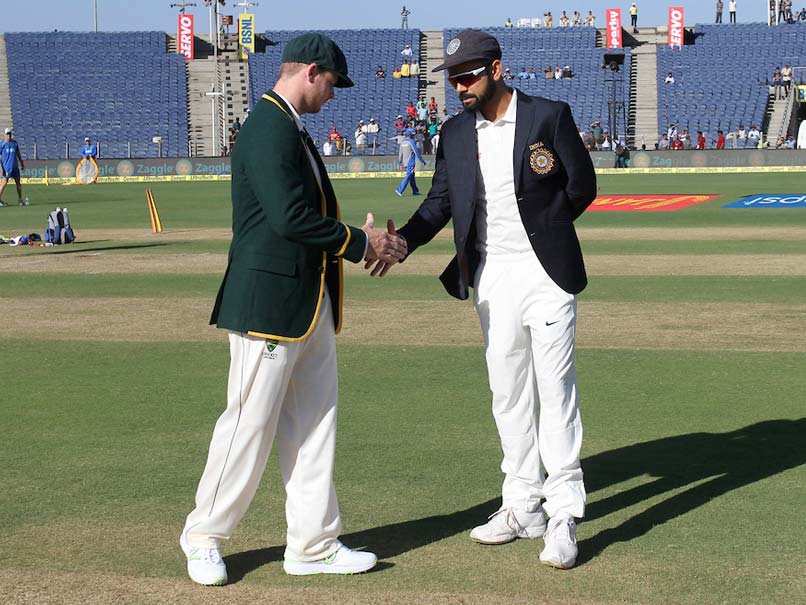 Live cricket score: India vs Australia, DAY 1: Steve Smith won the toss and elected to bat. 
Photo Credit: BCCI
09:28 IST: So, both teams are at the ground and they are all set for the national anthems
09:20 IST: Virat Kohli during the toss : We were looking to bat first as well but I do not come to the toss expecting anything. We lost three tosses against England but won four games. I think these things should be kept out of the contention. I look at it as a challenge and are looking to do the same today. We've made one change in the form of Jayant coming in place of Bhuvi and have two seamers in Umesh and Ishant as well who would look to exploit the reverse swing. Would be very important to start off well.
The game against Bangladesh was a good way to get back into the groove for us. We were playing well before that too and it was good for us to get off the way the boys did. The ODI against England was outstanding and hopefully the crowds would come in for this one as well.
#TeamIndia Captain @imVkohli and Vinod Rai, Chairman CoA unveiled a postal stamp to commemorate the first Test at MCA in Pune #INDvAUS pic.twitter.com/3igOpYJXET

— BCCI (@BCCI) February 23, 2017
Steve Smith: We are going to have a bat. It looks very dry and should stay low and could spin from ball one. Looks different from the T20 games and would look to post a good score first up. We've done everything right with the preparation and now it is all about getting our plans right. We are playing with two quicks, two spinners, an all-rounder and batsmen.
Australia's Test performances in Asia since October 2008... only Zimbabwe have fared worsehttps://t.co/r8Vaittjm6

— Mohandas Menon (@mohanstatsman) February 23, 2017
Australia win the toss and elect to bat first in the 1st @Paytm Test #INDvAUS pic.twitter.com/BfCRsrkbB4

— BCCI (@BCCI) February 23, 2017
09:11 IST: Jayant Yadav comes in place of Bhuvneshwar Kumar for India.
IND XI: M Vijay, L Rahul, C Pujara, V Kohli, A Rahane, W Saha, R Ashwin, R Jadeja, J Yadav, I Sharma, U Yadav
AUS XI: D Warner, M Renshaw, S Smith, S Marsh, P Handscomb, M Marsh, M Wade, M Starc, J Hazlewood, S O'Keefe, N Lyon
09:10 IST: Steve Smith won the toss and elected to bat. Virat Kohli would have preferred to do the same.
09:07 IST: "I've never seen a pitch like this in Indian conditions. A pitch that dry suggests that there has been no water on this for the last 7-8 days. Some huge cracks here and that without the sun coming out. It is 40-degrees celsius in the afternoons and it could well spin from ball one. But when the ball lands on the footmarks, the ball will misbehave and reverse for the quicks as well," says Ravi Shastri. Shane Warne echoes similar sentiments. "It looks like a day five pitch at the start".
09:05 IST: Hello and welcome to the live blog
There are several factors in India's stupendous run, chief among those being captain Virat Kohli's phenomenal run with the bat. The young captain has truly led from the front by notching up four double hundreds.
Kohli is averaging over 80 after accumulating 1457 runs in the last 13 Tests and Australia will need to find ways to curtail his brilliance to stop the Indian Juggernaut.
The other major factor has been the excellent bowling by spinners Ravichandran Ashwin and Ravindra Jadeja, incidentally the top two bowlers in the ICC rankings.
Off-spinner Ashwin has grabbed 78 wickets in 13 games during the same period with 8 five-fors at an average of just over 24 while left-armer Jadeja has scalped 49 wickets in 10 Tests at just under 25.
It will be interesting to see whether the Pune track offers some turn for spinners on the opening day, with Australian skipper Steve Smith having said that the pitch will offer turn right from Day 1.