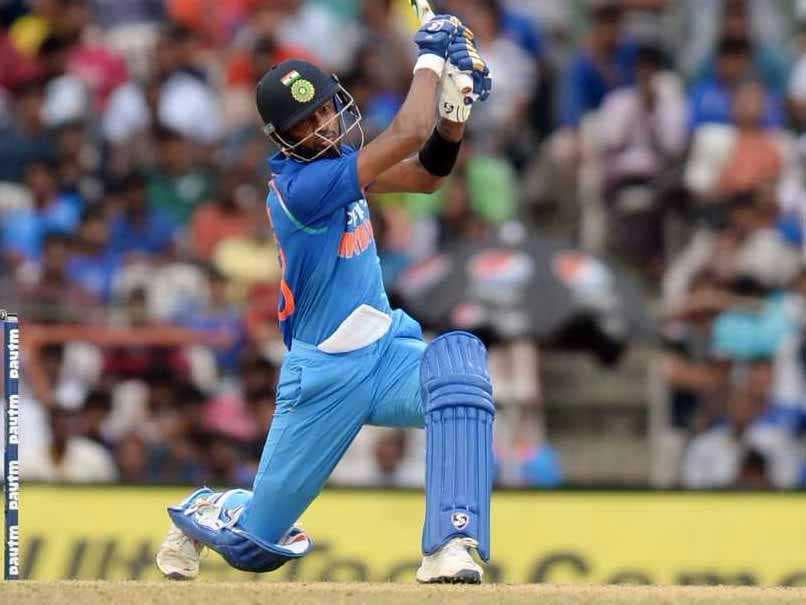 Captain Virat Kohli described Hardik Pandya as a 'great asset'.
© AFP
India all-rounder Hardik Pandya has cemented his place in the India fold in a short span. Captain Virat Kohli described Pandya as a 'great asset' to Indian cricket after the all-rounder had steered the hosts to a series-clinching five-wicket win over Australia in Indore. Though India failed to register their 10th ODI win on the trot, after losing to Australia by 21 runs in the fourth ODI in Bengaluru, Pandya didn't disappoint his captain and batted in his usual style. After the match, Kohli explained why team and he want Pandya to bat at number four.
"Hardik has got a solid defence and he has got technique. He is not just a slogger," Kohli said after the match.
"If he gains more confidence and if he can understand how to take the game till the end, he might be a regular at that spot. We are not predictable and are willing to do different things to put the opposition out," the Indian skipper said.
Pandya, who scored a 72-ball 78 in India's victory in third ODI, continued his sublime touch and smashed a brilliant 41 off 40 balls. Pandya came in at number four on both occasions.
In Bengaluru, Pandya took on the bowling as he clobbered leg-spinner Adam Zampa for two sixes.
"For now, the plan to promote Hardik was to go after the spinner. (The idea was to) probably push the spinner out of the attack and get the quicks to come earlier into the game. He did that in the last game and he did it this time too, and batted nicely," Kohli added.
After India's victory against Australia in Indore, Kohli had said it was coach Ravi Shastri's idea to promote Pandya up the order.
"His promotion was Ravi bhai's thought. He felt we needed to attack the spinner. We totally back him and he's a hard working guy," he had said.
(With PTI inputs)