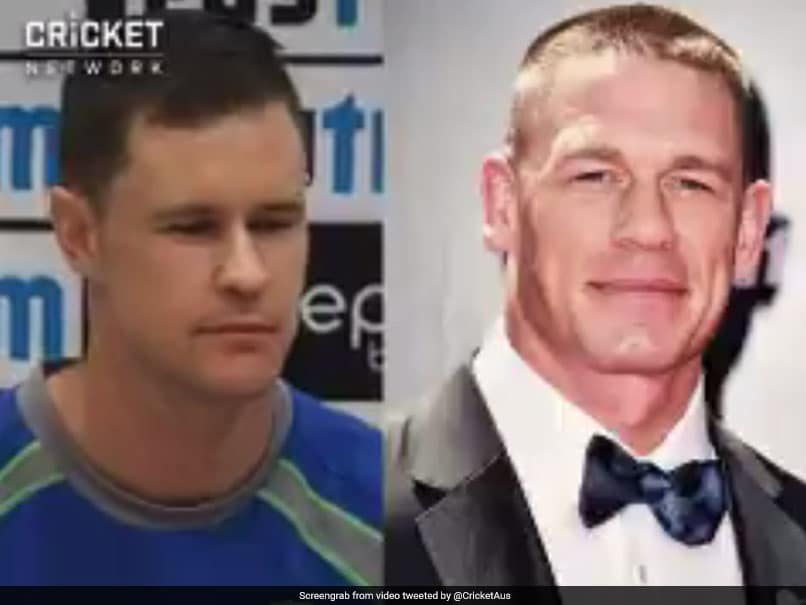 Jason Behrendorff was attending a post-match press conference.
© Twitter
Australian pacer Jason Behrendorff tore through the star-studded Indian batting line-up in the second Twenty20 match on October 10 to help the visitors level the three-match T20 series 1-1. Behrendorff dismissed Shikhar Dhawan (2), Rohit Sharma (8), Virat Kohli (0) and Manish Pandey (6) to give his side an upper-hand early in the game. By doing so, Behrendorff, who was playing his only second T20 match, registered a career best figure of 4/21. However, the 27-year-old bowler was caught off-guard in a post-match press conference, when a journalist asked him about his resemblance to one of the celebrated WWE wrestler John Cena.
"Some of the fans seem to see a likeness between you and professional wrestler John Cena. Have you heard about that?" asked a reporter. On hearing the question, the conference room along with Behrendorff burst out in laughter.
"No, I haven't, but from what I understand he is a fair bit bigger than I am. But yeah, I'll take it. Sure," Behrendorff replied with a smile.
Fair to say @JDorff5 didn't expect this question after his four-wicket haul against India! pic.twitter.com/cwTbkx0Kfj

— cricket.com.au (@CricketAus) October 10, 2017
Talking about his success with the ball in the second T20, Behrendorff was quoted by ESPNCricinfo as saying, "It's an unbelievable feeling to be honest...to bowl four overs tonight and take four wickets, but mainly to get a win. To get the boys back up and about after a pretty tough time in the one-dayers, it's very, very special."
Explaining his calm on-field demeanour, Behrendorff said, "Generally I'd try and let my skills and the ball do the work and let that do the talking for me instead of getting into a verbal battle or anything like that. Some guys enjoy that and that's what fires them up and gets them going. But that's not really my style."
The third T20 will be played at Rajiv Gandhi International Stadium, Hyderabad on October 13.