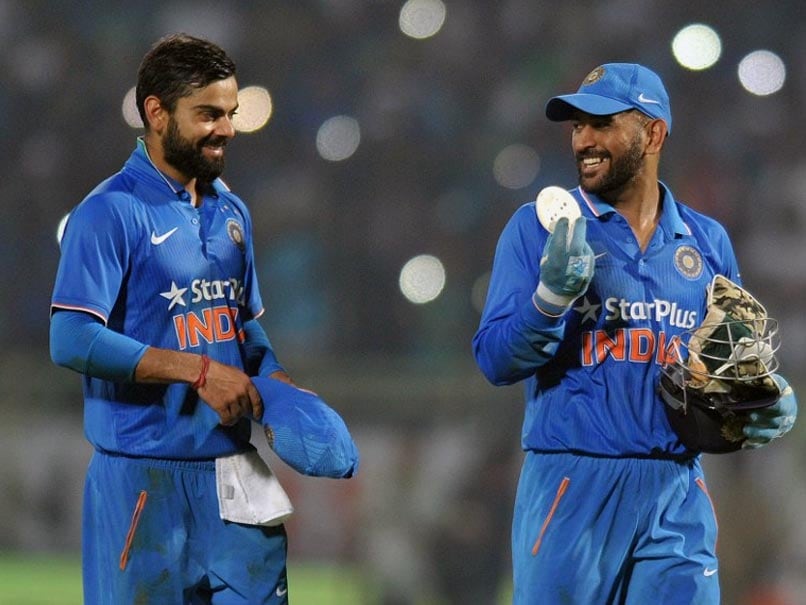 Under Kohli's captaincy, India have played 38 ODIs -- winning 30 of those games.
© AFP
India captain Virat Kohli is steamrolling his way through various cricketing records, either breaking or equalling them. When India beat Australia by five-wickets in the third One-Day International (ODI), Kohli equalled his predecessor Mahendra Singh Dhoni's record for most number of consecutive ODI wins as captain. Kohli-led India team is 3-0 up in the five-match ODI series and has maintained its dominance over the visitors by clinching the series. Th Indian skipper, on Sunday, took his ODI win tally without losing a match to nine, the feat which Dhoni achieved in 2008-09.
Under Kohli's captaincy, India have played 38 ODIs -- winning 30 of those games.
Batting first, Australia was off to a flying start courtesy David Warner and Aaron Finch (124) but Hardik Pandya provided the hosts with the first breakthrough by dismissing the left-hander for 42. India restricted the visitors to 293/6 with a help of couple of wickets in the death overs.
In reply, India opener Rohit Sharma (71) and Ajinkya Rahane (70) gave hosts a solid start in run-chase as they stitched together a 100 plus-run partnership. Australia, however, fought back with couple of quick wickets but Hardik Pandya (78), who was promoted to No.4 position, had other plans as he powered the Men in Blue to a five-wicket victory.
The Men in Blue, who are in lethal form, lost an ODI to West Indies at Antigua and since then have remain unbeaten in the format. After blanking Sri Lanka 9-0 across all formats of the game -- five ODIs, three Tests and one ODI -- India will look to conquer the mighty Australians.