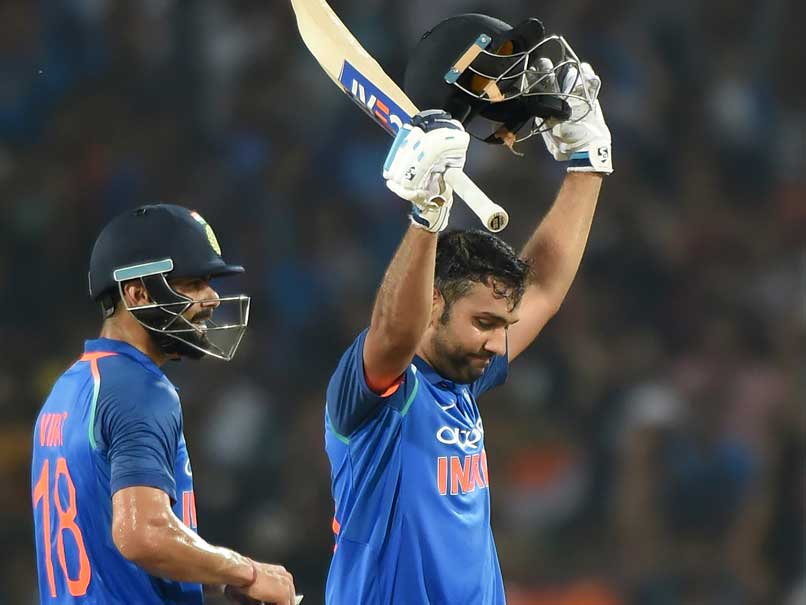 India vs Australia: India crush Australia by 7 wickets to clinch series 4-1
© AFP
Riding on some tremendous bowling by the spinners and outstanding batting by Rohit Sharma and Ajinkya Rahane, India cantered to 7-wicket victory against Australia in Nagpur to clinch series 4-1 and also regain No.1 ranking in ODIs. Earlier, India conceded just 52 runs and picked up five wickets in the last 10 overs to restrict Australia to 242/9. Australia started off well but the spinners helped India peg back Australia and the rest of the job was done by Bhuvneshwar Kumar and Jasprit Bumrah towards the end of the innings. Axar Patel was the pick of the bowlers with 3/38 in 10 overs. (SCORECARD)
Highlights and Updates of the 5th ODI between India and Australia straight from Nagpur
21:25 IST: That's it from us. Hope you enjoyed our coverage. Adios! 
21:20 IST: Virat Kohli, India captain: It feels good. It was a really convincing series win for us. Ticked all boxes. Happy with the way the team played. We repeated the way we played against Sri Lanka, proud of that. It's become second nature for them, the management plays a big part in motivating the players. We had a chance to retain the No. 1 spot and we ended up doing well. Bhuvi and Bumrah have been outstanding for us, have been a class apart. Whenever the game has slipped away, they've pulled it back nicely. Hardik Pandya has been the biggest positive. Good headaches, you don't mind them. These guys have made it possible by their hard work.
21:18 IST: Hardik Pandya: When I went to bat at No. 4, got a few runs, and the team won the series. There is always a scope of improvement. I'm just focussing on that, working hard on my fitness. Pretty important to keep myself fit. It's always a pleasure to play against Australia. I was looking forward to this series. Really happy that I got this award, and we won the series. Huge roars as Hardik Pandya is announced as Man of the Series
Rohit Sharma: I guess it was a bit of cramp, the weather has been hot. That's always been my thing - to keep it simple. And that has worked for me. Certain areas I keep working off the field. Nothing comes easy. I know my strengths and weaknesses. Initially it was tough, the Australians changed their plans. They were much straighter compared to the previous game. I would love to have such a record against all the teams. Love playing against the Australians, they're competitive and never give anything easily. That probably brings out the best.
21:17 IST: Hardik Pandya receives Man of the Series award. He scored 222 runs in 5 matches 
21:15 IST: Rohit Sharma receives Man of the Match award 
21:10 IST: Smith, Australia captain: Probably a 300 wicket. One of our top four needed to make a big score. Lost wickets in clumps again. Have a few things to look at to try and improve and gain the consistent performances we're after. Just need to get the right balance of the way we want to play and get consistent performances. We've been outplayed and deserve to lose 4-1. A lot of our players have played a lot of cricket in India, can't use that as an excuse. Still got to try and keep a positive frame of mind. India are a very good cricket team, they've got a very good balance. We have six or so days until the 3-match T20I series. We'd like to go home with a trophy.
21:00 IST:  What a series this has been for India. Almost all the batsmen chipped in. India have found new set for spinners and it will be so difficult for Ravindra Jadeja and Ravichandran Ashwin to make a comeback now with Yuzvendra Chahal and Kuldeep Yadav doing so well in the series. Also, Mohammed Shami and Umesh Yadav will have to fight for their slots after Bhuvneshwar Kumar and Jasprit Bumrah's outstanding figures, especially in the death overs.
20:57 IST: Ajinkya Rahane - I think this wicket wasn't easy, 240 was a job well done with the ball, but when we batted, the ball was coming really slowly, I enjoyed my knock today. I always want to do my best, Shikhar and Rohit have done well for us, we love the competition. Me and Rohit complement each other, we know our strengths, we wanted to time the ball and get a good opening partnership, that gave us the momentum. We never took them (Australia) lightly, they are a quality team and we need to recognise that. But we were playing at home and we knew these pitches better.
20:54 IST:  Axar Patel: I thought I was coming back from injury in the earlier game but I had the confidence of having done it earlier. The good thing is that this is a bigger ground compared to Bangalore and I used my variations to get them out. This Australian side is definitely weak against spin. It was easier to bowl to the middle order when Warner and Finch, who have IPL experience, get out.
Kuldeep Yadav: It was a tough series for me. I prepared well before the first game and it is difficult to bowl against these batsmen. We always look for wickets, all the spinners look to take wickets in the middle order. After my Test debut for India things have changed, I am getting a lot more chances and it is great to be part of a winning team.
Jai Hind! #INDvAUS pic.twitter.com/Cc2yR9cRd5

— BCCI (@BCCI) October 1, 2017
India now officially qqq #1 ODI side
bt West Indies 3-1
bt Sri Lanka 5-0
bt Australia 4-1#IndvAus

— Mohandas Menon (@mohanstatsman) October 1, 2017
20:43 IST: Four and that's it. India win the series 4-1. What a top-class performance by the home team and they have really decimated Steve Smith and Co. With this win, India also regain No.1 ranking in ODIs. Congratulations Virat Kohli! 
20:41 IST: Faulkner to continue for Australia. India need just 8 more runs off 8 overs. 
20:36 IST: India need only 12 runs now off 60 balls. 
20:35 IST: OUT! Virat Kohli tries to go for another big hit but finds a fielder at the boundary. He must be livid with himself
20:31 IST: SIX! Virat Kohli wants to finish this early it seems 
20:30 IST: OUT! Rohit Sharma goes for another big one but finds a fielder at mid-wicket. He departs for 125 off 109 balls. Well played young man 
20:25 IST: SIX! Rohit Sharma is having fun now. He swings the bat towards long on for another mammoth six
20:24 IST: Review! No, nothing on Ultra-Edge. The umpire stays with the Not-Out decision. 
20:22 IST: Faulkner pitches it wide on to the leg side and Wade appeals for a catch. The umpire says No but they are going upstairs for a review 
Hitman @ImRo45 brings up his 14th ODI ton in style #INDvAUS pic.twitter.com/JM6JXbVc4x

— BCCI (@BCCI) October 1, 2017
20:18 IST: FOUR! Poor delivery by Aaron Finch and Kohli smashes it over mid-wicket. Now Indians are sprinting towards the target 
20:17 IST: SIX! The ball is sailing into the crowd. Rohit Sharma is going berserk. India cross 200-run mark 
20:16 IST: Interesting record! Six of his 14 hundreds have come against Australia. 
20:15 IST: FOUR! He is tired and doesn't want to run. Pulls it with ease towards deep mid wicket for a boundary. 
Rohit Sharma tonight..
1st 14 balls: 0 runs
next 80 balls: 102 runs#IndvAus

— Mohandas Menon (@mohanstatsman) October 1, 2017
20:08 IST: Hundred! Rohit Sharma completes his 14th ODI hundred in style. He gets it in just 94 balls. What an effort by him and deserved it this time. 
20:01 IST: Fewest innings to 6000 ODI runs for India:
136 V Kohli
147 S Ganguly
162 Rohit Sharma
167 MS Dhoni
170 S Tendulkar
171 R Dravid
20:00 IST: He gets a single towards the third man area. 6000 ODI runs for Rohit Sharma
19:53 IST: SIX! Rohit dances down the track for yet another maximum. You can't keep this man quiet when he is in the middle. India heading towards an easy victory now. 
19:42 IST: After 29 overs, India are 154/1, need 89 more runs to win 
19:35 IST: Excellent over from Cummins. Just one run came off it.
19:30 IST: FOUR! Rohit goes inside out off Zampa's bowling.
19:25 IST: India are cruising at the moment and need only 111 more runs to win 
19:24 IST: FOUR! Too short and wide from Zampa and Rohit carves it nicely for a boundary
19:22 IST: Virat Kohli, the India captain, is the new man in 
19:18 IST: OUT! The ball thuds into Rahane's pads. Loud appeal by Coulter-Nile and the umpire raises his finger. After consulting Rohit, Rahane goes for the review.  Replays show the ball was going straight onto the leg stump and the third umpire stands by the decision
19:16 IST: FOUR! Angled in from Nathan Coulter and placed well for another boundary by Rahane
19:13 IST: Dropped! Little feather off Ajinkya Rahane's bat but Matthew Wade drops it. Not easy to take these catches though
19:07 IST: Wonder why Ajinkya Rahane is not permanent in the ODI side. He has always made full use of the every opportunity he has got. 
19:05 IST: FOUR! Now, Rahane completes his 23rd ODI fifty with a boundary. These two are cruising along. India 111/0 after 20 overs 
19:01 IST: Both the openers have completed a 100-run partnership too for the third consecutive time in the series. Is that a record? Will find out soon 
19:00 IST: FOUR! He smashes it again for a boundary. He is having a ball here now. 
18:59 IST: Full toss by Stoinis and Rohit tickles it for a couple. He completes his 35th ODI fifty too 
18:57 IST: FOUR! Comes down the pitch again and plays it towards sweeper cover for a boundary 
18:56 IST: SIX! Rohit comes down the track and smashes it for a maximum. That's Rohit's trademark
18:50 IST: India 85/0 after 17 overs, need 158 more runs to win 
18:46 IST: Appeal for a caught behind, but it went straight off Rahane's pads, turn and bounce for Head
18:44 IST: FOUR! Full toss outside off and it's like a gift for Rahane. Put away nicely 
18:40 IST: Australia 70/0 after 14 overs. 
18:37 IST: FOUR! Rohit plays it towards deep square leg for a boundary 
18:35 IST: Rahane trying to use his feet for a big heave but misses it completely. It was a googly by Zampa
18:34 IST: Six singles off the over. India 53/0 after 12 overs, need 190 more runs to win
18:32 IST: Fifty run partnership between Ajinkya Rahane and Rohit Sharma. Another solid first wicket stand for India while chasing 
18:30 IST: Change of bowling again. Travis Head comes in to replace Faulkner 
18:25 IST: Rohit has completed 2000 career ODI runs in India. This is his 42nd innings.​
18:23 IST: FOUR! Pitched up by Faulkner and Rahane drives it with ease to pick another boundary. Very poort stuff by Aussie bowlers 
18:17 IST: FOUR! Too easy for Rohit Sharma tp put that away. Long-hop by Stoinis and he placed it towards a huge gap on the leg side. 
18:17 IST: FOUR! Superb placement and timing again by Rohit Sharma. He leaned forwards and showed full face of the bat. He is in sublime form
18:11 IST: Change of bowling early in the innings by Smith. Marcus Stoinis comes into the attack  in the seventh over itself
18:07 IST: FOUR! Ajinkya Rahane this time. He leaned forward and played a lovely cover drive. He is in such a beautiful form 
18:06 IST: FOUR! Rohit goes aerial this time and the result is the same. Rohit is getting into the groove. 
18:04 IST: FOUR! Glorious is the word. Half-volley by the Cummins and Rohit prsents the full face of the bat and played it straight like an arrow for a boundary
17:53 IST: FOUR! What a shot by Ajinkya Rahane. The line was on the middle stump and Rahane leaned forward to play it past the non-striker. 
17:47 IST: FOUR! Cummins drifts it on to the leg side and Rahane was quick to glide it towards mid-wicket for his first boundary
17:45 IST: Rohit Sharma and Ajinkya Rahane are in the middle and Pat Cummins to start the proceedings for Australia
17:40 IST: Welcome back after mid-innings break. India need 243 to win in 50 overs. Should not be difficult for Virat Kohli and men and Australia can only fancy their chances if they display high class bowling
Australia 242/9 in 50 overs (Warner 53). Follow the game here - https://t.co/n9rnNgu8na #INDvAUS pic.twitter.com/8LNA3qnwvC

— BCCI (@BCCI) October 1, 2017
16:59 IST: Some great bowling on display towards the end of the innings and what a comeback by India in the death overs. 
16:57 IST: OUT! Bhuvneshwar Kumar cleans Coulter-Nile up in the first ball itself. India restrict Australia to 242/9 in 50 overs.  
16:56 IST: Run-out! James Faulkner hits the ball but couldn't connect it well. He wants a second run but easy run-out by Dhoni. Unselfish play by Faulkner 
16:55 IST: 3 balls to go and Australia are 240/7. 3 runs have come so far 
16:54 IST: Faulkner goes for a big one but Hardik Pandya drops it at the long off
16:52 IST: Bhuvneshwar Kumar to bowl the last over
16:50 IST: OUT! Wade carves it towards the off-side but finds Ajinkya Rahane at the boundary. He falls for 20
16:47 IST: Terrific delivery by Bumrah. He has been spot on in the 49th over and not giving any opportunity to Faulkner
16:46 IST: 12 runs off the over. Australia 232/6 in 48 overs.  
16:44 IST: Wade for a big heave again. But couldn't connect it well. Just a couple of runs for Australia
16:40 IST: SIX! Great shot by Matthew Wade. Saw the change of pace early from Bhuvneshwar Kumar and crunched it for a maximum
16:37 IST: Bumrah has really come back well in the death overs. Sign of a high class bowler
16:33 IST: Australia have scored only 19 runs in the last 5 overs with the loss of two wickets  
16:32 IST: Australia 211/6 with five overs to go
16:30 IST: Outside edge and Dhoni appeals for a catch. But clearing bouncing in front of him. Not out! 
16:27 IST: It's a plumb in front and Ultra-Edge shows no bat. Third umpire stands by the decision. Stoinis goes for 46
16:24 IST: Review! Rapped on the pads and big appeal for an LBW again. The umpire raises his finger but Stoinis is going for the review 
16:22 IST: Matthew Wade comes to the crease to join Stoinis. 
16:19 IST: OUT! Bowled him. Straighter one from Axar Patel and he cleans him up. Travid Head goes for 42
16:17 IST: Australia 202/4 after 42 overs. Marcus Stoinis 43*, Travis Head 41*
16:14 IST: Review! Big appeal for an LBW and the umpire raises his finger. Hang on! Australians are going for a review. There's a slight edge and the third umpire overturns the decision to not-out 
16:11 IST: FOUR! He skies it over mid-wicket for a boundary. Kuldeep Yadav the bowler again.
16:08 IST: Power-play signalled by the umpire. Last 10 overs to go now
16:07 IST: FOUR! Wrong'un by Kuldeep but Stoinis was quick to latch on to it. He gets another boundary and this time through the off-side.
16:05 IST: FOUR! Stoinis plays it with the spin and sweeps it hard for a boundary off Kuldeep Yadav. Australia trying to shift gears. 
16:02 IST: Australia will be looking to score at least 250. But for that they really need to play well in the last 11 overs  
16:00 IST: Bumrah to continue and Head trying to get a move on here
15:55 IST: Just 15 runs coming in the last 5 overs. Australia 178/4 off 38 overs 
15:48 IST: Another good over for India. Kuldeep Yadav concedes just 3 runs. Australia 171/4 in 36 overs.
15:45 IST: Brilliant over from Bumrah. Just 3 runs off his over. Australia 168/4 in 35 overs.
15:39 IST: Nothing on Ultra-Edge and the third umpire stands by the not-out decision. Clearly missing the bat. Review wasted 
15:38 IST: Big shout of catch behind the stumps. The umpire turns it down but India go for the review
15:34 IST: Axar Patel to continue and the first slip goes finer and rightly so. Stoinis is on 23 and Head on 22
15:33 IST: Jadhav finishes his quota.  Gave away only 48 runs in 10 overs with one wicket
15:32 IST: SIX! Stoinis dances down the track and clobbers it for a maximum. He is counter-attacking
15:30 IST: Travis Head sweeps and sweeps fine for a boundary
15:28 IST: FOUR! Edge and once again going between slips and the wicketkeeper. Axar Patel is not happy  
15:21 IST: FOUR! Travis Head plays it against the spin to hit Axar Patel through covers. Good shot by the left-hander 
15:16 IST: Ball grips and turns. Marcus Stoinis gets an outside edge but the slip is a little wide. It did deflected Dhoni's pads though. Terrific over by Axar Patel
15:14 IST: FOUR! Straight like an arrow. Travis Head using his feet and smashes it. That's first boundary in 8 overs
15:13 IST: Three wickets have fallen in the last 7 overs. 
15:11 IST: Marcus Stoinis is the new batsman in. Australia are 119/4
15:10 IST: OUT! Peter Handscomb tries to sweep against the spin but finds the top-edge of the bat. Ajinkya Rahane nicely takes that running back from slips. Australia are in big-big trouble now. 
15:06 IST: Travis Head comes to the crease now. India have really made a superb comeback and the credit goes to the spinners. Kedar and Kuldeep bowled well and now Axar Patel too getting into the groove
15:04 IST: Wicket! Axar Patel Removes David Warner for 53. Australia 112/3 after 22.2 overs 
15:02 IST: OUT! Warner chips the ball with such good timing but finds the man at the long on, Manish Pandey it is. He was trying to play a little wider and connected it so well that carried all the way to the long-on. He is devastated 
15:00 IST: Australia 103/2 after 20 overs. Peter Handscomb the new batsman in
14:55 IST: OUT! Rapped on the pads and big appeal by Jadhav for an LBW. The umpire raises his finger and a big wicket for India. Steve Smith goes for 16 
14:50 IST: Fifty! David Warner scores his 17th half-century. Australia 100/1 in 19.2 overs vs India
14:45 IST: Australians are recovering well after the wicket. Though, the run-rate has slowed down
14:35 IST: FOUR! Kuldeep tossed it up a little and Warner hammers it for a boundary through the off-side. He is nearing yet another half-century
14:27 IST: Another fine over by Kuldeep Yadav. Just four runs off it. Australia 78/1 after 15 overs 
14:26 IST: Now, Kedar Jadhav comes into the attack for Hardik Pandya. Interesting move!
14:24 IST: Maiden over by Kuldeep Yadav. This is what a wicket does to the opposition. Australia 71/1 after 13
14:22 IST: FOUR! Australian captain Steve Smith comes to the crease now and what a way to get off the mark. Beautiful cover drive off Pandya 
14:20 IST: Wicket! Hardik Pandya strikes, Aaron Finch departs for 32. Australia 66/1 after 11.3 overs
14:18 IST: In the air and Bumrah grabs it at the mid-off after a series of juggles. Finch has to go  
14:14 IST: Finch sweeps it for a single. Australia 63/0 after 11 overs
14:13 IST: Change in bowling from both the ends. Kuldeep Yadav to bowl the 11th over
14:10 IST: Change in bowling. Hardik Pandya comes into the attack now. 
14:08 IST: Australia 54/0 after 9 overs. Aaron Finch 26*, David Warner 28*
14:06 IST: FOUR! David Warner plays it towards sweeper cover this time off Bhuvneshwar Kumar. Australians are dealing in boundaries. Another solid start by the visitors 
14:05 IST: FOUR! This time straight drive comes into play. Bumrah continues to be expensive. 
14:04 IST: FOUR! Poor delivery again by Bumrah, angling into the pads and Finch played it over mid-wicket fielder
14:02 IST: FOUR! Bumrah drifting into the pads and Finch just flicked it to add another boundary
14:00 IST: Dot ball to finish the over. Bhuvneshwar Kumar just gave away two runs. Australia 35/0 after 7 overs. 
13:56 IST: FOUR! This time through the off side. So, 12 runs to finish the over 
13:54 IST: FOUR! The ball wasn't very short by Bumrah but Warner jabs it over mid-wicket for a boundary
#TeamIndia Playing XI for the 5th ODI #INDvAUS pic.twitter.com/Ll5zYH0qAb

— BCCI (@BCCI) October 1, 2017
13:51 IST: FOUR! Short of a length on the stumps and Warner plays it nicely towards long leg for a boundary. He is looking in good touch 
13:47 IST: FOUR! Finch sends Bumrah towards deep square leg for another boundary. Australia 14/0 in 4 overs.
13:46 IST: FOUR! First boundary of Australia innings. Finch slaps the ball towards deep mid wicket. Australia 10/0 in 3.3 overs.
13:44 IST: Just 3 runs off Bhuvneshwar's over. India 5/0 in 3 overs.
13:40 IST: Maiden over from Jasprit Bumrah. Australia 2/0 in 2 overs.
13:33 IST: Warner gets an edge but is safe. Rohit was at first slip and the ball fell short of him. Australia 2/0 in 1 over.
13:30 IST: David Warner and Aaron Finch are making their way to the middle. Bhuvneshwar is ready with the ball.
13:25 IST: Both teams  - India and Australia - have lined up for national anthems. Amazing atmosphere at the Nagpur stadium.
13:05 IST: Playing XIs:
Australia: David Warner, Aaron Finch, Travis Head, Steven Smith (captain), Peter Handscomb, Marcus Stoinis, Matthew Wade (wk), James Faulkner, Pat Cummins, Nathan Coulter-Nile, Adam Zampa
India: Rohit Sharma, Ajinkya Rahane, Virat Kohli (captain), Hardik Pandya, Kedar Jadhav, Manish Pandey, MS Dhoni (wk), Axar Patel, Bhuvneshwar Kumar, Jasprit Bumrah, Kuldeep Yadav
13:00 IST: TOSS: Steve Smith wins toss, opts to bat vs India in Nagpur.
Australia win the toss and elect to bat first in the fifth and final @Paytm ODI #INDvAUS pic.twitter.com/5bhctFOpBF

— BCCI (@BCCI) October 1, 2017
12:54 IST: Toss just few minutes away. stay tuned for more updates.
12:50 IST: Here's how the boys trained in Nagpur.
That's how the boys trained in Nagpur ahead of the fifth #INDvAUS ODI. #TeamIndia pic.twitter.com/XIPrLc79mV

— BCCI (@BCCI) September 30, 2017
Ahead of the fifth & final #INDvAUS ODI, #TeamIndia went through a rigorous training session at Vidarbha Cricket Association Stadium, Nagpur pic.twitter.com/tnGbv18TeN

— BCCI (@BCCI) September 30, 2017
12:40 IST: Hello and welcome to the Live coverage from the fifth and final ODI between India and Australia in Nagpur.
The team management will have to reassess their plans for the remaining game as both sides would want to end the series on a high and carry the momentum into the three T20s contest beginning in Ranchi on October 7. India openers Rohit Sharma and Ajinkya Rahane had set up a perfect platform in Bengaluru with a second straight century partnership but the middle-order could not capitalise on that. Hardik Pandya being promoted to four in the batting order worked brilliantly in Indore but did not yield a similar return on Thursday. Pandya's promotion led to MS Dhoni being dropped to number six and the former captain hardly got time to get his eye-in before going ballistic, something he prefers doing nowadays with his big hitting power on the wane.