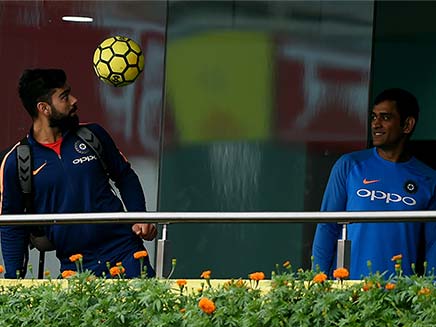 Kohli often turns to Dhoni during crunch moments in matches.
© AFP
Virat Kohli and MS Dhoni's on-field equation is among the most discussed factors when the Indian cricket team is analysed. The ease with which the two function has helped keep unnecessary speculation about their dynamics at bay. Several theories did the rounds when Dhoni stepped down as limited-overs captain. However, Kohli not just backed the wicketkeeper-batsman when he stuttered but also turned to him for advice on numerous occasions, signalling his importance to the side. Now, Dhoni and Kohli discussing field placements is a very common sight. In fact, Dhoni not only advises bowlers but also moves the fielders around when Kohli is not present in the circle.
Former India batsman VVS Laxman highlighted how the Dhoni-Kohli combination was working in India's favour and praised the Delhi batsman for seeking inputs from his predecessor.
"It is not only a brilliant moment of today's game (in Pune on Wednesday) but it has been a brilliant moment from the day Virat Kohli became captain in the ODI format. It is so good to see the rapport between Kohli and Dhoni. He has got the advantage of being a wicket-keeper, who has got the best view of the angles as far as field placements are concerned," Laxman said in the post-match show.
"Without having any ego, Kohli approaches Dhoni and that is credit to Kohli. Dhoni has abundance of knowledge and experience, above that he has got so much of respect, so Kohli depends a lot on Dhoni. This relationship will help India, going forward to 2019 World Cup. Dhoni is a mentor of the India team," the batting great further added.
Dhoni called time on his Test career during the series in Australia in 2014. However, he stayed on as ODI and T20 international captain.
Dhoni stepped down as the captain of India's limited-overs teams ahead of the ODIs and T20Is against England in January earlier this year.
The 36-year-old led India to victory in the 2007 World T20 in South Africa, the 2011 World Cup in India, and the 2013 Champions Trophy in England.
Dhoni captained India in 199 ODIs. India won 110 and lost 74 under his leadership.
He also led India in 72 T20Is. India won 41 and lost 28 under his captaincy in the shortest format of the game.
Topics mentioned in this article
India Cricket Team
New Zealand Cricket Team
India vs New Zealand
Cricket
MS Dhoni
Virat Kohli
VVS Laxman