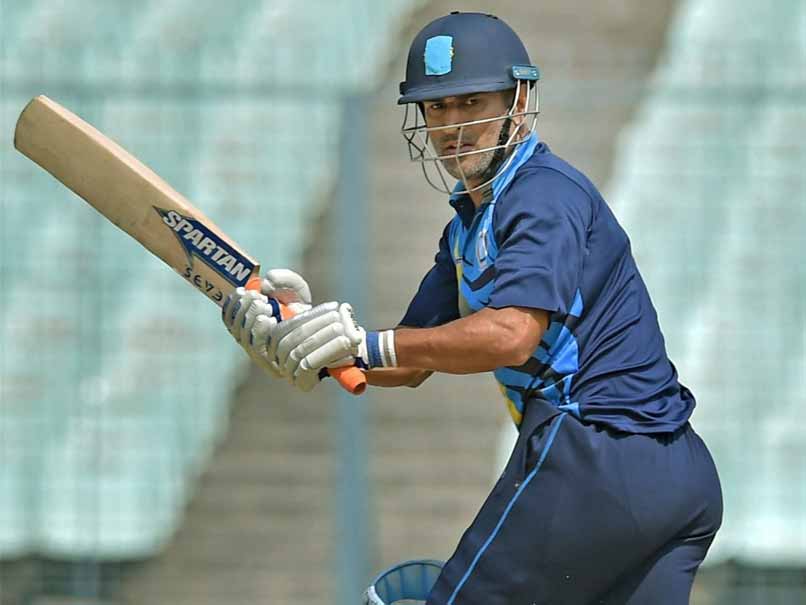 Mahendra Singh Dhoni was not happy with the Eden Gardens pitch on Wednesday.
© PTI
Mahendra Singh Dhoni did not leave the Eden Gardens in Kolkata in too happy a frame of mind after his Jharkhand team finished the Vijay Hazare Trophy match with Saurashtra on Wednesday. Jharkhand were dismissed for just 125 off 27.3 overs but came back to send Saurashtra packing for 83 in 25.1 overs. Dhoni was seen engaged in an animated discussion with pitch curator soon after the match.
Jharkhand were sent in to bat and at one time looked like being down and out for the count. However, they managed to recover well enough to put one past Saurashtra.
After the match, Dhoni headed straight to the curator's dug-out and accosted Sujan Mukherjee and the two were seen engaged in an animated discussion.
Mukherjee however said Dhoni wasn't complaining.
"Yes he said the wicket seamed a lot but he never came to complain. Even I'm not happy with the wicket. I also felt the ball moved and swung a bit more," Mukherjee told PTI.
"He came to meet me as I was his East Zone coach during his U-19 days. During his previous match I was not here so he came to meet me."
Only six batsmen - three each from either side - reached double figures with Jharkhand's Ishan Kishan being the top performer with a half-century.
All the 20 wickets to fall went to seam bowlers.
This incident comes soon after the Pune pitch, the host of the first Test between India and Australia, came under fire from all corners after the game ended in two-and-a-half days.
International Cricket Council match referee Chris Broad classified the Pune pitch as "poor" and the hosts, Maharashtra Cricket Association, could well face a fine as a follow-up.
Dhoni has not always been a fan of Eden pitches. As India captain too, he had never been a fan and had even called the track "ugly".
(With inputs from PTI)