Story Progress
Back to home
Saurabh Tiwary Gets Booed For 'Denying' MS Dhoni Chance To Bat
Jharkhand batsman Saurabh Tiwary could be excused for thinking he had done a good thing by scoring a century. But the crowd doesn't agree.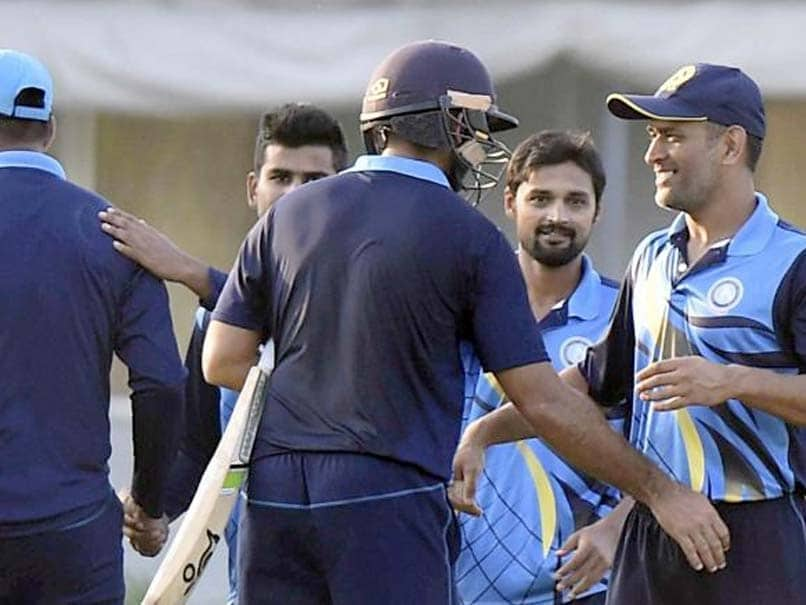 Saurabh Tiwary's century meant that MS Dhoni didn't get a chance to bat.
© PTI
Highlights
Jharkhand batsman Saurabh Tiwary was booed by the crowd at Kalyani

Jharkhand were playing Services in a Vijay Hazare Trophy match

Tiwary was booed since his century meant MS Dhoni didn't get to bat
Saurabh Tiwary had to face sloganeering and booing after he scored an aggressive century in Jharkhand's Vijay Hazare Trophy match with Services in Kalyani in West Bengal on Tuesday. The reason? His century ensured that Mahendra Singh Dhoni did not have to bat, denying the crowd the opportunity to see the star in action. While Jharkhand won the match easily, Tiwary went back to the dressing room with a lot of catcalls ringing in his ears.
The fairly large crowd, already fed on some athletic fielding from Dhoni when Services were batting, was expecting him to come out and produce some fireworks with the bat as well.
But Tiwary, along with Ishank Jaggi, made sure that Dhoni didn't need to don the batting pads, as they stitched together a 214-run stand as Jharkhand chased down the 277-run target easily, winning by seven wickets.
But as the side approached the target, the crowd realized that they may not get to see Dhoni in action, and shouts of "Saurabh Tiwary hai hai," began echoing as he approached his century.
The crowd, however, was not completely denied as Dhoni did put up a fine show on the field, snaring one catch and effecting two run-outs. But the 3000-strong Kalyani crowd wasn't too pleased that he did not bat.
Topics mentioned in this article