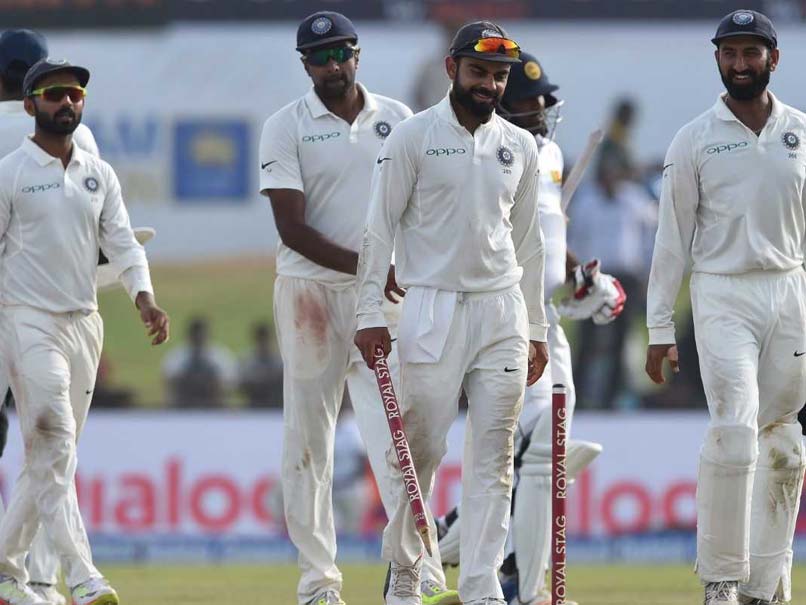 Captain Virat Kohli and teammates leave the pitch after the 4th day of the 1st Test
© AFP
India outclassed Sri Lanka by 304 runs in the opening Test of a three match series at Galle on Saturday. India skipper Virat Kohli dubbed the massive victory as a 'clinical performance.' He went on to add that the loss in 2015 at the same venue had depleted the team's confidence and Saturday's win was much-needed. "We lost a Test we should have won in 2015. It depleted our confidence. But this time it was a clinical performance two years down the line," Kohli said at the presentation ceremony. "We are an experienced team now, we played good cricket. All bases were covered and I'm really happy with the way things went in this Test."
Shikhar Dhawan was adjudged the Man of the Match for his scintillating knock of 190 in the first innings. Along with Dhawan, Cheteshwar Pujara also scored 153 runs in the first innings.
The India skipper said it was a special win as the bowlers had to work really hard on a wicket that was not offering much help.
"The surface did not offer much, and that's why the win is special. Our bowlers had to create openings. It's an example of the skill they possess, and persistent pressure always pays. This wicket needed more hard work than the last wicket we played in Galle," Kohli said.
Shikhar Dhawan scored a superb 190 in the first innings in the absence of regular opener Lokesh Rahul, who missed the opening Test due to fever.
Kohli said selecting the opening combination for the next Test was a happy headache to have.
"One regular opener is not fit...is a massive headache but a happy one. One will be left out, I guess in both scenarios guys will understand how the dynamics of the team works. It is good to have guys scoring runs," he said.
Talking about his unbeaten 103 in the second innings, Kohli said: "It was a situation where we had to capitalise and not waste too many deliveries. Abhinav (Mukund) batted well and he deserved a hundred."
Dhawan said he enjoyed his batting and the competition for the opening slot is keeping him on his toes.
"I really enjoyed batting over here. I just watched the ball and backed my game. There is a very healthy competition for the opening spot in the side, and it keeps me on my toes," he said.
Sri Lankan stand-in skipper Rangana Herath credited India for the win, saying they were outclassed in all three departments of the game.
"It is a pretty good wicket, and the toss was not a factor. Credit to the India team. We need improvement in all three departments. Asela's loss is huge."
Asked about his injury, Herath, who didn't bat today as he had hurt his finger while bowling yesterday, said: "The finger is getting better. There is nothing on the scan. It was a previous fracture and I am sure it will get better."
(With PTI Inputs)