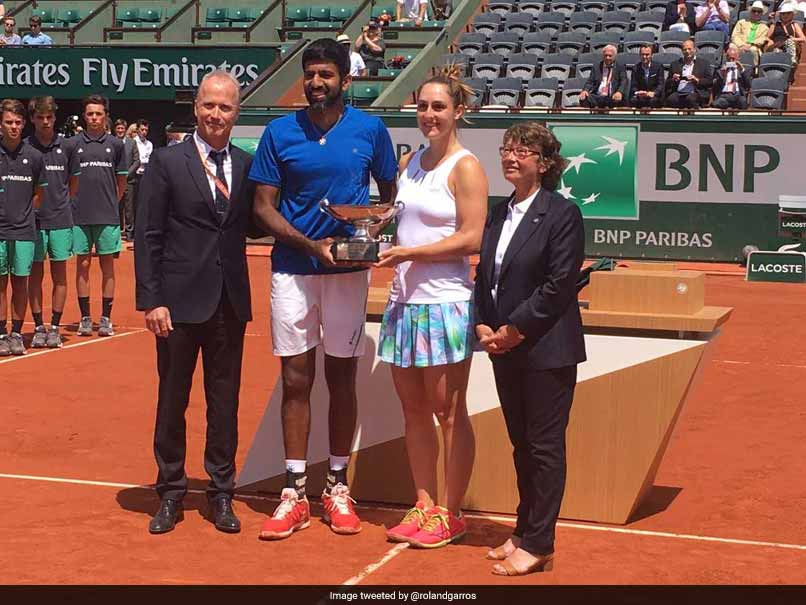 Rohan Bopanna and Gabriela Dabrowski won the mixed doubles French Open 2017 title
© Twitter
Fresh from his mixed doubles title at the French Open, Karnataka's Rohan Bopanna is back on home soil. The 37 year old from Kodagu was honoured by Karnataka Chief Minister, Siddaramaiah and picked up a check of Rs. 10 lakh to add to his considerable professional earnings. The Karnataka Chief Minister described tennis as a rich man's game - or at least that was the perception in his own school days.
"I never played tennis. I studied. I knew kabaddi and badminton. And a little football - we used to play in school," Siddaramaiah said.
"We didn't have the facilities to play tennis in high school. Tennis is called a rich person's game ...But Bopanna is not from a rich family..."
Rohan himself has worked hard for his success. Seven years after losing in the US Open, he has achieved that tennis dream of a Grand Slam title, after a close match that went to a super tie-breaker third set.
"That super tie-break had so many emotions," Rohan told NDTV. "It was just a relief that I had won the match. Only when I sat down I realised - this is the Grand Slam that I had won! And even for Gabriela (his partner Gabriela Dabrowski), the first Canadian woman to win a Grand Slam."
But the achievement has not lessened his drive. It is unusual to win a first Grand Slam at 37 but Rohan said, "You don't have to think about a number, as long as you are fit...The main thing for me is that I always believed in myself."
He just has one day at home before leaving for the next tournament - and will visit the tennis academy he has started in Bengaluru.
"I am really looking forward to going back on the court, even though I would love to stay a few more days here, spend time with family and friends. Work calls and that comes first for me. My wife sometimes says, tennis is my first love!" he said.
Rohan's next big target is Wimbledon, with the same partner.
"The grass court is something I love playing on and I am looking forward to next month," he added.
India will be rooting for him in Wimbledon too.