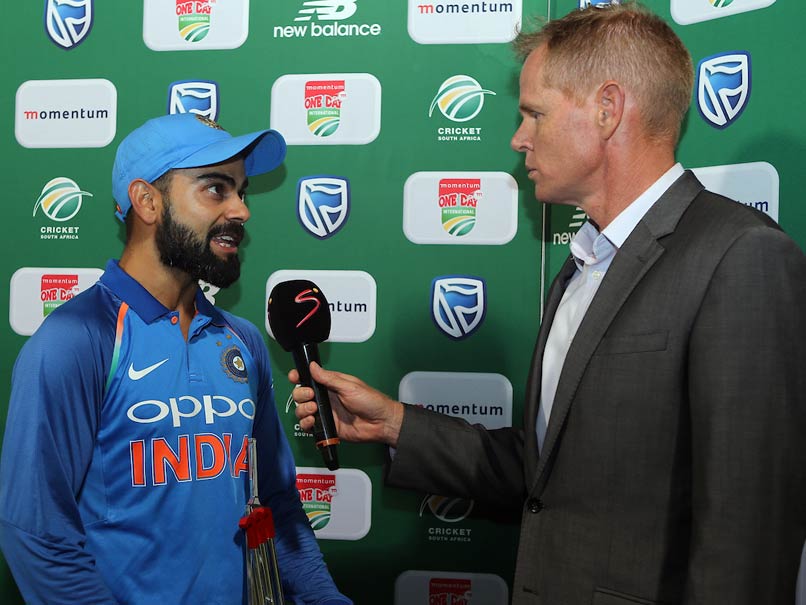 Virat Kohli was named man of the series for the South Africa ODIs.
© BCCI
India captain Virat Kohli sounded rather irritated with the media during the post-match press conference on Friday. Kohli, who was named man of the series in India's 5-1 win over South Africa, took several jibes at the reporters after the 6th and final ODI at Centurion. When asked if the ODI series triumph against the Proteas was India's best overseas win, pat came a terse response: You people can tell!". 
"One month back we were a very bad team. Now we are being asked these questions. We haven't changed our mindset. Now whether this is the biggest win or no, whoever wants to analyze, write will do so," Kohli said.
The 29-year-old told the reporters that he wasn't one to get carried away with all the media attention and adulation after India's historic series win.
"I know for a fact that 90 percent people didn't give us a chance after two Tests. I was sitting in the same room giving a press conference. So we understand where we've come from," the sarcasm was not lost on anyone.
"I am not going to live in a dreamland right now and accept all the praise, sit here and feel good about this, because it doesn't matter to me. Honestly it doesn't. It didn't matter when we were 2-0 down, it doesn't matter now that we are 5-1 up because what matters is the respect in the change-room," the stylish right-hander added.
Kohli was again at the forefront scoring a staggering 558 runs (including three hundreds) in his team's 5-1 ODI series win against South Africa but made it clear that he has never ever played cricket to be a "headline grabber".
"At this stage, I don t feel like competing with anyone. It s all about how I prepare before the game and what my work ethics are and how I am feeling on game day. My only motivation is to get into that frame of mind. I am not competing with anyone at all," Kohli said.
Asked if he can now be termed as the best batsman in world cricket, the straight-talking skipper said: "As I said, I don t want any tags. I don t want any headlines. I just go out there and do my job, it is up to the people to write what they write, I don t want to be called anything.
"It s my job, I am supposed to do what I am doing and I am not doing anyone a favour, so just want to be in this zone of working as hard as I can and trying to do the best for the team," he added.
(With inputs from PTI)