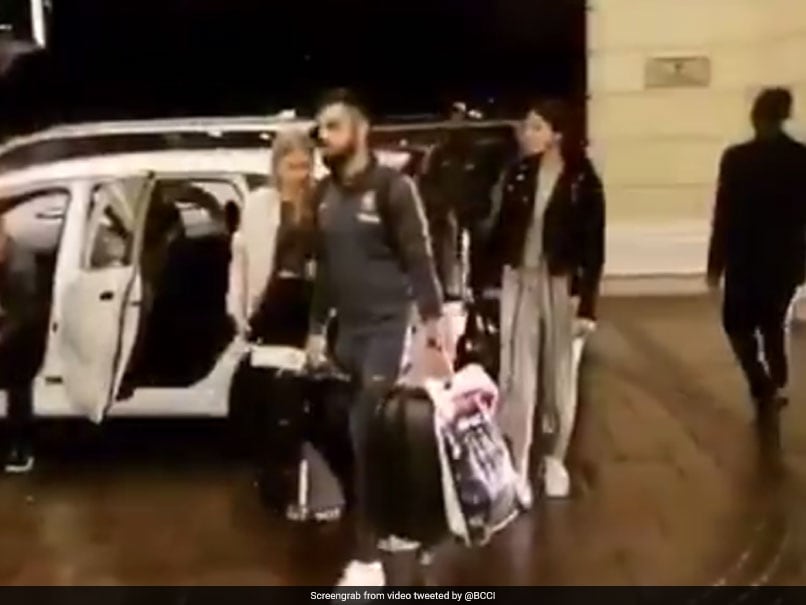 Virat Kohli and Anushka Sharma seen entering Cape Town hotel.
© Twitter
The Virat Kohli-led Indian cricket team have landed in South Africa and reached their Cape Town hotel late on Thursday night. Virat along with wife Anushka Sharma were seen entering the hotel together as India gear up for their 56-day long tour of South Africa. The Indian team will play three Tests, six One-Day Internationals (ODI) and three Twenty20 Internationals against South Africa with the first Test beginning on January 5 in Cape Town. Virat and Anushka got married in Italy in a private ceremony on December 11 and held their wedding receptions in New Delhi on December 21 and Mumbai on December 26.
BCCI's official Twitter handle posted a video of Team India members entering the hotel.
After a long flight #TeamIndia make their way to the team hotel here in Cape Town, South Africa pic.twitter.com/lFr3ktBvlX

— BCCI (@BCCI) December 28, 2017
Meanwhile, before leaving for their tour skipper Virat Kohli made it clear that they have "nothing to prove to anyone" during the upcoming South Africa series.
India have not won a single Test series in the 'Rainbow Nation' for the past 25 years.
"We have got rid of all the mental pressures of touring abroad and wanting to prove to people. We are not wanting to prove anything to anyone and our duty is to go out there, give our 100 per cent effort for the country and get the result that we want to," Kohli had said.
Indian teams over the years have struggled with the bounce that South African pitches offer, having won only two Test matches over the years. The best result came during the 2010-11 series, which India drew 1-1.
"It all depends on the kind of mindset you get into as batsman. Any place, even Indian conditions can be very difficult if you are not in a good frame of mind, so cricket is played with ball and bat and if you are not there mentally, it does not matter the conditions you are playing in.
"You need to take up challenges mentally and then every conditions seem like home conditions. If you get accustomed to where you are going and you start feeling comfortable embracing the culture, people, it becomes easier," he explained.