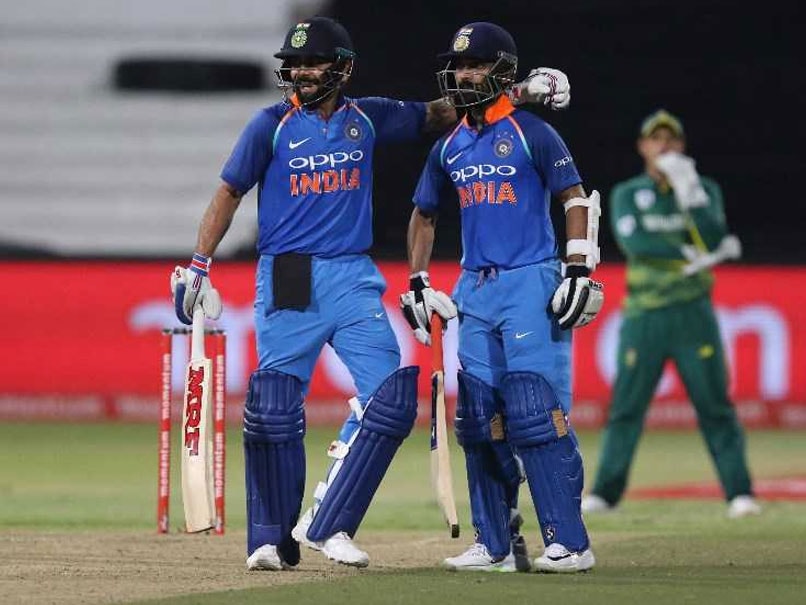 Virat Kohli and Ajinkya Rahane strung together a 189-run stand for the 3rd wicket.
© AFP
Going into the ODI series against South Africa, India faced a tricky selection dilemma regarding the No.4 spot in the batting order. While skipper Virat Kohli had earlier said that Ajinkya Rahane was looked upon as India's third opener, the captain had a change of heart before the first ODI and claimed that Rahane was a strong No.4 candidate for the ICC World Cup in England next year. That thinking would have only strengthened following Rahane's brilliant 79 in the opening ODI in Kingsmead, Durban that helped India easily chase down the target set by South Africa. After the win, fans came out in force on Twitter and made a special request to the Indian captain.
After Rahane's magnificent performance in Durban, fans said the Rahane should permanently become India's No.4.
Thank you captain for @ajinkyarahane88 giving him an opportunity.. thank you virat Its Just made my day when i see this man batting with so much ease..i hope no.4 is your place now.please just let him play #ajinkyarahane.

— Dhoni (@ImJaGyA) February 1, 2018
Another chasing masterclass from the man who eats international hundreds for breakfast/lunch/dinner Virat Kohli, but how good was Ajinkya Rahane? Given his pedigree, a few more knocks of this kind, and India may finally find an solution to the No. 4 conundrum! #INDvSA

— Vidyut (@BabyBhogle) February 1, 2018
2019 World Cup is in England and Ajinkya Rahane chose the South Africa series to make his claim and mark No.4 as his territory. This innings of his makes things even more interesting.

— .... (@ynakg1) February 1, 2018
Always thought Ajinkya rahane was ideal for no. 4 spot in the team. How stupid were we to see even Manish Pandey as a prospect. #SAvIND

— Nikhil Gite (@NikhilGite2) February 1, 2018
As we said that India have all Pinch hitter Batsman. They need a strong middle order No.4 Batsman & that is Ajinkya Rahane.

— Rizwan (@jojisoomro79) February 1, 2018
This Ajinkya Rahane's inning was one to be remembered for a long time. A masterpiece. Proved me wrong. Well is that an end to the no. 4 conundrum? #SAvIND

— Adi (@Aditya9593) February 1, 2018
India have been experimenting about it for quite a while. And Ajinkya Rahane has definitely staked his claim for that No.4 spot in ODI team.

— Ninad (@The7Galacticos) February 1, 2018
That settles the No. 4 spot for me, thanks. #AjinkyaRahane is the right foil for Kohli and that really lends that solidity to that middle order. #SAvsIND

— R Kiran Kumar (@rkk1991) February 1, 2018
India's Best No 4 #AjinkyaRahane
Spot Sealed.
No More Experiment.
But the case is What ever is the position he will deliver you results.#IndvsSA #Rahane

— Senthil MEEK (@Senthil248) February 1, 2018
Chasing 270 to win, Kohli (112) led from the front as he hit a fine century to help his team cruise to a six-wicket victory over the Proteas. The Indian captain was ably supported by Rahane, who looked in solid form as he hit his 24th ODI fifty.
Kohli and Rahane put on 189 runs for the third wicket as India got to the target with 27 balls remaining.
Kohli had earlier said that the core of the team was already in place, and only the number four spot needed to be sorted out.
"We have explored many options in the last few months. We don't have too many series and too much time left before the World Cup, so we want to explore all the options before the World Cup," Kohli told reporters.
"I had said earlier that Ajinkya Rahane would be looked at as a third opener but that situation can change because he has batted at No. 4 in a World Cup (in 2015) before. These conditions are such that you get to play fast bowling throughout the innings so he becomes a strong candidate for No. 4."