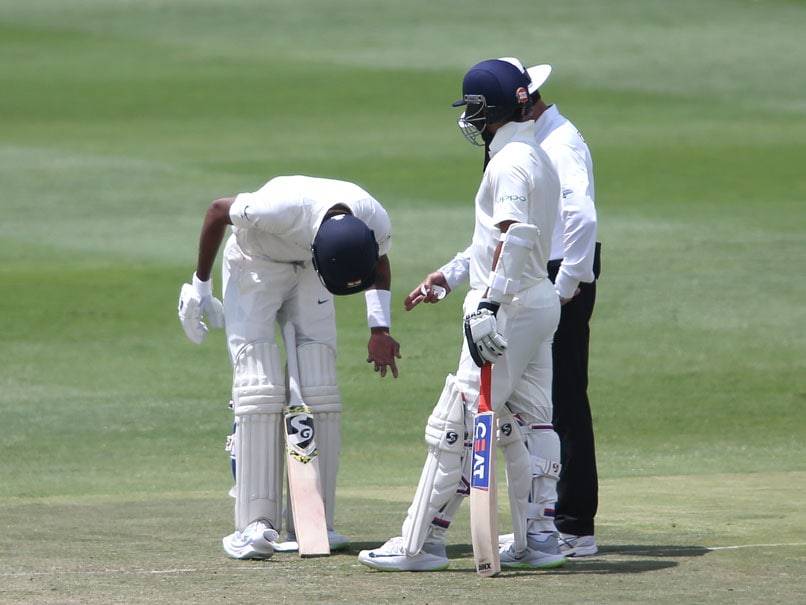 Hardik Pandya of India reacts after being hit on the wrist from Kagiso Rabada
© BCCI
The third day of the final Test match between India and South Africa was called off due to poor pitch. The play was called off when both skippers Virat Kohli and Faf du Plessis discussed with the match referee after Dean Elger was hit thrice in three overs with the uneven bounce. The dangerous batting conditions prevailed when India batted as several of their batsmen took blows in their bodies during the day but play was never halted. Chasing 241, South Africa were 17 for one in 8.3 overs when Elgar was hit on his helmet by a rising delivery from Jasprit Bumrah, forcing umpires to suspend play. The physio rushed to the pitch and Elgar was seen placing an ice-pack on his forehand.
Umpires Ian Gould and Aleem Dar began discussion and soon match referee Andy Pycroft joined them. The players were taken off the field and captains and coaches of the two teams were called to discuss further course of action. Earlier, India scored 247 in their second innings.
Former West Indies fast bowler Michael Holding went on to term the surface "dangerous". "This pitch, I think, is dangerous. I would hate to be a batsman on this pitch given what I am seeing happening out there at the moment on the third day of a Test match," Holding told news agency PTI. "Look, I am happy with lateral movement, like we saw in the first Test (at Cape Town). I have no problem with that. But when balls start exploding off a length and people start getting hit left, right and centre, I don't think that's a good pitch," he added. The Wanderers' pitch has coming under criticism from former cricketers and commentators for its dangerous nature.
The talk of the entire third day was about the uneven bounce of the track with some of the cracks on good length and short of it opening up.
As many as three Indian and one South African batsmen were hit on day three as the ball rose from good length area.Murali Vijay and Virat Kohli were hit on their hands in the morning session, in the 31st and 35th overs respectively, while Ajinkya Rahane was hit too post lunch, in the 58th over.
All instances happened off the bowling of Kagiso Rabada. Later in the day chasing 241 runs for a win, Deal Elgar was struck on his hand by Bhuvneshwar Kumar in the third over of their second innings.
Earlier in the day, two umpires - Aleem Dar and Ian Gould- had a long chat in the middle and inspected the pitch before play resumed. Surprisingly, there is no official word from the match referee on this issue yet. Holding, here on commentary duty with official broadcaster Super Sport, also criticised the pitch on air as well.
He rated the pitch "2 out of 100" and called for the abandonment of the game as early as the pre-lunch session. "They should have called it off when (Murali) Vijay got hit," Holding later explained, off air. "This is not a cricket pitch, this is dangerous. Call it off, forget it. You can't play cricket on that. I have no ideawhat has gone wrong but I know it's not a good cricket pitch," he said. "The last time I saw something like this, the match was abandoned in Jamaica in 1998, and it didn't even last this long."
From the beginning of the match, the ball was kicking off length from Corlett Drive End but today the ball started rearing up from Golf Course End as well. This behaviour of the wicket also drew sharp criticism from other former cricketers, also here on commentary duty. "Uneven bounce is the problem, not lateral movement. It is quite dangerous from batting point of view when you have tall bowlers hitting the deck hard and bowling around 140. It is dangerous and it's not ideal," said former South African captain Kepler Wessels.
Former Indian skipper Sunil Gavaskar, also here on commentary duty with Super Sport, criticised the inconsistent bounce of the track but didn't go as far as calling for the match to be abandoned. "The Indian batsmen should be commended for scoring 240- odd because it is a difficult pitch no doubt. No batsman can feel certain on a wicket like this and the unpredictable bounce makes it dangerous as well. But I don't think the match should be abandoned," Gavaskar told news agency PTI, just as Elgar was hit by Bhuvneshwar early in the South Africa's second innings.
(With PTI Inputs)