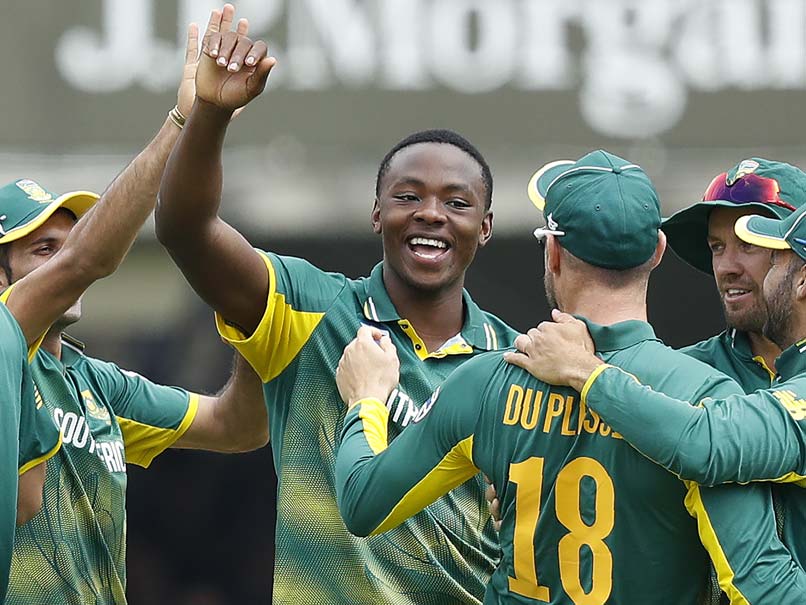 Kagiso Rabada is confident that his team would make a comeback in the third ODI
© AFP
South Africa fast bowler Kagiso Rabada, who made an impact in the Test series against India, believes that South Africa will make a strong comeback in the third ODI at Newlands, Capetown. A depleted South Africa have not been able to compete against India in the ongoing ODIs and are 0-2 behind in the six-match series. "There are a few problems. I wouldn't say there's a lot. Sometimes when you do badly all it seems like there's a lot more going wrong than what really is happening. So failure is going to happen and it s going to happen again," said Rabada.
"It is very important we keep speaking the right language. Anything can happen in sport. We need to get as much momentum as we can. We are definitely not out of it. Definitely not! he added.
South Africa called as many as five wrist spinners in the nets ahead of the third ODI against India, hoping it will help their struggling batsmen combat the combined threat of Yuzvendra Chahal and Kuldeep Yadav.
Chahal and Yadav have wreaked havoc in this series picking 13 wickets in the first two matches. The Proteas had as many as five different wrist spinners in their nets on Tuesday in a bid to stem the rot in the next match.
"We clearly haven't come to the party. It's not acceptable at all. India are a strong team. They've just beaten Australia (at home) comprehensively. I know they've been playing all their games at home, but they've been playing good cricket.
"It doesn't help that we have been going through a few changes and not been in the best of form since the Champions Trophy in one-day cricket. We are still trying to catch up at the moment. Hopefully it comes pretty soon, said Rabada.
When asked about how the Proteas could possibly turn this deficit around, the pacer replied, In an ideal world, close to the perfect game, if a lot of people score runs and lot of people take wickets. Or you need individual brilliance. We'll take either.
"It's not generally something we talk about. We are experienced enough to know that cricket is a game of ups and downs. We just need to go back, see where we are going wrong, calm down and do our business on the field looking to turn the momentum over."
The hosts have also been set back with a host of injuries. AB de Villiers, Faf du Plessis and Quinton de Kock have all been ruled out of the remaining matches on this Indian tour.
Rabada said while this has been a factor, it is also a silver lining for the team because it is also preparing for the 2019 World Cup.
"It gives other players a chance. We've got players who have been playing in franchise cricket for a while and doing pretty well. Those three names that have dropped out of the team are pretty much irreplaceable at the moment.
"So, it just gives guys a chance to widen the pool so other players can experience international cricket. Perhaps it is a blessing in disguise," said the pacer.
Through the tour, Rabada has been involved in an intense contest with Virat Kohli. At both Durban and Centurion, he tested him with short bowling, but the Indian skipper rose to the occasion.
"For all batsmen we have couple of plans. Obviously that was one of them - short ball (to Kohli). At the end of the day, you are nice and competitive on the field. Coming off the field that changes," Rabada signed off.
(With PTI inputs)