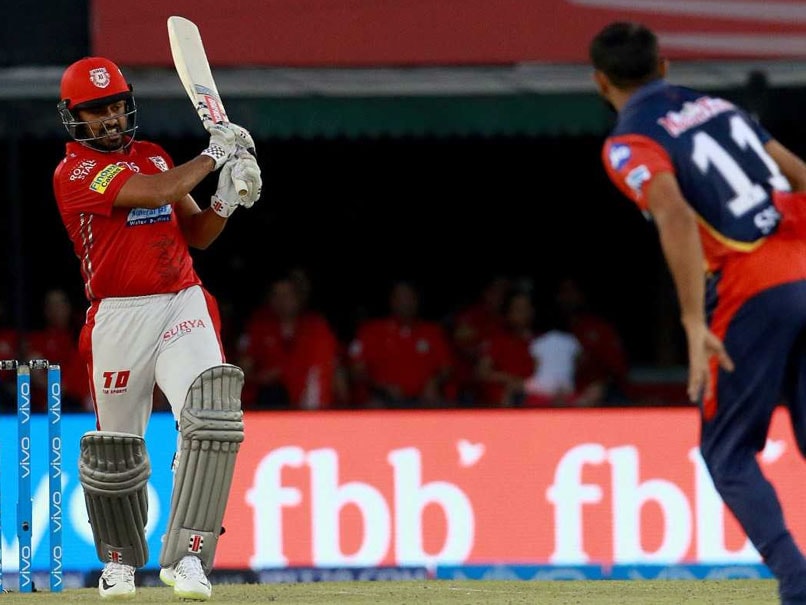 IPL 2018: KXIP vs DD: Gautam Gambhir's fifty took Delhi Daredevils to 166/7 in their quota of 20 overs
© BCCI
Opener KL Rahul blasted his way to a fastest ever half-century in Indian Premier League as a new look Kings XI Punjab started their campaign on a resounding note defeating Delhi Daredevils by six wickets on Sunday. Ravichandran Ashwin marshalled his resources admirably restricting Daredevils to a mediocre 166 for 7 on a placid track. The KXIP captain himself bowled a few leg breaks during his disciplined effort of 1 for 23 in 4 overs. The surprise package was Afghanistan off-spinner Mujeeb-r Rahman, who finished with 2 for 28 in 4 overs. Courtesy Rahul, who smashed six boundaries and four sixes in his 16-ball-51, the match as a contest was over within the Powerplay as KXIP raced away to 73 for 2 in six overs. Karun Nair, who has had a mixed season, then helped himself to a 33-ball-50 as the home team reached the target in 18.5 overs. Only Yuvraj Singh's 12 off 22 balls stuck out like a sore thumb as he once again looked a pale shadow of his old self. The star of the match certainly was Rahul, who started with a top-edged six and a couple of boundaries off Trent Boult. (SCORECARD)
Highlights of the IPL 2018 match between Kings XI Punjab vs Delhi Daredevils, straight from PCA stadium, Mohali
19:24 IST: Kings XI Punjab beat Delhi Daredevils by 6 wickets with 7 balls to spare
After 18 overs, KXIP are 157/4
19:20 IST: KXIP now need 10 runs off 12 balls.
After 17 overs, KXIP are 152/4
19:13 IST: 150 up for KXIP as they are now in the touching distance of a win. KL Rahul and Karun Nair made the things quite simple for other batsmen on their team.
After 16 overs, KXIP are 141/4
19:05 IST: Another short ball outside off, Nair pulled, hit it very well but found Trent Boult in the deep. KXIP now need 29 off 26 balls.
19:04 IST: WICKET! Nair c Boult b Christian 50(33)
19:03 IST: Karun Nair brings up his 9th IPL FIFTY with a massive SIX over the mid-wicket.
After 15 overs, KXIP are 132/3
19:01 IST: KXIP need 35 runs in 30 balls now, DD need wickets.
After 14 overs, KXIP are 126/3
18:58 IST: Rahul Tewatia is not letting the batsmen let loose, gives away just 5 runs.
After 13 overs, KXIP are 121/3
18:55 IST: Another slow over for KXIP but they are slowly and steadily moving towards their target of 167. DD desperately need wickets.
After 12 overs, KXIP are 115/3
18:50 IST: Excellent over from Rahul Tewatia, just 6 runs off it.
After 11 overs, KXIP are 109/3
18:44 IST: 100 up for Kings XI Punjab in the 11th over.
After 10 overs, KXIP are 99/3
18:42 IST: Pressure to score got the better of Yuvraj Singh as he hit it straight to deep midwicket.
18:40 IST: WICKET! Yuvraj c Vijay Shankar b Rahul Tewatia 12(22)
After 9 overs, KXIP are 97/2
18:34 IST: Shami is again going for a lot of runs. 3 back to back FOURS for Karun Nair.
After 8 overs, KXIP are 83/2
18:30 IST: Excellent over from Dan Christian, just 3 runs off it. DD bowlers are trying every thing to pull things back after the damage done by KL Rahul.
After 7 overs, KXIP are 80/2
18:20 IST: The scoring rate has gone down for KXIP but they are far away from being worried at this stage.
After 6 overs, KXIP are 73/2
18:20 IST: Two FOURS came off the over and KXIP are still doing great.
After 5 overs, KXIP are 64/2
18:18 IST: End of Rahul's destructive innings. Low full toss stayed low and Rahul tried to play it over the short fine leg. But got a leading edge.
18:17 IST: WICKET! Rahul c Shami b Boult 51(16)
After 4 overs, KXIP are 63/1
18:14 IST: What a rampaging start by KXIP batsmen, they have taken the bowlers to the cleaners right from the onset.
18:12 IST: Soft dismissal for Mayank Agarwal as his defensive shot went straight to mid-on.
18:11 IST: WICKET! Mayank Agarwal c Shami b Chris Morris 7(5)
After 3 overs, KXIP are 52/0
18:07 IST: This is absolutely ridiculous from KL Rahul. FOUR, SIX, SIX, FOUR, FOUR and KL Rahul has the fastest FIFTY in IPL off 14 balls.
After 2 overs, KXIP are 28/0
18:02 IST: KL Rahul has come out all guns blazing. He pulled Shami's short delivery effortlessly over fine leg for a SIX before dragging the next one towards square leg for a FOUR.
After 1 over, KXIP are 16/0
17:59 IST: After playing an awkward looking across shot for a SIX, KL Rahul produced two splendid drives to get consecutive FOURS. What a start for KXIP. Sheer class from Rahul.
17:55 IST: KL Rahul and Mayank Agarwal are out to begin the chase for KXIP. Trent Boult will open the attack for DD.
Kings XI Punjab need 167 runs to win their opening game of IPL 2018.
After 20 overs, DD are 166/7
17:40 IST: Despite Gautam Gambhir's fireworks, Delhi Daredevils manage just 166 in their quota of 20 overs. Excellent bowling display from Kings XI Punjab.
WICKET! Christian b Mohit Sharma 13(13)
After 19 overs, DD are 155/6
17:35 IST: What excellent bowling display from Kings XI Punjab. They are not letting Delhi Daredevils break free but a last-ball six from brought up 150 for the visiting team.
After 18 overs, DD are 144/6
17:30 IST: What an over from Mujeeb at this stage, just 6 runs off it. 2 more overs to go. What an IPL debut for Mujeeb, figures of 4-0-28-2 and a crucial run out of Gambhir with a direct hit.
After 17 overs, DD are 138/6
17:26 IST: Chris Morris has the ability to hit big and he displayed it with a huge SIX off Mohit Sharma, sending the ball into the crowd at long-on.
After 16 overs, DD are 127/6
17:20 IST: Tewatia failed to read the line of the ball and missed it to be trapped in front of the wickets.
17:18 IST: WICKET! Rahul Tewatia lbw b Ashwin 9(7)
After 15 overs, DD are 123/5
17:16 IST: What a match this is turning out to be for Mujeeb. His direct hit sends back dangerous Gautam Gambhir. Big blow for DD.
17:15 IST: WICKET! Gambhir run out (Mujeeb) 55(42)
17:06 IST: Gautam Gambhir now has maximum IPL fifties, tied with David Warner.
After 14 overs, DD are 118/4
17:05 IST: Not the best-looking shot from Pant. Completely lost control as he sliced it high towards extra cover. Tye took an outstanding catch. Second wicket for Mujeeb.
17:05 IST: WICKET! Pant c Andrew Tye b Mujeeb 28(13)
After 13 overs, DD are 107/3
17:04 IST: 100 up for Delhi Daredevils in the 13th over.
FOUR, SIX, FOUR for Rishabh pant off Andrew Tye's over. Runs are flowing in for DD now.
After 12 overs, DD are 90/3
16:59 IST: Gautam Gambhir played the slightly short ball towards extra cover for a single to bring his 36th IPL FIFTY.
Chris Gayle: "Looking forward to get my opportunity. Waiting patiently. I had good nets for the last couple of days. The expectation (to hit sixes) comes from the fans. It's about setting a standard for yourself. It's all about entertainment in T20s. As I said, It's about setting a standard and maintaining it. I'm still fit and hungry for games. I'll try to stay on for as long as possible. There's life after cricket, so trying to enjoy every moment. It's always a good wicket to bat here in Mohali, so anything under 180 will be a decent total. We've a great batting unit; guys are hungry."
After 11 overs, DD are 84/3
16:55 IST: Excellent over from Mohit Sharma at this stage of the innings. 7 runs and a wicket off it.
16:52 IST: Vijay Shankar failed to open the full face of the bat and went for a pull. The ball went miles up in the air and Axar Patel bagged an easy catch at the deep mid-wicket.
16:51 IST: WICKET! Vijay Shankar c Axar b Mohit Sharma 13(13)
After 10 overs, DD are 77/2
16:50 IST: There are three men fielding the deep for KXIP now and Gautam Gambhir will have to be very careful before flexing his muscles.
After 9 overs, DD are 70/2
16:41 IST: Looks like Gautam Gambhir is now getting a little frustrated and wants to break free. Taking far too many risks.
After 8 overs, DD are 61/2
16:37 IST: Good over from R Ashwin, just 7 runs off it.
After 7 overs, DD are 54/2
16:33 IST: Shreyas Iyer throws away his wicket after a brilliant strike. In an attempt to play a drive, Iyer gives a faint edge to Patel.
16:32 IST: WICKET! Shreyas Iyer c Rahul b Axar 11(11)
16:30 IST: 50 up for DD with a mammoth SIX off Shreyas Iyer's bat.
After 6 overs, DD are 45/1
16:28 IST: Delhi skipper Gautam Gambhir looks is an excellent touch. He is leading from the front by sending every loose delivery out of the boundary rope.
After 5 overs, DD are 39/1
16:25 IST: After a brilliant first over. Mujeeb returns with a somewhat loose over. Gave away 9 runs.
After 4 overs, DD are 30/1
16:20 IST: FOUR, FOUR, SIX for Gambhir against Axar Patel. The visiting skipper is toying with the spinner. 17 runs off the over.
After 3 overs, DD are 13/1
Mujeeb takes a wicket on his third delivery IPL. Munro attempted a reverse-sweep and was trapped in front of the wickets.
16:12 IST: WICKET! Munro lbw b Mujeeb 4(6)
After 2 overs, DD are 11/0
16:10 IST: So far, it has been a cautious start from Delhi Daredevils. Mohit Sharma gives away just 5 runs in his first over.
Good luck to the @lionsdenkxip for our first game tonight!! Cant wait to get to India to India tomorrow night

— Aaron Finch (@AaronFinch5) April 8, 2018
After 1 over, DD are 6/0
16:05 IST: Excellent controlled start from R Ashwin.
16:00 IST: Gautam Gambhir and Colin Munro come out to bat for Delhi. Punjab skipper R Ashwin opens the bowling attack.
Delhi Daredevils (Playing XI): Gautam Gambhir(c), Colin Munro, Rishabh Pant(w), Shreyas Iyer, Chris Morris, Vijay Shankar, Daniel Christian, Rahul Tewatia, Amit Mishra, Trent Boult, Mohammed Shami
Kings XI Punjab (Playing XI): Lokesh Rahul(w), Mayank Agarwal, Karun Nair, Yuvraj Singh, David Miller, Marcus Stoinis, Axar Patel, Ravichandran Ashwin(c), Andrew Tye, Mohit Sharma, Mujeeb Ur Rahman
Back in the @lionsdenkxip after 8 years, @YUVSTRONG12 looks all set for the game ahead #KXIPvDD pic.twitter.com/zt6KVJt207

— IndianPremierLeague (@IPL) April 8, 2018
Kings XI Punjab's overseas players - Andrew Tye, Mujeeb Zadran, David Miller and Marcus Stoinis
Delhi Daredevils' overseas players - Colin Munro, Trent Boult, Dan Christian and Chris Morris
15:30 IST: Kings XI Punjab win the toss and opt to bowl
15:12 IST: Ricky Ponting, Daredevils coach: "I am going really well, pretty excited. (On moving from MI to DD) I had a year in between to refresh, really enjoying myself here at Delhi and we had a good auction as well. It's a really good bunch that we have. The challenge is to bring the Indian players and overseas players together. Many of the overseas players have joined us late. I am just trying to balance the different cultures as much as I can. There is a lot of talent on display and we are looking forward to it. Someone like Glenn Maxwell isn't there today, he would have started if he was, that's for sure. I suppose even they are missing some big players. In times like these, you look up to the others to chip. (On IPL being a long tournament) Yes, that's what I was telling the boys. It's not just about turning up 100% for this game, there is still a long way after it as well."
Squads
KXIP: Ravichandran Ashwin (Captain), Axar Patel, Yuvraj Singh, Karun Nair, Lokesh Rahul, Chris Gayle, David Miller, Aaron Finch, Marcus Stoinis, Mayank Agarwal, Ankit Rajpoot, Manoj Tiwary, Mohit Sharma, Mujeeb Zadran, Barinder Sran, Andrew Tye, Akshdeep Nath, Ben Dwarshuis, Pardeep Sahu, Mayank Dagar, Manzoor Dar.
DD: Gautam Gambhir (Captain), Rishabh Pant, Shreyas Iyer, Chris Morris, Glenn Maxwell, Kagiso Rabada, Amit Mishra, Shahbaz Nadeem, Vijay Shankar, Rahul Tewatia, Mohammad Shami, Trent Boult, Colin Munro, Daniel Christian, Jason Roy, Naman Ojha, Prithvi Shaw, Gurkeerat Singh Mann, Avesh Khan, Abhishek Sharma, Jayant Yadav, Harshal Patel, Manjot Kalra, Sandeep Lamichhane, Sayan Ghosh.
Hello and welcome to our coverage of the IPL 2018 match between Kings XI Punjab and Delhi Daredevils.
Coming to Delhi, a lot will depend on Gambhir who has proved himself to be an astute leader in the T20 format having led Kolkata Knight Riders to two IPL titles (2012, 2014). Colin Munro will partner Gambhir up top, while the likes of Rishabh Pant, Shreyas Iyer and Glenn Maxwell will look to add power to Delhi's batting. All-rounder Vijay Shankar and Chris Morris are the two all-rounders and much will depend on how the latter performs as he is a seasoned campaigner in this format. A lot of limelight will also be on India seamer Mohammed Shami for his recent off-field incidents but he is expected to share the new ball with the New Zealand pacer Trent Boult. The two spinners for Delhi will be Amit Mishra and Shahbaz Nadeem, who have been decent performers for the franchise in the past as well. Tye and Boult will be the quicks to watch out for. Tye's skills will be on show in the middle overs and it will be a challenge for the Delhi batsmen to pick his knuckleballs which he disguises so very efficiently. In the head-to-head count, Punjab lead Delhi 11-9.