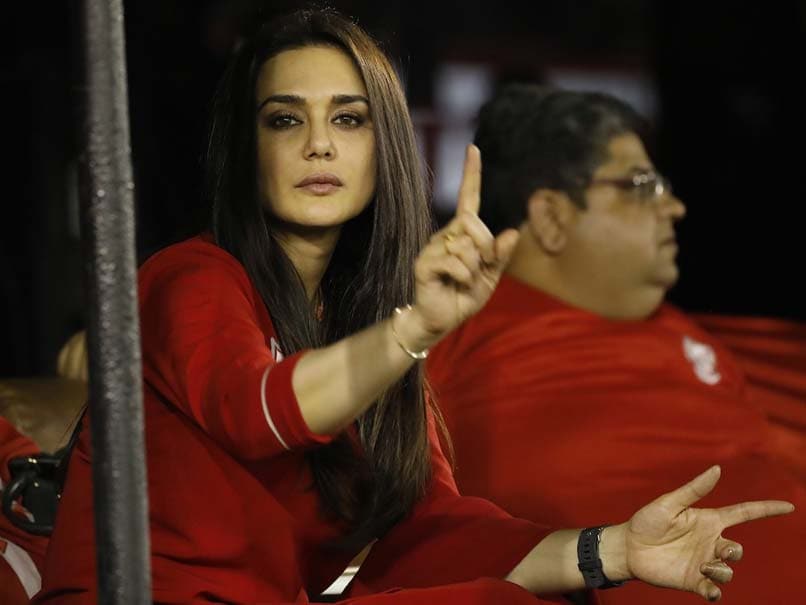 Marcus Stoinis' 'dog jaw' scared Preity Zinta!
© BCCI
Kings XI Punjab are not having the best IPL's so far, having lost five out of their nine matches in the Indian Premier League (IPL) this season but that doesn't mean they are having any less fun off the field. A video shared by former West Indian cricketer Darren Sammy on Instagram, shows how several overseas cricketers ganged up to play a prank on KXIP co-owner Preity Zinta. Turns out that Zinta gets the scare of her life and all the rest have a big laugh.
Australian all-rounder Marcus Stoinis is in the thick of things, as seen in the video where he is trying to tell the Bollywood actor that he has a 'dog jaw' and asking her whether she has ever seen something like that.
England limited-overs skipper Eoin Morgan is seen touching Stoinis' jaw just to confirm his claims.
However, Zinta is not someone who was willing to take all that from Stoinis at 'face value' and decided to touch his jaw to see what he is talking about.
As planned, the moment Zinta tried to touch his jaw, the Australian barked like a dog, loud enough to startle her and was a part of the prank.
Stoinis seems to be the new prankster in the Punjab line-up. Earlier, he was seen pulling a prank on Manan Vohra in similar fashion.
Punjab got back to winning ways against Delhi Daredevils in their last match when they gave DD a pretty good hiding by bowling them out for 67 and winning the match by 10 wickets.