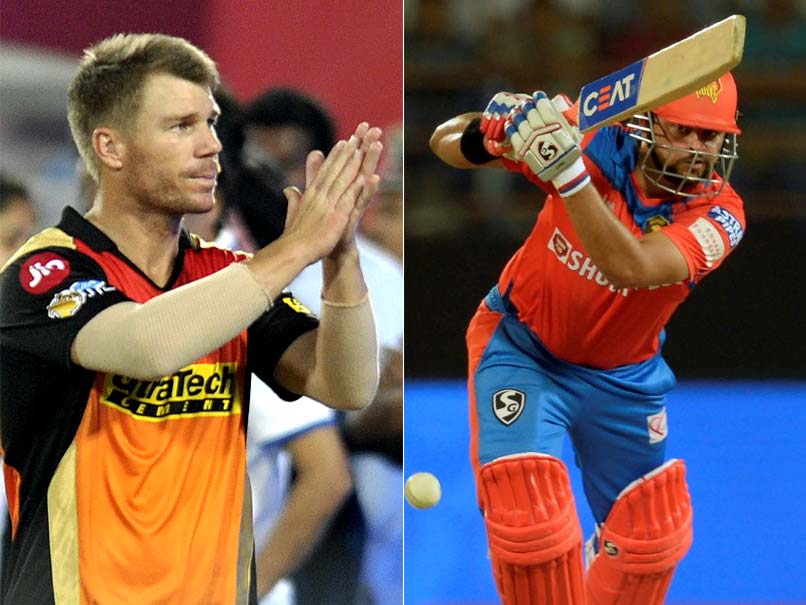 Highlights, SRH Vs GL: David Warner scored an unbeaten 76 to take his team home.
© AFP
Sunrisers Hyderabad captain David Warner (76*) played a captain's knock to drive his team home against Gujarat Lions. Moises Henriques (52*) gave him good company as the duo put on an unbeaten 108-run stand that took the hosts to a nine-wicket victory against the Lions. Earlier, Rashid Khan returned with figures of 3 for 19 that had reduced the visitors to 135 for 7. (SCORECARD)
Catch all the highlights and updates of SRH vs GL IPL match in Hyderabad
17:08 IST: Warner finishes it up in style. Hyderabad beat Gujarat by 9 wickets. Warner 76*, Henriques 52*
19:04 IST: Henriques brings up his 4th half-century in IPL. Need 3 to win.
19:00 IST: Hyderabad need 10 runs to win off 36 balls.
18:53 IST: Six! Warner goes downtown and all Baroka could do was watch. Third six for Warner.
18:51 IST: Hyderabad 109 for 1 in 12 overs.
18:46 IST: David Warner brings up his 33rd IPL fifty. Hyderabad need 31 off 53 balls.
18:44 IST: Runs coming easily for Hyderabad. Short and wide from Kaushik and easy pickings for Henriques. Two back to back boundaries for the right-hander.
18:38 IST! Four! This time Warner goes through backward point. Result the same.
18:37 IST: Four! Driven through the covers by Warner and finds the gap.
18:34 IST: Hyderabad looking in no trouble whatsoever in the run chase. With nine wickets in hand they need 60 more to win in 11 overs.
18:25 IST: Hyderabad 67 for 1 at the end of 7 overs.
18:22 IST: Shivil Kaushik comes on and Henriques greet him with a boundary in the second ball of the over.
18:21 IST: Add Four more! This time through the on-side.
18:19 IST: Four! Back of a length and Henriques upto the task. Smashes it through the covers.
18:14 IST: Too short and the result the same. Four more!
18:13 IST: Baroka comes on and Warner picks him for a boundary. Can't bowl short to Warner.
18:11 IST: Four! Juicy full toss and Henriques puts it away.
18:09 IST: Wicket! Praveen Kumar gets the first breakthrough for Gujarat. Dhawan gets a leading edge and safely taken by McCullum.
18:06 IST: Six! Third of the Raina over. Hyderabad are off to a great start.
18:05 IST: Six! Warner this time gets into the act. Raina is proving to be expensive in this over. 15 taken already.
18:04 IST: Raina comes on to the attack and Dhawan quick on his feet deposits it into the stands. Six!
17:58 IST: Four! First boundary for Hyderabad. Warner off in fine fashion.
17:55 IST: And we are back for the run chase. The players have taken the field.
17:40 IST: Gujarat Lions 135 for 7 at the end of 20 overs.
17:37 IST: 13 coming from the second last over.
17:35 IST: Six! Thampi goes for the big one and it has gone a long way.
17:29 IST: You can't keep Rashid Khan out of action today. Dhawal Kulkarni dismissed thanks to a brilliant piece of fielding by Rashid. Run Out!
17:26 IST: Wicket! Karthik departs trying to up the ante. Nehra strikes for Hyderabad.
17:22 IST: Wicket! Smith goes for the big one but finds the man at the deep. Smith departs as Gujarat lose half their side.
17:17 IST: Gujarat Lions 110 for 4 in 16 overs.
17:14 IST: Short and wide and gets the treatment. Smith will not miss out on that. Four!
17:09 IST: Six! Smith takes the aerial route and clears the field easily.
17:00 IST: Four! Typical Smith. Picked it up and heaved it over mid-wicket.
16:58 IST: Rashid finishes his quota of overs. Gujarat Lions will breathe a sigh of relief. Finishes with figures of 3 for 19.
16:56 IST: Rashid Khan comes back for his final over.
16:53 IST: Gujarat Lions 68 for 4 after 11 overs.
16:49 IST: Dwayne Smith is the new man in. Joins Dinesh Karthik.
16:44 IST: Wicket! Another one bites the dust. This time Suresh Raina has to go back to the hut. Rashid Khan has picked up his third wicket.
16:38 IST: Four! Great shot from Dinesh Karthik. Straight past the bowler.
16:33 IST: Big wicket! Rashid Khan is on a roll at the moment. Wrong one and Finch fails to read it of the hand as well as of the pitch. Trapped right in front. Gujarat lose their third.
16:32 IST: Suresh Raina and Aaron Finch have to rebuild here for Gujarat.
16:25 IST: Wicket! Gujarat lose both their openers. Roy has to depart. Bhuvi strikes.
16:20 IST: Wicket! Rashid Khan again does the trick for Hyderabad. McCullum becomes the first casualty for Gujarat. Leg before for 5.
16:16 IST: Gujarat Lions 32 for 0 after 4 overs.
16:14 IST: Nehra comes on and Roy pulls him over mid-wicket. Four!
16:11 IST: Four! Second of the over. Roy is looking to take the attack to the opposition.
16:11 IST: Four! Short from Bipul and gets the treatment.
16:10 IST: Roy goes for the reverse sweep, didn't quite get it of the middle of the bat but the ball lands safely.
16:07 IST: Four! Second boundary of the over. Gujarat Lions getting a move on.
16:06 IST: Roy gives the charge and gets a boundary. First of the match.
16:05 IST: Bhuvneshwar Kumar to share the new ball with Bipul.
16:03 IST: McCullum takes a single and he is away. A good first over by Bipul. Only 3 from it.
16:02 IST: Roy off the mark with a single. Gujarat are away.
16:00 IST: Both the openers are out there for the LIons. Jason Roy to take strike. McCullum at the other end. Left-arm spinner Bipul Sharma to start things off for Hyderabad.
15:56 IST: So players make their way to the middle. We are about get underway.
15:40 IST: Here is a look at how the teams are lined up.
#IPL Match 6 - Here are the Playing XIs for @SunRisers vs. @TheGujaratLions #SRHvGL pic.twitter.com/MiOINWrRU6

— IndianPremierLeague (@IPL) April 9, 2017
15:38 IST: Sunrisers Hyderabad gearing up for their second match this season.
The defending champions @SunRisers are warming up ahead of Match 6 #SRHvGL pic.twitter.com/yNrhzBJmFE

— IndianPremierLeague (@IPL) April 9, 2017
15:37 IST: Gujarat Lions in a hurdle before the start of the match.
.@TheGujaratLions are on the field sweating it out #SRHvGL #IPL pic.twitter.com/0UuRVGuW81

— IndianPremierLeague (@IPL) April 9, 2017
15:36 IST: Basil Thampi and Delhi legspinner Tejas Baroka replaces Jakati and Manpreet Gony for the Gujarat Lions.
15:33 IST: Hyderabad have gone in with an unchanged squad.
15:31 IST: Sunrisers Hyderabad have won the toss and they have elected to bowl.
15:30 IST: Hello and welcome to the match between Sunrisers Hyderabad and Gujarat Lions.
Sunrisers have a potent bowling attack and adding to the experience of Nehra and Kumar is young leggie Rashid Khan who showed his capability of foxing batsmen with the ball and getting crucial breakthroughs. Captain David Warner's destructive batting prowess is well-known and he along with Shikhar Dhawan will be looking to give a good start from the beginning of the innings.
Gujarat Lions will be worried about their bowling attack after they were taken to the cleaners by Gautam Gambhir and Chris Lynn. A few changes in the line-up will be the order of the day and Australia all-rounder James Faulkner needs to be back in the team.
The batting department though continues to look strong and a lot will be dependent on them. Suresh Raina along with Brendon McCullum and Dinesh Karthik will be hoping to keep their fine form going with the bat and put up a big total which would help their weakened bowling line-up something to defend.