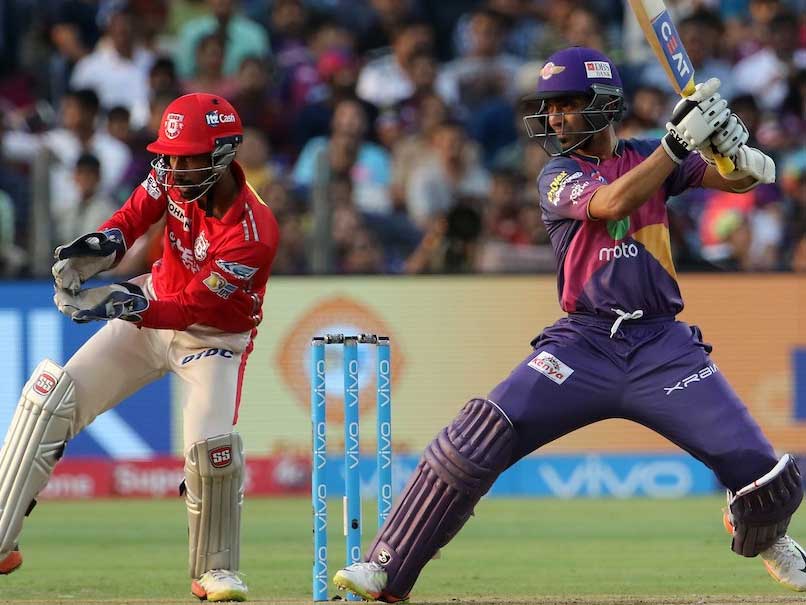 IPL Highlights: Pune beat Punjab by nine wickets to secure play-off berth.
© BCCI
Rising Pune Supergiant (RPS) comfortably beat Kings XI Punjab (KXIP) by nine wickets in the 55th match of the Indian Premier League (IPL) on Sunday. Ajinkya Rahane (34), Rahul Tripathi (28) gave Pune a solid start in the run-chase which helped them beat the Lions in just 12 overs. Post this win, Pune now stand second in the IPL table and have secured their play-offs berth with 18 points. For Punjab, Axar Patel finished for the figures of one for 13 in his two overs. (SCORECARD)
IPL highlights between RPS vs KXIP straight from Pune, India.
18:29 IST: And it's all over for Punjab. Pune secure their play-offs berth, beat Punjab by 9 wickets.
18:27 IST: Pune need 3 off 51 balls.
18:23 IST: Pune playing smart cricket at the moment, need 12 runs in 60 balls.
18:18 IST: Nine overs gone, Rising Pune Supergiant need more 16 runs in 66 balls​.
18:16 IST: Dropped! Rahane sweeps Tewatia, Guptill lets the ball go through his hands on the boundary ropes.
18:14 IST: After eight overs, Pune stand at 55 for one. Steve Smith and Ajinkya Rahane tucking the ball away for singles and double. Edging towards a victory here -- 19 runs in 72 balls
18:09 IST: At the end of the powerplay, Pune stand at 43 for one.
18:06 IST: Bowled!! Tripathi trying one too many shots, goes across the wicket, looking for a sweep, misses the ball.
18:04 IST: Four! A bit of width from Axar, Rahane slams the ball away for a boundary.
18:01 IST: Six! Down on one knee, Tripathi clobbers Tewatia for his first maximum.
17:58 IST: Four! Ishant straying on the pads, Tripathi tucks the ball away for a boundary.
17:56 IST: Four! Wide from Ishant Sharma, Tripathi cuts it away for a boundary.
17:55 IST: After three overs, Pune stand at 18 for no loss.
17:52 IST: Four! Short from Sandeep Sharma, Rahul Tripathi walks down the pitched and clobbers it for a boundary.
17:47 IST: Four!! Tripathi coming down the wickets, slams Mohit Sharma through the off side for the first boundary.
17:44 IST: Good start from Punjab, after the first over, Pune stand at three for no loss.
17:42 IST: Sandeep Sharma leading the bowling attack for Punjab.
17:41 IST: Ajinkya Rahane and Rahul Tripathi opening the batting for Pune.
17:40 IST: Welcome to the second innings of the match.
17:20 IST: Out! That's it. Punjab all-out for 73 against Pune. Steve Smith and team did a wonderful job with the ball.
17:16 IST: Out! Zampa tosses the ball up, Ishant Sharma heaves, Steve Smith completes a comfortable catch. Punjab stand at 71 for nine.
17:10 IST: Brilliant bowling -- wicket maiden from Unadkat.
17:08 IST: Out! Wide from Unadkat, Swapnil Singh swings, edges the ball to Dan Christian at first slip, ball pops out, Dhoni completes the catch.
17:05 IST: After 13 overs, Punjab stand at 69 for seven. Kings struggling to score runs against the disciplined bowling of Pune.
16:59 IST: Out! Dan Christian strikes twice, Axar trying to put the ball away, edges the ball to MS Dhoni. Punjab stand at 62 for seven, 11.3 overs.
16:53 IST: Ten over gone, Punjab stand at 55 for six.
16:49 IST: Out! Full length from Dan Christian, trying to run the ball down to third man, edges the ball to MS Dhoni behind the wicket. Punjab is crumbling down!
16:47 IST: Pune bowlers are tightening the noose and not allowing the Punjab batsmen to bat freely. The early fall of wickets have put the visiting team on the backfoot.
16:43 IST: Six! Short of length from Adam Zampa, Axar Patel pulls for his first maximum.
16:38 IST: Safe! Wide from Thakur, Axar drives, edges the ball between the wicket keeper and wide slip.
16:33 IST: At the end of the powerplay, Kings XI Punjab stand at 32 for five.
16:31 IST: BIG WICKET!! On the pads from Thakur, Glenn Maxwell flicks the ball straight to Ajinkya Rahane deep backward square leg, departs for a duck.
16:28 IST: Out!! Short ball from Thakur, Tewatia pulls the ball, top edges the ball to Unadkat at short fine leg. Pune tearing through the batting line-up.
16:22 IST: Run-out! Brilliant sharp throw from Unadkat, Eoin Morgan falls short of crease. Punjab lose their third wicket.
16:20 IST: Four! Wide from Thakur, Morgan gets off the mark in style with a boundary on the off-side.
16:16 IST: Out!! Scrambled seam from Thakur, trying to put the ball over mid-off, Marsh hits the ball straight to his fellow countryman Steve Smith.
16:14 IST: After the end of three over, Punjab stand at 19 for one.
16:12 IST: Six! On the pads from Unadkat, Wriddhiman Saha uses the bottom hand to dispatch the ball for the first maximum.
16:11 IST: Difficult chance! Wide from Unadkat, Saha drives, edges the ball wide of the wicket-keeper, Dhoni jumps to his right but fails to collect the catch.
16:08 IST: Four! Length ball from Shardul Thakur on the pads, Marsh flicks the ball for a well-timed boundary.
16:05 IST: Good start from Pune, Punjab after the first over stand at 4 for one.
16:04 IST: Four! Shaun Marsh hits Unadkat for the first boundary of the over.
16:00 IST: Out!! Unadkat strikes first ball for Pune, wide from him, Guptill reaches out and drives and Manoj Tiwary takes a good catch at short extra cover.
15:59 IST: Jaydev Unadkat leading the bowling attack for Pune.
15:58 IST: Wriddhiman Saha and Martin Guptill opening the batting for Punjab.
15:42 IST: Playing XI for both the teams.
15:35 IST: Team changes -- For Punjab, Eoin Morgan comes in for Matt Henry and Swapnil Singh replaces Manan Vohra. While Pune is playing with the same team.
15:31 IST: Rising Pune Supergiant captain Steve Smith wins toss, elects to bowl against Kings XI Punjab.
15:28 IST: It's toss time.
15:10 IST: Hello and welcome to the live blog of the match between Rising Pune Supergiant and Kings XI Punjab.
When the two teams square off on Sunday, the equation is pretty simple for Glenn Maxwell's team. A win is all that they need to qualify as it will take them to 16 points with a superior net run rate.
The Punjab outfit doesn't have to look at any other results. Similarly for Supergiant, a win will see them leapfrog KKR and SRH into second place and confirm their play-off spot.