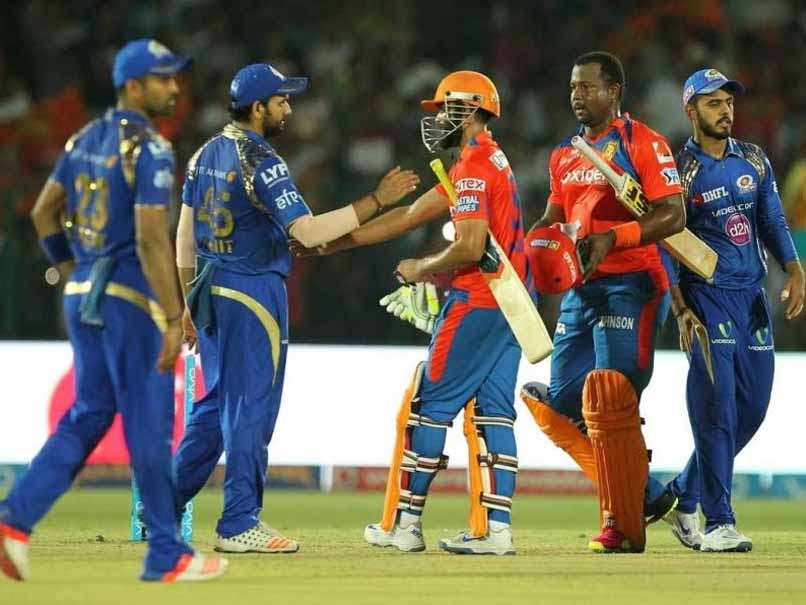 IPL highlights, MI vs GL: Mumbai Indians beat Gujarat Lions, maintain their winning momentum.
© BCCI
Mumbai Indians (MI) displayed core batting strength as they easily beat Gujarat Lions by 6 wickets at Wankhede Stadium, Mumabi, in Indian Premier League (IPL) on Sunday. As Mumbai lost an early wicket in the form of Parthiv Patel, Nitish Rana along with Jos Buttler provided Mumbai a perfect base with spme quick runs. Scoring the highest for the team, Nitish Rana completed his third IPL fifty (53) and punished the bowlers with his fiery batting. After Rana and Buttler were dismissed, captain Rohit Sharma and Kieron Pollard held the fort and built a steady partnership. Blasting the bowlers throughout the match Rohit and Pollard scored 40 and 39, respectively. The Gujarat Lions did not have control over the game as the bowlers failed to impress. For Gujarat, Andrew Tye recorded the best bowling figures of 2 for 34 in his stipulated four overs. With this win MI recorded their fourth consecutive victory. (Scorecard)
Catch all the highlights of the game between Mumbai Indians and Gujarat Lions straight from Mumbai.
19:41 IST: And Rohit Sharma does it for the team! Mumbai Indians beat Gujarat Lions by 6 wickets and three balls to spare.
19:40 IST: Four! Cleverly guiding the ball towards long leg, is taking their team through !
19:36 IST: Crucial over this for both the teams. It can be anybody's match from here.
19:35 IST: Mumbai need only 8 runs from the last over!
19:34 IST: It's all going down for Gujarat Lions at Wankhede!
19:33 IST: Four! Hardik Pandya, the new man, squeezes the ball through point to get off the mark.
19:31 IST: Out! Big wicket for Gujarat Lions as they send Kieron Pollard back to pavilion. Mumbai 160 for 4 (18.1)
19:29 IST: What an over this! Only six runs conceded by Basil Thampi.
19:27 IST: Mumbai Indians have scored 51 runs from last 27 balls!
19:26 IST: Basil Thampi has to careful with his line and length as Rohit and Pollard are looking to end the game early.
19:24 IST: Four! Back-to-back boundaries for Pollard, heaves Tye for a boundary over deep mid wicket.
19:23 IST: Six! Andrew Tye smoked for a straight maximum.
19:21 IST: Mumbai Indians need 36 to win from the last four overs.
19:18 IST: Six! Sharma taking Jadeja to cleaners. Clears the deep extra cover boundary with ease. 
19:15 IST: Four! Back-to-back boundaries for the West Indian. Both on leg side.
19:14 IST: Six! Pollard looking to complete the game early.
19:12 IST: Match well in Mumbai Indians' grip, Gujarat bowlers try hard to bounce back in the back for a win.
19:11 IST: Six! Pollard heaves the ball with ease for a maximum, Munaf being punished.
19:10 IST: Four! Rohit Sharma cuts Munaf Patel just past the point fielder.
19:08 IST: As Rohit Sharma and Kieron Pollard are tapping the ball around for singles and doubles, Mumbai need 71 runs from 42 balls.
19:02 IST: Four! Skipper Rohit Sharma gets into action as he put Munaf away for a boundary.
18:58 IST: Out! Munaf Patels sends Jos Buttler back to pavilion, lose both their openers. Mumbai 92/3.
18:55 IST: Mumbai is cruising towards their victory. Need 88 off 60 balls.
18:49 IST: Out! Andrew Tye sends Rana back just after his fifty. Rana trying to cut, thin edges the ball to Dinesh Karthik.
18:47 IST: Six! Not falling back, Buttler dispatches Jadeja for a maximum.
18:45 IST: Fifty up! Nitish Rana cuts Jadeja and scores his third IPL half-century.
18:41 IST: Four! Rana cuts Munaf handsomely for a boundary. Nearing his fifty.
18:38 IST: Steadying the Mumbai innings, Rana and Buttler bring up their 50-run partnership.
18:35 IST: Andrew Tye concedes 9 runs from his first over.
18:30 IST: Six! Beautiful cover drive for a maximum from Rana. Thampi taken to the cleaners.
18:27 IST: Six! Buttler gets his first, scoops Thampi for a maximum.
18:24 IST: Four! Buttler gets his first, flicks Munaf at fine leg.
18:21 IST: Mumbai Indians need 152 runs off 102 balls. 
18:18 IST: Wide and wide again for Praveen Kumar down the leg side.
18:12 IST: Dropped! Jason Roy misses the catch of the dangerous Nitish Rana on mid wicket off Thampi.
18:09 IST: After the first over Mumbai stand at 7 for 1.
18:06 IST: Nitish Rana joins Jos Buttler out in the middle.
18:04 IST: Out! Praveen Kumar strikes, removes Parthiv Patel on the second ball of the innings. Mumbai 0 for 1 (0.2)
18:03 IST: Welcome back to the second innings of match number 16 between Mumbai Indians and Gujarat Lions.
17:55 IST: Stay tuned for the second innings between Gujarat Lions and Mumbai Indians at Wankhede.
17:48 IST: And it's done! Gujarat Lions finish for 176 for 4 in 20 overs. Good last over by Jasprit Bumrah.
17:44 IST: Four! Roy hammers Bumrah straight down the ground.
17:42 IST: Six! Malinga gets the yorker wrong on the last ball of 19th over, Roy dispatches it over long on.
17:35 IST: Two overs to go Gujarat 154 for 4. Karthik and Jason Roy out in the middle.
17:34 IST: Out! McCLenaghan sends Kishan packing for 11. Kishan trying the big heave, miss times the ball to deep square leg.
17:32 IST: Six! Karthik goes all the way over deep mid wicket. McClenaghan hit for a maximum.
17:31 IST: Karthik stepping on the gas for his team at Wankhede.
17:30 IST: Four! Ball strays onto the pad, Karthik (33) flicks it for a beautiful boundary.
17:28 IST: Four! Ishan Kishan dispatches Bumrah on the leg side for a boundary.
17:27 IST: Dinesh Karthik misses out on a free hit as Bumrah bowls a perfect yorker.
17:26 IST: Four! Karthik leading GL from the front. Keeping the attack going. 
17:18 IST: Safe! Karthik dives in full stretch as Parthiv Patel delays to take the bails off.
17:16 IST: 5 overs left for the first innings to conclude. Gujarat Lions 120 for 3.
17:15 IST: Four! Overthrow by Mumbai Indians, giving away easy runs.
17:14 IST: Six! Dinesh Karthik scoops Hardik Pandya for a six over long leg.
17:07 IST: Dinesh Karthik replaces McCullum, Hardik Pandya replaces Jasprit Bumrah.
17:06 IST: Out! Malinga gets the danger man. Traps McCullum (65) with his toe crushing yorker. Gujarat 99 for three (13.4)
17:05 IST: Four! Boundary for McCullum on fine leg.
17:01 IST: Six! McCullum swings hard at Bumrah on the leg side.
16:57 IST: 12 overs done and Gujarat still haven't reached 100-run mark. GL must ante up their game to post a good total on board.
​16:56 IST: Safe! Ishan Kishan dances down the wicket to slam Bhajji, misses the ball, gets back home in time before ParthivPpatel takes the bails off.
16:52 IST: Out! Harbhajan gets Suresh Raina (28) in his last over of the innings, Rohit Sharma completes the catch. Gujarat 81 for two (11.1)
16:49 IST: Fifty for Brendon McCullum 51(37)! Registers his 12th half-century of IPL.
16:48 IST: Steadying the ship for Gujarat, Raina and McCullum playing smart cricket and building partnership for the visitors.
16:47 IST: Half of the innings done and Gujarat Lions stand at 75 for one.
16:46 IST: Four! Hitting Harbhajan on the turn, McCullums send the ball to the boundary rope. 
16:43 IST: Four! Short from Krunal and McCullum dispatches him over mid wicket.
16:38 IST: Four! McCullum getting into his comfort zone, slams Harbhajan for a boundary on the leg side.
16:36 IST: Good over from Krunal Pandya, concedes only three singles from his first over.
16:31 IST: After six overs, Gujarat score 46 for one.
16:30 IST: Six! McCullum now freeing his arms to score big on the leg side.
16:29 IST: Six! First maximum of the innings by McCullum.
16:28 IST: Abhishek Bachchan arrives to support Mumbai Indians.
16:26 Ist: After 5 overs, Gujarat stand at 31 for one.
16:24 IST: Four! McCullum slams Bumrah straight down the ground. Gujarat score a boundary after 14 deliveries.
16:18 IST: McClenaghan finishes his over with three dot balls. Gujarat off to a slow start.
16:14 IST: Four! McCullum scores his first boundary, pulls the ball well.
16:11 IST: Four! Raina seizes the opportunity, slams through covers for a boundary.
16:10 IST: Free hit for Gujarat Lions as Malinga over steps.
16:06 IST: After the end of first over, Gujarat Lions stand at 3 for one.
16:04 IST: Gujarat Lions captain Suresh Raina replaces Dwayne Smith in the middle.
16:03 IST: Out! Bit of width from McClenaghan, Smith cuts straight to the fielder at point. Departs for duck. Gujarat Lions 1 for one (0.2)
16:00 IST: Mitchel McClenaghan leading the bowling attack for Mumbai Indians.
15:59 IST: Dwayne Smith and Brendon McCullum open the batting for Gujarat Lions.
15:58 IST: Players make their way out in the field.
15:49 IST: Mumbai Indians warming up before their game at Wankhede.
15:48 IST: Gujarat Lions warming up before their away game against Mumbai Indians.
15:45 IST: Here are the playing eleven for both the teams.
15:35 IST: For Mumbai Indians Lasith Malinga replaces Tim Southee.
15:34 IST: For Gujarat Lions Jason Roy and Munaf Patel come in place of Aaron Finch and Shadab Jakati. Aaron Finch is ruled out because he lost his kitbag! 
15:31 IST: Mumbai Indians captain Rohit Sharma wins toss and elects to field against Gujarat Lions at Wankhede, Mumbai.
15:30 IST: It's Toss time!!
15:27 IST: Hello and welcome to the live blog of Match 16 between Mumbai Indians and Gujarat Lions straight form Wankhede, Mumbai.
Importantly for Gujarat, three of their imports - Dwayne Smith, Brendon McCullum and Aaron Finch - were effective, as well as captain Suresh Raina got runs. That win must have really boosted them, since they really needed to get a little positive about things.
The bowling however still needs some work. Andrew Tye made a sensational IPL debut, a hat-trick highlighting his five-wicket haul, but the rest of the bowlers have not really been that effective.