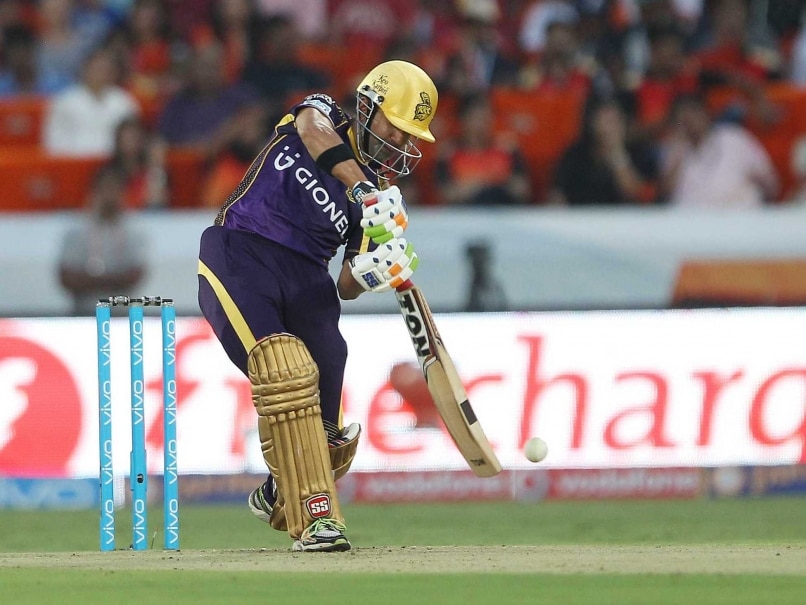 KKR captain Gautam Gambhir brought up 32nd fifty in the IPL.
© BCCI
Chasing a target of 184 runs Kolkata Knight Riders got off to a flyer as Chris Lynn and Gautam Gambhir made mince meat of the Gujarat Lions bowling line-up. Lynn remained unbeaten on 93 while Gambhir made a quickfire 76* to help his side reach the target in 14.5 overs. This is also the highest total chased down with all ten wickets in tact in all T20 cricket. For Gujarat Lions only Praveen Kumar was economical ending with figures of none for 13 in 2 overs. (Scorecard)
Highlights, Gujarat Lions vs Kolkata Knight Riders straight from Rajkot, India
23:00 IST: That is it then. Kolkata win by 10 wicket against Gujarat Lions. Chris Lynn 93* and Gautam Gambhir 76*
22:55 IST: Lynn for a change mistimes one and McCullum drops an easy chance. To make matters worse it goes for a six.
22:48 IST: Kaushik comes on and Lynn greets him with a six.
22:47 IST: Kolkata 153 for 0 in 13 overs. 
22:40 IST; It is raining boundaries here in Rajkot. Kolkata are cruising at the moment.
22:38 IST: Up and over point from Gambhir. Third boundary of the over. Gony is proving to be very expensive here.
22:37 IST: Short from Gony and gets the treatment. Four more!
22:36 IST: Four! Gambhir goes over covers and finds the gap.
22:34 IST: Kolkata going along nicely here. Gautam Gambhir brings up his 32nd fifty in the IPL.
22:25 IST: Kolkata 103 for 0 in 8 overs.
22:21 IST: What a big over for KKR. Three sixes and a four coming from that Smith over. Lynn brings up his maiden IPL fifty. Joint second fastest for KKR.
22:19 IST: Dwayne Smith comes on and Lynn welcomes him with a six. Second ball goes for a boundary. Straight over mid on.
22:17 IST: Gambhir is dealing in boundaries at the moment. Five in that over. 20 runs coming of that Kaushik over.
22:16 IST: This time four byes. It is all going KKR's way at the moment.
22:16 IST: Four to start of the over. Another short ball from Kaushik and Gambhir puts it away.
22:13 IST: Four! Gambhir smacks it over mid-on for a boundary. 50-run partnership comes up.
22:10 IST: Dhawal Kulkarni back on for Lions
22:09 IST: Another boundary to end the over. Kolkata 46 for 0 in 4 overs.
22:06 IST: A long hop and Gambhir doesn't miss many. Four! Some nerves here for Shivil Kaushik. Raina has got his spinner pretty early on in the innings.
22:03 IST: A four followed by a six. Lynn is looking dangerous here. Manpreet Gony is taking a hammering as Kolkata get off to a flyer.
22:00 IST: Gambhir clears that front leg and four for the taking.
21:58 IST: Now Gambhir gets into the act. Four more!
21:58 IST: Six! Lynn opens his shoulders. That clears the fence easily.
21:56 IST: First boundary of the KKR innings comes from Chris Lynn's bat.
21:55: IST: Chris Lynn and Gautam Gambhir out there for the visiting team
21:53 IST: KKR have a target of 184. Will they be able to chase it down?
21:51 IST: And we are back again
21:33 IST: So 14 from the last over. Gujarat 183 for 4 at the end of 20 overs. Karthik was the last man to get out.
21:24 IST: 16 off that Woakes over. Gujarat 169 for 3 in 19 overs.
21:22 IST: Six! Karthik has got that one right out of the screws. That has gone a long way. SIx followed by a boundary. Great over for Gujarat.
21:19 IST: Two boundaries off the Boult over. Gujarat 153 for 3 in 18 overs.
21:17 IST: How many times have we seen this today. All the chips and mishits are landing safely. Not to forget Raina was dropped by Yusuf Pathan in the deep.
21:16 IST: Raina, Karthik bring up their 50-run partnership.
21:14 IST: Karthik finishes the over in style. Add six more to the total.
21:10 IST: Suresh Raina scores his 29th half-century in IPL. Gujarat Lions 131/3 vs Kolkata Knight Riders.
21:06 IST: Mix up between Karthik and Raina but at the end no damage done.
21:04 IST: Lovely placement! Karthik picks the gap at deep cover. Four!
20:59 IST: Third time lucky for Raina in the same over. The ball falls in no man's land just like the other two occasions.
20:57 IST: Brilliant from Boult in the boundary. That was six written all over it. Raina goes for the big one and Boult at midwicket flies over the line and flicks it back inside the field of play
20:54 IST: Good bit of timing from Dinesh Karthik. Four! Sunil Narine has to get things back in this over after conceding a boundary early on.
20:52 IST: Gujarat Lions 102 for 3 after 12 overs.
20:44 IST: Wicket! Finch trying to go over cover, doesn't get it off the middle of the bat and Yadav makes no mistake in the deep. Kuldeep picks up his second wicket. Gujarat lose their third.
20:40 IST: Yusuf Pathan comes on and Finch is taking him on. Two back to back sixes. 15 of the over.
20:35 IST: Big wicket! McCullum trying to work it through the on side but misses the ball altogether. That would have crashed into the middle stump. Leg before! Kuldeep Yadav strikes for KKR. Gujarat Lions lose their second wicket.
20:33 IST: Poor from Woakes. Drifting down the leg-side and easy pickings for Raina. A good over spoiled by that one bad delivery.
20:29 IST: A four followed by a six. That was an expensive over from Kuldeep.
20:28 IST: Kuldeep Yadav comes on.
20:25 IST: Dropped! Difficult chance though. Raina goes for the pull, could not time it the way he would have liked it and Kuldeep runs back and tries his best to hold on to the catch but at end end could not hold on to it.
20:22 IST: Two back to back boundaries for Raina. Woakes under pressure. Already eight of the over.
20:21 IST: First boundary for Raina. Right up there from Woakes and Raina hits it straight back down the ground.
20:20 IST: After 5 overs Gujarat Lions are 40 for 1.
20:18 IST: Short from Narine and McCullum takes full advantage of that. Four!
20:17 IST: So Suresh Raina has replaced Jason Roy. This is a important tournament for Raina.
20:15 IST: In the slot for McCullum and don't worry about that. That's gone all the way. First six of the match.
20:11 IST: Wicket! Piyush Chawla strikes for KKR. Jason Roy departs. Going for the pull but gets a top edge and Pathan makes no mistake at square-leg.
20:09 IST: Sunil Narine replaces Boult. McCullum straight away goes after him. Poor fielding at point gives away four extra runs.
20:08 IST: Eight of the second over. 16 for 0 Gujarat Lions.
20:07 IST: Four! What a shot! Reverse sweep straight away. Third boundary for Roy.
20:05 IST: Piyush Chawla, the leg-spinner will share the new ball with Boult.
21:04 IST: Four more! Second of the over. Roy easing that through point. 8 for 0 at the end of the first over.
20:02 IST: Jason Roy to take strike and he hits the second ball straight down the ground for a boundary. Roy and Gujarat are away. Four!
20:01 IST: Trent Boult with the new ball. Here we go.
19:59 IST: So both the Gujarat Lions openers are out there in the middle. Brendon McCullum will start things off for the home team along with Jason Roy.
19:56 IST: Gujarat Lions all set for their first match.
The @TheGujaratLions are ready for their first home game vs. #KKR #IPL #GameMaariChhe #GLvKKR pic.twitter.com/u1CJMVpcXu

— IndianPremierLeague (@IPL) April 7, 2017
19:50 IST: KKR warming up before the match.
The @KKRiders boys are warming up ahead of their season opener #KKR #IPL #DusKiDahaad #AmiKKR #GLvKKR pic.twitter.com/kry4B5GNpb

— IndianPremierLeague (@IPL) April 7, 2017
19:45 IST: McCullum, Dwayne Smith, Jason Roy and Aaron Finch, all playing for Gujarat today
19:35 IST: Here is a look at the teams:
The Playing XIs for #IPL Match 3 - @TheGujaratLions vs. @KKRiders pic.twitter.com/IYoLauuHOW

— IndianPremierLeague (@IPL) April 7, 2017
19:30 IST: Toss Time: Raina to spin the coin. Heads is the call and Kolkata have won the toss. Elect to bowl.
19:25 IST; Kolkata did not have a great IPL last year. They would like to change their fortunes this year and nothing better than starting with a win.
19:15 IST: Kolkata Knight RIders will not have the services of Andre Russell this season.
19:05 IST: We are about 25 minutes away from the toss.
18:57 IST: Shroff with his trademark moves making the crowd dance to his tunes.
18:54 IST: Tiger Shroff makes his way to the stage waving a bat in hand.
18:50 IST: Raina presents the token of True Spirit of Cricket to Gautam Gambhir as is the case before every match in the IPL Opening Ceremony.
Play Hard, Play Fair - Spirit of Cricket at #IPL - @GautamGambhir and @ImRaina pic.twitter.com/j53wNdz29z

— IndianPremierLeague (@IPL) April 7, 2017
18:48 IST: Just as we speak. Kolkata Knight Riders captain Gautam Gambhir is seen on a golf cart making his way out in the middle, joining Suresh Raina.
18:45 IST: Suresh Raina, Gujarat Lions captain makes his way out to the middle.
18:40 IST: The musical duo of Sachin-Jigar enthralling the fans here at the Holkar Stadium.
18:38 IST: It is a full house here in Rajkot. The fans are enjoying every bit of the opening ceremony.
18:30 IST: Bhoomi Trivedi is on stage right now, singing 'UDI UDI JAY' from Raees.
18:27 IST: Gujarat Lions were the table-toppers last year, winning nine out of their fourteen matches.
18:25 IST: Gujarat Lions would like to start off the tournament much like the way they started last year.
18:20 IST: Hello and welcome to the match between Gujarat Lions and Kolkata Knight Riders.
Gujarat Lions boost of a robust batting line-up and were the only team last year to score 70 or more in the powerplay. Five of their batsmen -- Raina, Aaron Finch, Brendon McCullum, Dinesh Karthik and Dwayne Smith -- were among runs in the last IPL. They also have the likes of Jason Roy and in-form Dinesh Karthik in their ranks.
Having defeated Kolkata Knight Riders in both home and away games in the previous season, Gujarat Lions also enjoy a psychological advantage over them.
Kolkata Knight Riders, on the other hand, are one of those teams which cricket fans always root for -- be it for Sourav Ganguly or for its owner Shah Rukh Khan.
For the Knight Riders, revenge would be high on their mind when they take the field against the Lions on Friday.
The Kolkata outfit boost of the seasoned opening pair of captain Gautam Gambhir and Robin Uthappa.