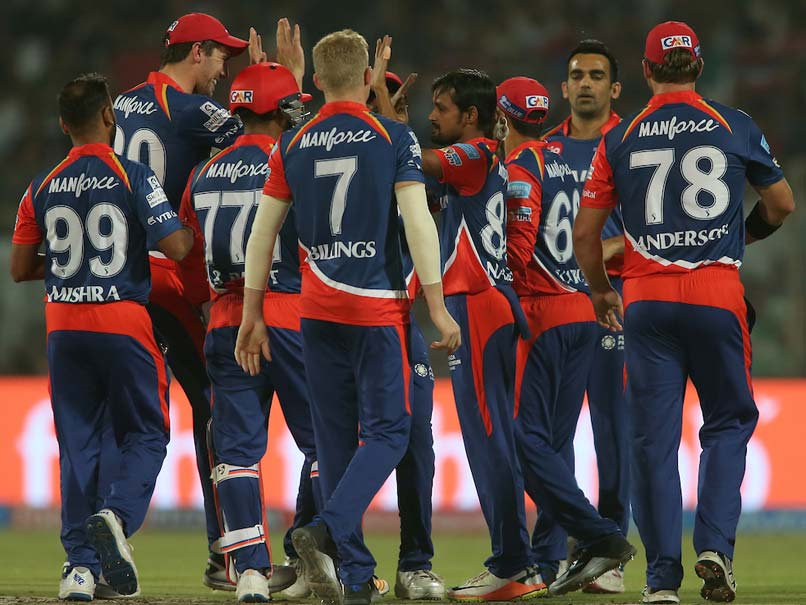 IPL Highlights: Delhi Daredevils climbed to 3rd in the points table after beating Punjab by 51 runs.
© BCCI
Delhi Daredevils (DD) defeated Kings XI Punjab (KXIP) by a margin of 51 runs in Kotla in the 15th match of Indian Premier League (IPL) on Saturday. In reply to DD's 188, Punjab could only muster 137 in 20 overs. The DD bowlers despite being taken to task early in the innings by Hashim Amla, bounced back and took wickets at regular intervals not allowing the opposition to settle. It was an all-round performance by the hosts, as the team performed well in batting, bowling and fielding departments. As far as Punjab are concerned, all the big hitters in the batting line-up failed to perform and contribute runs to the team. Axar Patel scored the highest for the team, 44, on the other hand Glenn Maxwell deaprted for a duck. Apart from Axar, only David Miller and Eoin Morgan could cross the 20-run mark. Corey Anderson was adjudged the Man of the Match for his lusty blow towards the end of the Delhi innings as well as taking a wicket.(SCORECARD)
IPL highlights between DD vs KXIP straight from New Delhi, India.
23:37 IST: Thank you for joining us today. Do tune in tomorrow for another double header.
23:35 IST: Corey Anderson is adjudged the Man of the Match.
23:33 IST: Its all over for Punjab. Delhi get a comprehensive victory at home ground, beat Punjab by 51 runs.
23:32 IST: Out! Morris clean bowls Axar, and Punjab gets beaten.
23:29 IST: Out! Morris clean bowls Cariappa. Punjab batsmen falling like dominoes.
23:27 IST: Out! Cummins getting his yorker right sends Mohit Sharma packing.
23:23 IST: Punjab 130 for 6 with two overs remaining. Delhi enroute to a victory on home turf.
23:20 IST: As the required rate climbs towards 30 an over, Delhi seems to tighten the noose around the visitors.
23:18 IST: Six! Stand and deliver from Axar, Zaheer gets his yorker wrong and gets hit for a massive maximum. 
23:12 IST: Last four overs of the match, Punjab stand at 112 for 6.
23:10 IST: Six! Axar fighting all alone, slams Anderson for a maximum straight over his head.
23:05 IST: Four! Short and wide from Zak, Axar heaves it for boundary over point.
23:04 IST: Punjab need 99 from last 6 overs. Delhi heading towards a comprehensive victory.
23:00 IST: Out! Anderson traps killer Miller right in front of the wicket. Punjab 88/6.
22:58 IST: Punjab (85/5) need 104 from 42 balls with required run rate at 14.85 run per over.
22:56 IST: Dropped! Miller gets a life as Zaheer lets the ball through. Sigh of relief for Punjab.
22:55 IST: Four! Inside edge for Miller, ball races away to the boundary.
22:50 IST: Six! Axar Patel sends Amit Mishra flying out of the ground. Punjab need 117 runs from 54 balls.
22:49 IST: Out! Amit Mishra gets Punjab captain Glenn Maxwell. Things looking gloomy for Punjab (64/5).
22:46 IST: Out! Morgan cuts the ball straight to Karun Nair. Pat Cummins gets the danger man.
22:45 IST: The game is slowly slipping away from Punjab as the required run rate is well over 12.
22:42 IST: Punjab are 53/3 after 9 overs, need 136 runs in 66 balls to win
22:40 IST: Miller goes for a long heave and misses it. He is mixing up his deliveries beautifully.
22:38 IST: Leggie Amit Mishra now comes into the attack.
22:36 IST: Delhi's strong point is their bowling. The way DD is going at the moment, the stage looks set for a comprehensive victory. 
22:34 IST: Delhi's skipper Zaheer Khan has been very impressive so far in the season. He has looked fit and the way he has led his team is extraordinary.
22:30 IST: Right on the money by Pat Cummins and David Miller almost fell on the ground playing that shot. 
22:28 IST: For Delhi's solid position at this stage, a lot of credit should be given to Corey Anderson for his late onslaught. They have been able to put pressure on Punjab right from the start and Glenn Maxwell's side look in big trouble now. 
22:25 IST: Kings XI Punjab are 40/3 after 6 overs. Need 149 more runs to win in 14 overs. 
22:20 IST: David Miller comes into the crease and a lot will depend on his batting. 
22:19 IST: Out! Morris halts Amla. Loose delivery on the pads, Amla flicks it straight to Billings.
22:18 IST: Four! Amla shuffles, puts the ball over short fine leg.
22:17 IST: Chris Morris, the new man in.
22:14 IST: Four! Amla keeps the party going.
22:13 IST: Eoin Morgan walks out in the middle.
22:12 IST: Out! Strike two for Punjab. Zaheer takes low catch at covers to send Saha walking. Punjab 21 for 2.
22:11 IST: Four! Saha joins Amla, cuts Nadeem with one hand.
22:10 IST: Four! Amla getting the party started. Slams Zaheer on the last ball.
22:07 IST: Four! Amla reads the knuckle ball perfectly and dismisses it for a boundary.
22:06 IST: After 2 overs, Punjab stand at 6 for 1.
22:05 IST: Wriddhiman Saha comes out in the middle.
22:03 IST: Out! Zaheer knows the tricks. Naddem strikes, traps Vohra leg before wicket.
22:02 IST: Shahbaz Nadeem is given the new ball.
22:00 IST: Zaheer Khan conceded just two runs from his first over.
21:59 IST: Hashim Amla and Manan Vohra open the batting for Punjab.
21:57 IST: Zaheer Khan to lead the bowling attack for Delhi Daredevils.
21:56 IST: Welcome back to the second innings between Delhi Daredevils vs Kings XI Punjab.
21:44 IST: Stay tuned for the second innings.
21:43 IST: Punjab need 189 from 120 balls to beat Delhi on their home turf.
21:42 IST: Last 10 balls Delhi scores 33 runs. Delhi Daredevils finish 188 for 6 from 20 overs.
21:41 IST: Four! Anderson comes to the party, straight down the ground. Interesting last over it is turning out to be.
21:40 IST: Four again! Short and wide, Cummins clobbers over deep mid-wicket.
21:39 IST: Four! Cummins squeezes one from outside off .
21:38 IST: One over to go! 
21:37 IST: Six! Back-to-back sixes from Anderson.
21:36 IST: Six! Anderson dispatches Axar over fine leg for a maximum.
21:34 IST: Last two overs for Delhi to post a big total on the board against Punjab.
21:33 IST: Pat Cummins joins Anderson out in the middle.
21:32 IST: Out! Sandeep Sharma dismisses Morris.
21:29 IST: Four! Anderson swings the bat hard but the ball doesn't go the distance.
21:27 IST: After 17 overs, Delhi 144/5.
21:25 IST: Six! Morris uses the opportunity well and smokes Mohit for a massive maximum.
21:24 IST: Free Hit!! Mohit Singh bowls a full-toss.
21:23 IST: With just four overs left, it will be dangerous for Punjab to have Morris and Anderson at the crease.
21:21 IST: Four! Anderson slams Aaron straight over his head.
21:20 IST: Morris will be looking to repeat his stint vs Pune here at Delhi.
21:19 IST: Four! Morris guides Aaron trough backward point.
21:18 IST: Chris Morris is the new man in.
21:17 IST: Delhi scored just 12 runs from the last 10 balls.
21:15 IST: Out! Pant sent packing cheaply for 15 by Aaron.
21:13 IST: Back-to-back boundaries for Rishabh Pant off Cariappa.
21:10 IST: Maxwell concedes 7 off his first over.
21:09 IST: Four! Pant fires Maxwell through extra cover.
21:08 IST: Corey Anderson joins young Pant.
21:03 IST: Out! Billings departs in search for quick runs for Delhi.
21:02 IST: Four! Billings comes down the track and smacks Axar Patel through deep cover boundary.
21:00 IST: Leading from the front Sam Billings completes his fifty against Kings XI Punjab. Second IPL half-century for the Englishman. Delhi 97/3, 12 overs.
20:59 IST: Rishabh Pant is the new man in.
20:58 IST: Out! Trying to take Mohit to the cleaners, Iyer hits the ball straight up in the sky and Morgan completes the catch.
20:55 IST: Four! Billings nears his fifty as hit slams the ball towards mid wicket.
20:50 IST: Four! Back-to-back boundaries for Iyer. Delhi eye big total.
20:48 IST: Four! Iyer joining the party. Glides the ball down to fine leg.
20:45 IST: Four! Iyer beautifully carves Cariappa at point.
20:42 IST: Sam Billings 39 (27) is leading the charge for Delhi.
20:37 IST: Shreyas Iyer replaces Nair in the middle.
20:36 IST: Out! Aaron strikes for Punjab. Nair goes for duck as Saha completes the stunner behind the stumps.
20:35 IST: Karun Nair is the new man in for Delhi.
20:34 IST: Out! Cariappa sends Samson back to pavilion. Important wicket for Punjab. Delhi 53 for 1.
20:33 IST: Billings misses out on the free hit!
20:31 IST: Free Hit for Delhi Daredevils!!!
20:30 IST: Fifty comes up for the home team.
20:29 IST: Maxwell introduces KC Cariappa into the attack.
20:26 IST: After 6 overs Delhi stand at 49 for zero wickets.
20:25 IST: Six! Samson pulls and pulls well as the ball drops on the boundary rope.
20:21 IST: After 5 overs, Delhi stand at 41 for no wickets.
20:20 IST: Four! And one more from the Englishman.
20:19 IST: Back-to-back boundaries for Sam Billings! Delhi Daredevils finally getting a move on.
20:18 IST: Four! Sam Billings fires Aaron straight down the ground.
20:15 IST: First decent over by Patel, concedes 5 runs.
20:14 IST: Axar Patel comes to bowl for KXIP.
20:09 IST: Mohit Sharma concedes 9 runs from his first over.
20:08 IST: Four! Another boundary for Billings. Two in Two!
20:07 IST: Four! Sam Billings gets off the mark
20:04 IST: Four! Samson slams Sandeep Sharma for the second boundary of the first over.
20:00 IST: Sanju Samson and Sam Billings to open the innings for Delhi Daredevils.
19:51 IST: Kings XI Punjab playing eleven.
KXIP XI: H Amla, M Vohra, G Maxwell, D Miller, E Morgan, W Saha, A Patel, KC Cariappa, M Sharma, V Aaron, Sandeep Sharma

— IndianPremierLeague (@IPL) April 15, 2017
19:50 IST: Delhi Daredevils playing eleven.
DD XI: S Iyer, S Billings, S Samson, K Nair, R Pant, C Morris, C Anderson, P Cummins, A Mishra, Z Khan, S Nadeem

— IndianPremierLeague (@IPL) April 15, 2017
19:48 IST: Kings XI Punjab warming up before their away game vs Delhi Daredevils.
19:47 IST: Delhi Daredevils warming up before their home game against Kings XI Punjab.
19:32 IST: Zaheer Khan has won the toss and elected to bat at the Feroz Shah Kotla.
19:25 IST: Hello and welcome to the live blog of Saturday's second match between Delhi and Punjab.
Daredevils' huge win over Rising Pune Supergiant acted as a warning to the rival teams, including their immediate opponents, whose unbeaten run in IPL 10 came to a grinding halt.
Daredevils are entering the match after hammering RPS by 97 runs, thanks to young batsman Sanju Samson's maiden IPL ton and Chris Morris' incredible power- hitting down the order. The South African's nine-ball 38 is still being talked about. 
Punjab, who beat RPS and Royal Challengers Bangalore in the first two games, squandered an advantageous position to lose to Kolkata Knight Riders by eight wickets.