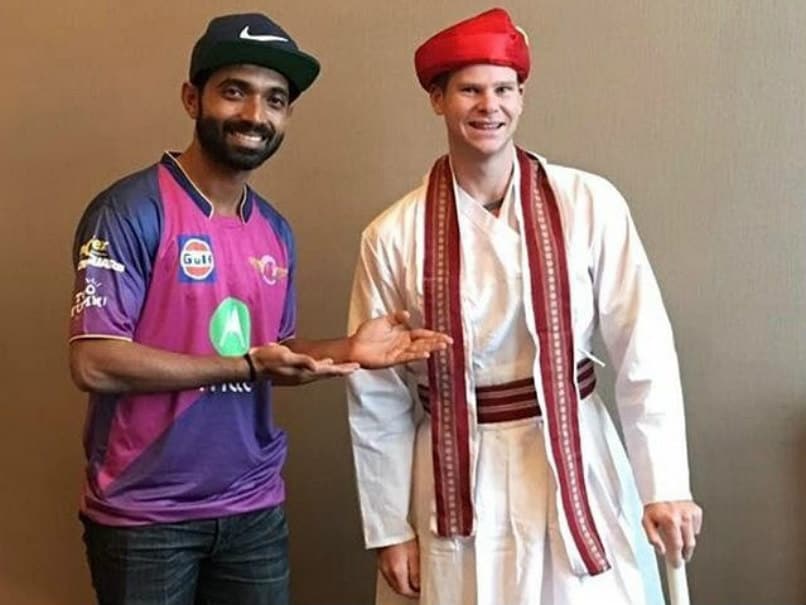 This picture of Steve Smith will surely win over the entire population of Pune.
© Rising Pune Supergiant/Twitter
Steve Smith has been in the news for all the wrong reasons off late, but it is time to applaud the Australian for possibly the bravest thing he has done so far in India. He has taken up the role of a 'Puneri avatar' (a Pune native) in a picture showing Ajinkya Rahane presenting the Indian Premier League (IPL) season 10 Rising Pune Supergiant captain in full Maratha regalia. Smith had been in sensational form with the bat during the recently-concluded Test series against India, but he was also in the limelight for the controversies and battles with India captain Virat Kohli. But all of that would surely be forgotten after you see the man in this complete changeover.
The RPS official twitter handle has the picture of Smith, which will surely win over the entire population of Pune as the team resumes its efforts to get their IPL 2017 campaign off the ground.
The tweet celebrates Smith's new avatar. "What do you think of @stevesmith49 's new Puneri avatar? We are loving it!"
Not only that, there is also a video of Smith, saying, "aaplya team la support kara", (support your team) as he bravely takes to Marathi to win over the Pune citizens.
Smith was not just under fire during the Test series, but also under pressure after replacing Mahendra Singh Dhoni as RPS captain, just before IPL 10.
However, with him taking his role as a Pune native to heart, it would be safe to say that he has the support of the RPS owners, the team, as well as the citizens of Pune.