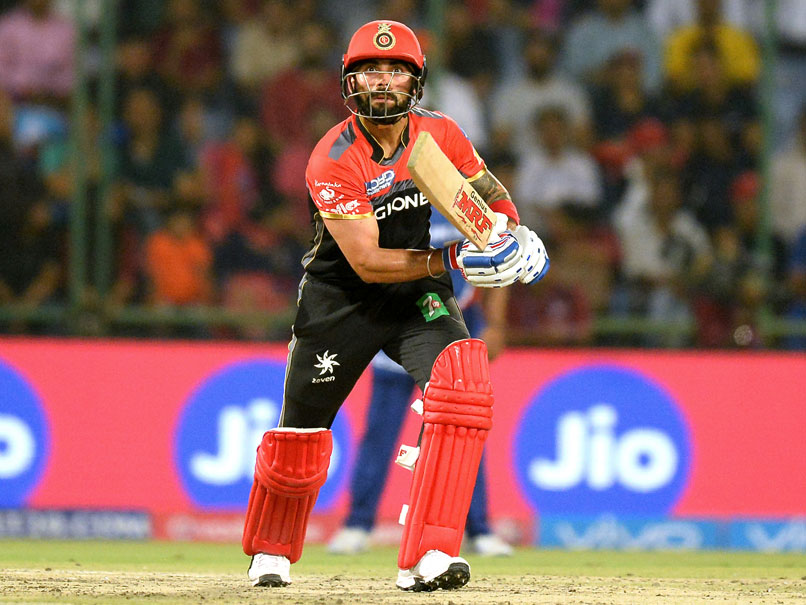 Virat Kohli scored a fifty in RCB's last match of the tournament.
© AFP
Royal Challengers Bangalore captain Virat Kohli would want to forget the Indian Premier League (IPL) Season 10 in a hurry. Kohli, who missed out on the initial portion of the tournament with a shoulder injury, failed to replicate his from last season. The 28-year-old, who notched up 11 50+ scores in the ninth edition, could only manage four fifties in the ongoing one. The Indian captain bowed out of the tournament with a fine knock, which was him score three boundaries and as many sixes.
One of the right-hander's sixes left the fans in utter disbelief. Kohli, batting on 10, played a check drive off Corey Anderson's bowling. Interestingly, the ball didn't roll along the ground and instead flew off Kohli's bat for a 67-metre six. Kohli, smiling after having played that shot, revealed after the match that he was actually trying to push the ball for two runs.
"That six, honestly, I was looking to push this between the two fielders to try and pick up two but I think Corey (Anderson) bowled a cross-seam ball. I'm pretty happy with the way I hit the ball and more happy that I did it in a winning cause," Virat said during the post-match presentation.
The victory over Delhi in the last league match notwithstanding, disappointment was written large on Kohli's face as Bangalore termed the 10th season of IPL as "forgettable" and a season to "reflect on" for his side.
Talking about next edition of the IPL, Kohli said: "We do have guys in the 3-5 player bracket who we want to retain if that's possible. They've shown the right attitude and they deserve it. It's just nice to end on a winning note."