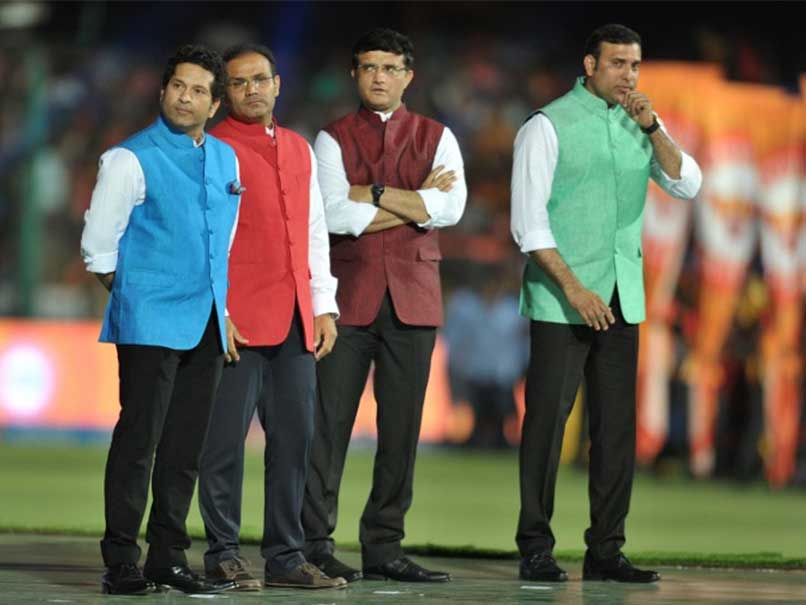 Sachin Tendulkar amazed that tournament completed 10 years
© AFP
The Indian Premier League (IPL) got off to a rousing start at in Hyderabad on Wednesday with the defending champions Sunrisers Hyderabad (SRH) getting the better of Royal Challengers Bangalore (RCB) by 35 runs. But the crowd was held in rapt attention even before the match began as cricketing legends like Sachin Tendulkar, Sourav Ganguly, VVS Laxman and Virender Sehwag were felicitated before the match.The senior players all endorsed the tournament, with Sachin Tendulkar expressing surprise that the event was alive and kicking after 10 years.
"This is a big achievement," Tendulkar said during the opening ceremony. When IPL was announced in 2007, I never thought the league would become so big, and now, it is a matter of pride that in India, there is a tournament which the whole world has taken notice of.
"I thought it would not be as competitive as it is right now, I thought players would go out and play but it doesn't really matter but as the tournament has progressed, the competitiveness has seeped into all of us."
Laxman said the IPL was boon for the uncapped players.
"The biggest gain from the IPL is for the uncapped players. The kind of exposure they get, not just from Indian players, but cricketers from around the globe. The kind of confidence they get, they are not overawed.
"You saw Kuldeep Yadav make his debut at Dharamsala, he was not overawed by the occasion. I feel the kind of exposure the IPL gives uncapped players..."
Ganguly let his football leaning show when he compared the tournament to the football World Cup.
"It is phenomenal to see the effect IPL has had on cricket. I went to watch the FIFA World Cup some years back, and this is very close to that.
"Playing in this atmosphere is great for young players. It takes your game, your confidence to a different level. We have seen Indian cricket go forward. It can't get bigger than this," he added.
As for Viru, he went along expected lines - see ball, hit ball.
"I never changed my mindset, I tried to play and hit every ball in Tests or T20. I believe in one thing - if you play cricket, you should play to entertain people. I have told the boys to play their game, play aggressive, play their shots. I have told them not to bother about getting out. It gives them confidence when your mentor or coach or captain gives you the freedom to play the way you want."