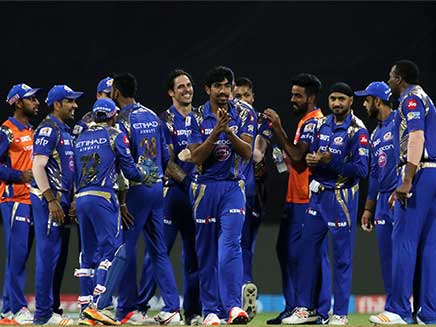 Mumbai Indians currently top the IPL table with 12 points.
© BCCI
Rising Pune Supergiant (RPS) coach Stephen Fleming, a day before their match against Mumbai Indians at Wankhede, feels that the game will be a tough one. RPS, who are finding their way back in the Indian Premier League (IPL) after two consecutive wins, are the only team who have managed to beat the mighty Mumbai Indians (MI). Commenting on their opponents, Fleming reiterated that the previous win would be a confidence-booster. However, commenting on the winning run of Mumbai Indians, the former Kiwi captain said, "Well, that means that they are due for a loss isn't it? That is the positive way of looking at it. The IPL is about confidence and they have been in some tricky situations, even the score last night, 142 (against Delhi Daredevils) you would say is below par, but they have been able to rise up."
"(Mitchell) McClenaghan was excellent. (Kieron) Pollard was very good against RCB which was probably a game that they should have lost. They have just found a way to get things done and that is probably a sign of a good side. Someone stands up when the team is in trouble. They will be full of confidence which will be difficult for us. We have experience of beating them and if that is a positive we will take from it. Again playing here in their stadium, it is a great occasion but it is a tough task," said Fleming.
Agreeing on the fact that the win against Sunrisers Hyderabad was important for the team, Fleming said, "Yes, it was. It was very important to go from last to fourth. It's a good jump to have. Two games (victories) in a row doesn't constitute big momentum, but any win you have is important. A side like ours needed some confidence," he said. "But if you can beat teams that are ahead of you, and Mumbai is one of those, then it does affect the table. The game against Sunrisers was good. If we can beat MI or Kolkata we can stay in that top zone."
(With PTI inputs)