Story Progress
Back to home
Virat Kohli is World's Best Batsman at This Stage, Says Jonty Rhodes
Virat Kohli's performance in recent years have helped him go past AB de Villiers and Steve Smith as the world's best batsman, feels former South African cricketer Jonty Rhodes. Kohli has registered two double tons in the last year.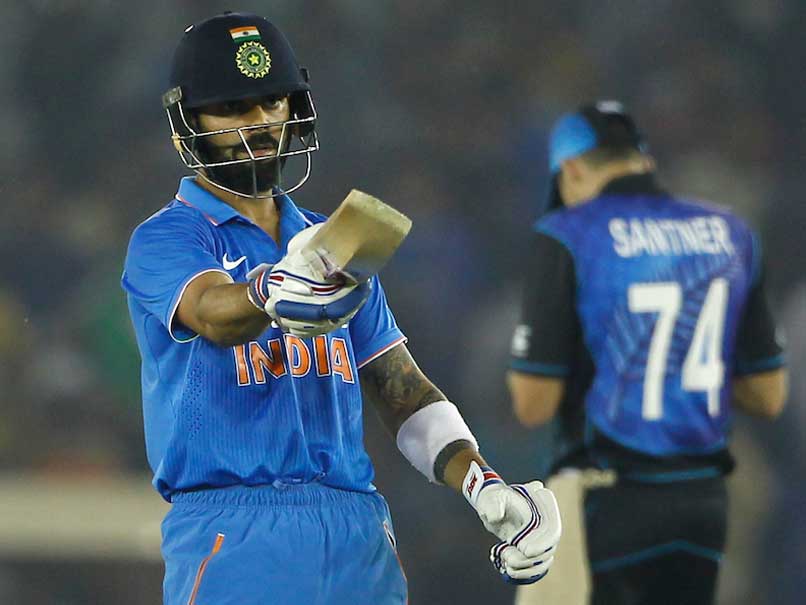 Virat Kohli has been in sensational form across formats in 2016.
© BCCI
Highlights
Virat Kohli is a finisher par excellence, feels Jonty Rhodes

Virat Kohli played in a key role in India's series wins over New Zealand

At 28, Kohli has already shattered several batting records
Former South African cricketer Jonty Rhodes has been a fielding coach with the Mumbai Indians and has mentored many up and coming talents. He is back in India to work with a T20 league for junior boys and scout talent. While in India, he has his eyes on the Indian team's performances, Virat Kohli's exploits and the upcoming 5-Test series vs England. We caught up with Jonty the mentor.
Q: Jonty, what has got you to India now?
A: Genuinely it is cricket. I have worked with million dollar players before and 'am now working with the Indian Junior players league T20. It is about giving young players an opportunity to showcase their talent and see what they can do. I have always wondered where the brilliant players come from. So this is a different avenue, a different platform for young players
Q: There has been a great passion for IPL but given the way the Indian Test team has performed, do you think there will be more and more youngsters wanting to play test cricket?
A: Well I think that is important because Test cricket is the cornerstone of the game. T20 games are exciting and what we are doing with the junior players league now is introducing the pink ball. Cricket has to be innovative, you cannot say that test cricket has got to be the same. Cricket is changing, we want people to come and play and rightly so. We want youngsters to be good at Test cricket or want to play Test cricket. So what we are doing for the first time is letting the young players play with pink balls. If test cricket goes Day Night and the pink ball becomes a part of the game, these youngsters would have an exposure at a very early age. It is great that India are performing. For a long time they have been renowned to do well at home. Under a leader like Virat Kohli, who's an aggressive player, India's performing away from home too.
Q: Virat has showed his captaincy skills as well. But there is a debate on whether he should be given the ODI captaincy.. What do you think about that?
A: From a Team India point of view, you need a happy environment. Sides have shown that you can have a different Test and ODI captains. So it is not a unique situation. Kohli can play under MS Dhoni in limited overs and can captain in Tests. It is about what is producing the results for India. If Dhoni is not performing, he will know when it's the time to leave. So it's not for everybody else to speculate and put him under pressure. Kohli has done a great job stepping into the Test arena as a captain and maybe it is a lot to handle.
Q: So do you think MS Dhoni has it in him to play till the 2019 World Cup?
A: It is a long time. But have you seen him between the wickets? He is fast as anything and his glove-work is incredible. He is still a great finisher of the game. So you have got a captain with a great deal of experience. Sometimes it is more than the guy who scores all the runs. What matters is, what are you are adding in the dressing room? That you can't buy in a grocery store, you really can't, that's what experience is. If you have got that in your team environment, someone who is performing and playing well, also adding that sort of element specially in World Cup situation, it is a great advantage!
Q: Keeping in mind Virat's performance.. do you think in time he will smash all records?
A: Well, records generally are meant to be broken. If you are going to play as long as Sachin Tendulkar, who played from 16 to 40 years, it is incredible! With the amount of cricket Virat Kohli is playing right now (since the IPL has been introduced), it will be tough for him to maintain that sort of consistency over a long period of time. Added to that is the burden of captaincy. So far he has performed really well in the short span as captain and he has done well obviously in the build up to that. But can one maintain that consistency when one has the leadership of the country sitting on one's shoulders too?
Q: There is a competition between Virat, AB de Villiers and Steve Smith for the crown of the best batsman. Who will your vote go to?
A: I am standing in India and you would think I am biased, but with the performances Virat Kohli has put in so far and in every format of the game, he has to be the No.1. AB de Villiers has had an operation, so he will be out for a while. I watched Steve Smith in South Africa and he is okay. Virat is one guy you would like to see heading back to the dressing room if you are the opposition bowler or the fielding team because he is phenomenal. He is a finisher par excellence. At this stage Virat Kohli is no 1.
Promoted
Q: The English team turned the tables on India last time. Do you think India can win this revenge series?
A: Well, it is going to be and people ask me what is the toughest part about touring India..... it becomes a war of attrition. So you are in an environment you are not comfortable with. The England team has shown vulnerability in Bangladesh on wickets that are slow and turning. But they are a side that has been the No 1 . England team knows what it is like to be the top Test team. They have got some confidence of winning away from home in India, so I think they will be a tough side to beat, if they can recover from what they have been going through. But to beat India at home currently with the team they have got-pace, spin and the batting order, won't be easy.
Topics mentioned in this article
Virat Kohli
AB de Villiers
India Cricket Team
Cricket
India vs England 2016