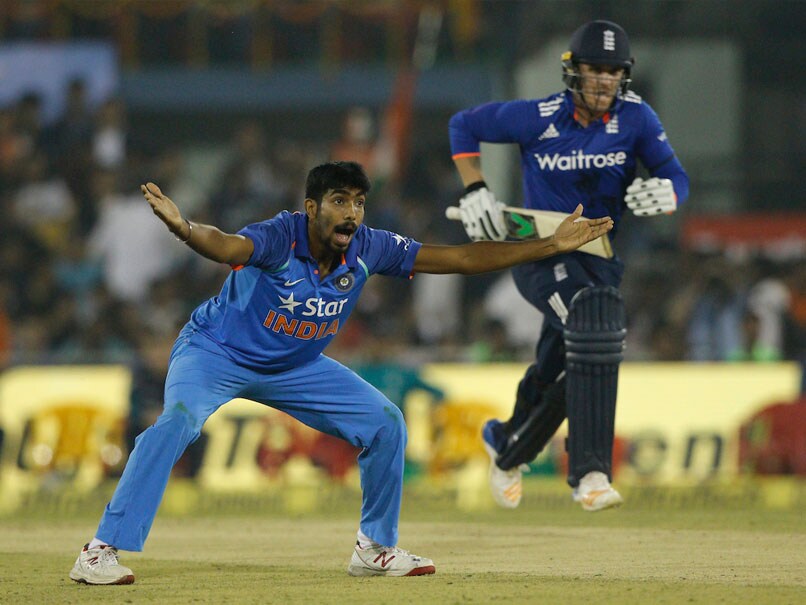 Virat Kohli backed his bowlers, openers ahead of the Champions Trophy in June
© AFP
While India emerged 2-1 winners in the One-day International series with England, the bowling in the last few overs of the innings is definitely a concern which skipper Virat Kohli needs to address ahead of the Champions Trophy, which is still five months away. While the batsmen were in superlative form, especially in the fact that they covered for any failures anywhere in the batting order, the bowlers were taken to the cleaners in every match. Kohli isn't that worried. He thinks that the bowlers would get better as they play more T20 Internationals.
"It's not such a bad thing. The more T20s we play, we will get better at death bowling in the ODIs. That will be our advantage," Kohli said at the post-match press conference in Kolkata on Sunday.
India scored over 300 in all the matches they played in the series, thanks to the superb batting show by the middle-order. The opening pair lasted for only 13 runs (24 balls) in the first match, 14 runs (13) in the second and 13 runs (10) in the final ODI of the series.
Lokesh Rahul played in all the three matches and could only accumulate 24 runs with an average of eight. Shikhar Dhawan scored 12 runs in two matches with a lowly average of six. Ajinkya Rahane made only one run in the only ODI he played.
"At times, you have to give them chances to return to form. You don't get ready players for international cricket that often. We should back our openers give them confidence. It's a matter of one or two innings, and you get your flow back in the international cricket," Kohli said, defending his openers' poor form.
Rohit Sharma, recovering from a thigh injury, is one of the regular openers that India have and Kohli said if all of them batted to full potential it would be ominous for the opposition.
"Earlier opening was never our problem. It's our middle-order which is sorted now. It's not that we have to go in search for openers, we already have got good openers. We will address the areas of concern, and will try to correct a few of them," Kohli said.
Recalling the exploits of Sharma and Dhawan during their title-winning run in 2013, he said: "We have seen Rohit Sharma and Shikhar Dhawan as a revelation in the last edition of Champions Trophy.
"You never know, if we get stronger in that area. As a batting unit, we have just played to about 70-75 per cent of our potential. If we play to our full potential, God knows how many runs we would score. Yes, we need to strengthen those areas."
Kohli further said the conditions at the Eden Gardens were perfect for Champions Trophy preparation.
"If the wicket has grass and the surface is hard, you expect the English bowlers to bowl in better areas. They were pretty clever with their lines and lengths they bowled as well. It was pretty similar to how we bowl on Indian surfaces and how we reverse swing the ball.
"It's nothing new we faced. We knew it's going to be challenging facing their quick bowlers. That's why I said it's really nice to see two guys step up and take the game till the end. It gives us a lot of confidence going into the Champions Trophy," he added.
(With inputs from PTI)