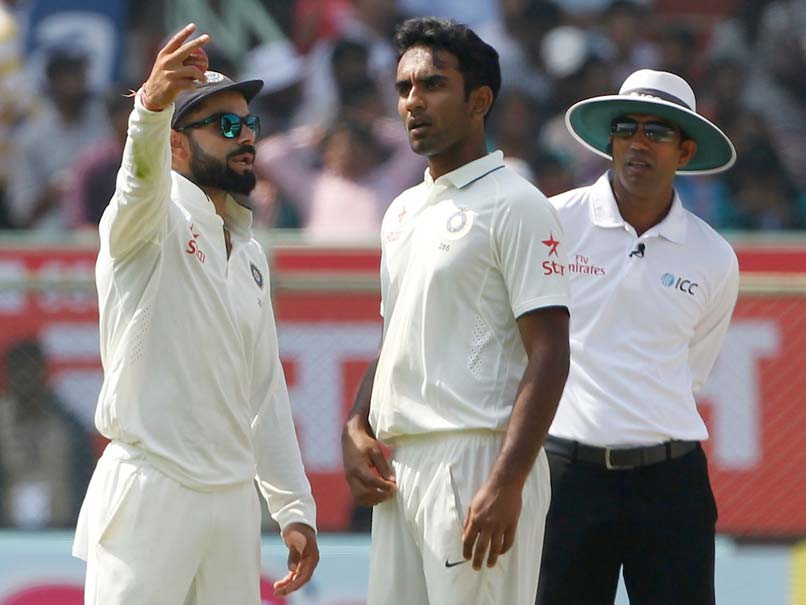 Jayant Yadav has been praised by Virat Kohli for his successful Test debut against England.
© BCCI
Indian captain Virat Kohli on Monday celebrated his bowlers, especially debutant Jayant Yadav, after an emphatic 246-run win over England in the second cricket Test in Visakhapatnam to take a 1-0 lead in the five-match series.
Kohli said everything fell in place in both batting and bowling which made the victory possible after a tame draw in the first Test at Rajkot. He singled out the 26-year-old Jayant for high praise.
"It's always priceless those contributions and it speaks volumes of his character. For a young guy to come in and tell his captain the field he wants, the line and length he would bowl, it shows he knows what he is doing. I'm really happy for him," Kohli said.
The captain said Jayant's debut was a big positive of the Test, though his other bowlers got a pat on the back too. "It was lovely to have five bowlers who can pick up wickets," Kohli said.
Jayant took one wicket in first innings and then picked three crucial wickets in second innings on the final day of the second Test. Not only that, he scored crucial 35 and 27 in the first and second innings respectively, at the No. 9 spot, that helped India give England a 400-plus target.
Jayant has played 43 first-class matches and has 121 wickets to his name. He hails from Delhi but plays for Haryana in domestic competitions.
He made instant impact on his first-class debut in 2011, taking six wickets against Gujarat.
Jayant can also contribute with the bat. His resume boasts of a double hundred (211) in domestic cricket. He also kicked off the 2015-16 Ranji Trophy season with a hundred.
Kohli was man of the match for his 167 and 81 in the two innings and he said he had a "special relation" with the Vishakhapatnam ground, where he has always played well.
"It's been a lucky ground for me and it remains a special ground, similar feel I get to Adelaide. You want to play exciting cricket because so many people come to watch. They help you through tough situations," he said.
Asked what the approach of the team would be in the next three matches, Kohli said, "We've been playing some really good cricket in the first two Tests . We don't want to be complacent but don't want to be desperate either. We respect England. We want to continue with this nice momentum. Our approach will be a right balance of not being desperate and not too much of relaxation."
(With inputs from PTI)