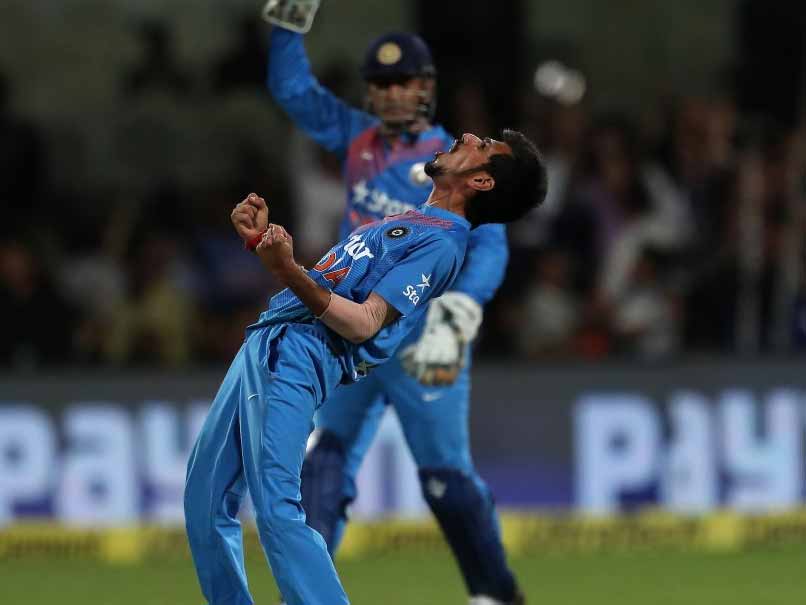 Yuzvendra Chahal produced a memorable and high-quality spell of bowling in the 3rd T20I.
© BCCI
Half-centuries from Suresh Raina (63), Mahendra Singh Dhoni (56) and a Yuvraj Singh blitz helped India overcome the loss of skipper Virat Kohli early on and powered the hosts to 202 for six in 20 overs. England's chase didn't get off the best of starts as Sam Billings was dismissed by Yuzvendra Chahal in the second over. Jason Roy scored 32 off 23 balls but was sent packing by Amit Mishra. Joe Root and Eoin Morgan put England's chase back on track with some lusty blows but a dream spell from Chahal saw him pick three wickets in an over as the English batsmen lost eight wickets for just eight runs. India clinched the T20I series 2-1 and with it completed a Tour sweep, having won the Test and ODI series as well. (SCORECARD)
Get highlights of India vs England 3rd T20I here.
20:47 IST: That's it from us. Hope you enjoyed our coverage of the England's tour to India. Adios!
20:46 IST: So India follow up the ODI and Test wins, with a thrilling 2-1 triumph in the T20I series.
20:45 IST: Yuzvendra Chahal is not just Man of the Match, but also Man of the Series.
20:44 IST: MS Dhoni stepped up when it mattered most: Virat Kohli.
20:41 IST: I'm new to limited-overs cricket captaincy, so having MS Dhoni and Yuvraj Singh in the team helps, says Virat Kohli.
22:20 IST: To call this a collapse will be an understatement. England lost eight wickets for just eight runs. Just farcical batting from the English. But credit goes to India's leg-spinners Mishra and Chahal. Chahal in particular showed some great variations that left the English bamboozled.
22:15 IST: WICKET!! Mills is caught in the slips. India win by 75 runs and clinch the series 2-1.
22:13 IST: WICKET!! This time it's Bumrah. Comical batting from the English.
22:11 IST: WICKET!! Another one. Chahal's third wicket of the over and England have completely lost it.
22:09 IST: WICKET!! Chahal gets his fifth of the match. Ben Stokes is gone for 6 and India are three wickets away from a series win and a Tour sweep.
22:07 IST: WICKET!! It's Chahal again and England lose Moeen Ali.
22:06 IST: Another good over for India. England are crumbling and now hard task just got harder.
22:02 IST: WICKET!! And another one is gone. Bumrah strikes for India. Buttler goes for a duck and the hosts are completely in command now.
22:01 IST: What a game-changing over from Chahal. Both set batsmen are gone. England are 119-4 after 14 overs.
21:59 IST: WICKET!! Another one and it's Root. Chahal with wickets of consecutive balls.
21:58 IST: WICKET!! Morgan falls for 40 off 21 balls.
21:52 IST: Dropped!! Miscommunication between Yuvraj and Pant. Root gets a life!
21:51 IST: What an over for the English. England are 114-2 after 12 overs.
21:49 IST: Six!! Third maximum of the over. It was short and Morgan climbed all over it.
21:48 IST: Consecutive sixes!! Morgan this time gives himself room and goes over long off.
21:47 IST: Six!! Morgan shimmies down the track and smashes Raina over deep mid-wicket.
21:44 IST: Great fielding from India in the outfield.
21:38 IST: Six!! Root walks down the pitch and smacks it over the square leg boundary. What a shot!! England 86-2 after 10 overs.
21:37 IST: 3 singles from Pandya's first three balls.
21:34 IST: 14 runs from the Mishra over. England are 77-2 after 9 overs.
21:32 IST: Four More!! Reverse sweep this time but the same result.
21:31 IST: Four!! Morgan with a beautiful drive.
21:30 IST: Good comeback from Pandya after being hit for a six in his first delivery.
21:27 IST: Six!! Full and straight from Pandya and Root just picks it off over the deep mid-wicket boundary.
21:25 IST: Brilliant over from Mishra. Just one run and a wicket from that.
21:22 IST: WICKET!! Mishra has struck with his 2nd ball. Roy tries to sweep him but it was too wide and the Englishman managed only to get a top edge. Easy catch for Dhoni.
21:20 IST: Four!! This time full and wide from Nehra and Root smashes it over the covers. England are 55-1 after 6 overs.
21:19 IST: Four!! Short from Nehra and Roy smashes it to the mid-wicket boundary.
21:16 IST: Root had struggled to get his timing right in Nagpur but looks a completely different player on this pitch.
21:13 IST: Four!! Short and wide from Bumrah and Root pierces the boundary. Second four of the over. England are 44-1 after 5 overs.
21:10 IST: Four!! Roy lifts Bumrah over the mid-off fielder for another boundary.
21:06 IST: Four!! Roy this time gets on his knees and smashes Chahal to the square leg boundary.
21:05 IST: Four!! Short again but this time on the leg but same result. Third boundary of the over. England are 25-1 after 3 overs.
21:03 IST: Four!! Short and wide from Nehra and Root helps himself to his first boundary.
21:01 IST: Four!! Inside edge from Roy and it runs away to the fine-leg boundary. Unlucky for Nehra!
20:58 IST: Another big chance but Chahal throws the ball to the wrong end. Roy was completely stranded. What a let-off for England.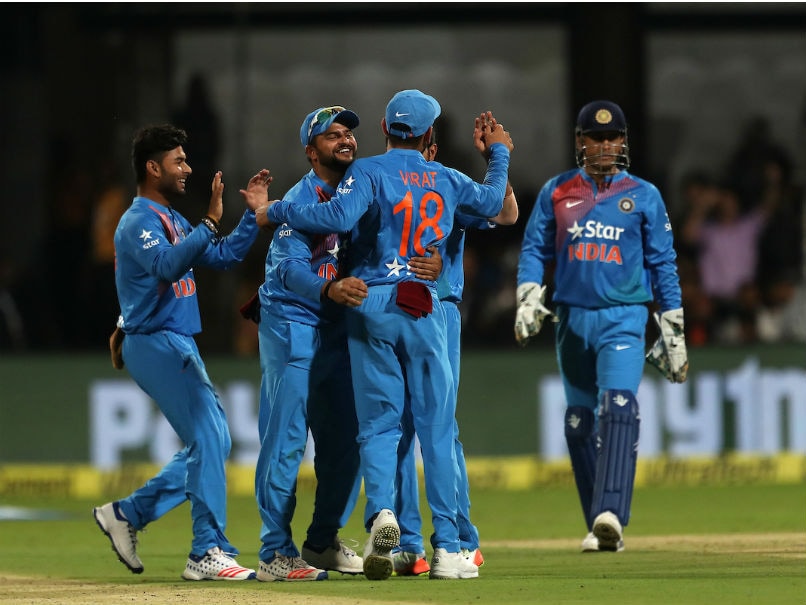 20:57 IST: WICKET!! Billings is gone! India have their first breakthrough courtesy Chahal.
20:55 IST: Chahal to bowl the second over. Roy hits him for a six with a reverse sweep.
20:54: IST: Excellent first over from Ashish Nehra. Superb start for India.
20:39 IST: One run of the final ball. India finish with 202 for six in 20 overs. England have a mammoth run chase on their hands.
20:38 IST: Six!! Pandya connects and just manages to just get over the long-on boundary. Jason Roy got a hand to the ball but failed to hold on.
20:36 IST: WICKET!! Dhoni  tries to pull the ball and top edges the ball to short fine leg. He goes for 56 off 36 balls. India are 191-5 after 19.2 overs.
20:35 IST: Four!! Full and Dhoni bludgeons it to long off boundary.
20:33 IST: Four!! Pant gets it away for his first boundary in international cricket.
20:32 IST: Good variations shown by Mills.
20:30 IST: Debutant Rishabh Pant is the next man in.
20:28 IST: WICKET!! Yuvraj is caught behind for 27 off 10 balls. It was a slower ball from Mills and Yuvraj failed to pick it.
20:27 IST: 24 runs from the Jordan over. India are 177-3 after 18 overs.
20:26 IST: Six!! What a shot from Yuvraj! Short arm jab for a maximum. Yuvraj has gone berserk here.
20:25 IST: Four!! Full and on the legs and Yuvraj just flicks it to the square leg boundary.
20:24 IST: Back to back sixes from Yuvraj. Both full deliveries and the left-hander just deposits it over long-on. Absolutely clean hitting from Yuvi!
20:23 IST: Maiden T20I fifty for Dhoni. It's come off 32 balls.
20:20 IST: Four!! Dhoni smashes the full delivery from Stokes to deep mid-wicket.
20:18 IST: Four!! Dhoni moves on to 42 with that boundary.
20:16 IST: Good comeback from Mills after being hit for a boundary on the first ball. India are 142-3 after 16 overs.
20:12 IST: Four!! Mills drifts on to the pads of Dhoni and he flicks it to the fine-leg boundary.
20:10 IST: Four!! Beautiful finesse shown by Dhoni. It was short and wide and he just placed it to the third-man boundary. India are 132-3 after 15 overs.
20:03 IST: WICKET!! Raina falls for 63 off 45 balls. The left-hander tried to hit another maximum but only managed to slice that and easily pouched by Morgan.
20:02 IST: Six!! Full from Plunkett and Dhoni almost jabs it over long-on. India are really motoring now.
20:00 IST: Four byes!! Everything going India's way as Raina misses the ball completely and so does wicketkeeper Jos Buttler. India are 113-2 after 13 overs.
19:59 IST: Six!! Raina comes down the track and deposits Moeen Ali straight back over his head.
19:57 IST: Six!! Raina brings about his 4th T20I fifty with a maximum. India are 99-2 after 12 overs.
19:56 IST: Six!! Dhoni picks the wrong one and smashes it over mid-wicket boundary. 
19:53 IST: Dropped! Raina is put down by Rashid. It was a return catch!
19:48 IST: Replays show that Rahul was dismissed on a Stokes no-ball.
19:47 IST: Four!! Raina moves on to 41 with another boundary. He just opened the face of the bat there.
19:40 IST: Surprise! Surprise! Dhoni is in before Yuvraj!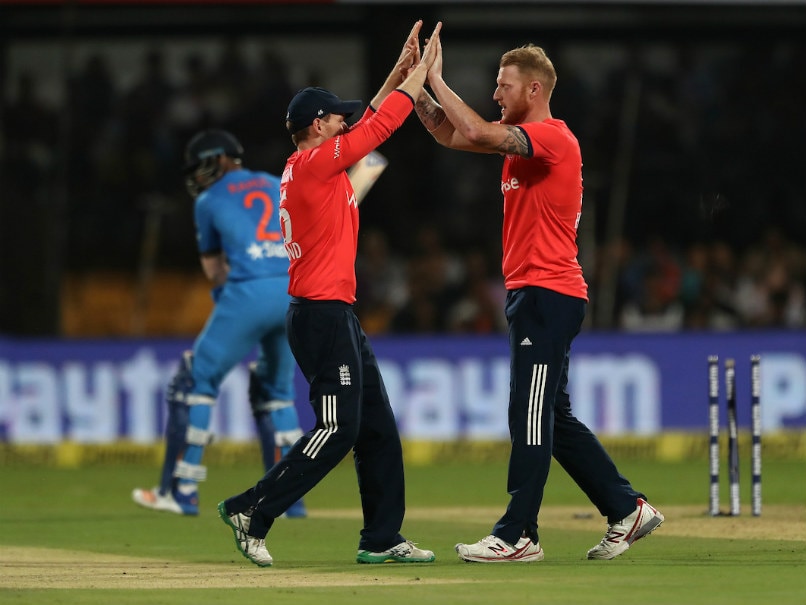 19:39 IST: WICKET!! Rahul is cleaned up by Stokes for 22 off 18 balls. It was in the slot and Rahul went for it but ended up missing the ball altogether. India are 65-2 after 7.2 overs.
19:37 IST: Last five overs have yielded India 56 runs.
19:35 IST: Six!! Rahul gets into the act and it's the biggest of the night. Massive 98-metre maximum!
19:30 IST: Six!! It's Raina again! The left-hander just helps the ball over the fine-leg boundary. Great batting. India are 53-1 after 6 overs.
19:28 IST: Six!! Raina pulls Jordan and the ball sails over the square leg boundary.
19:24 IST: Four!! Raina gives himself a bit of room and smashes it past the point fielder.
19:22 IST: Let-off for Raina! The left-hander tries another mighty heave and almost ends up giving a catch to mid-on but miscommunication between Jordan and Moeen Ali gives Raina a reprieve.
19:21 IST: Raina goes for another big hit but fails to time his shot. He gets a double.
19:20 IST: 12 runs from the Plunkett over. India are 29-1 after 4 overs.
19:18 IST: Four More!! Another full delivery and Rahul strokes the ball over mid-off for consecutive boundaries. India are finally getting a move on!
19:16 IST: Four!! Plunkett drifts on to the pads of Rahul and the Indian opener flicks it away brilliantly.
19:15 IST: Six!! Pitched up by Mills and Raina deposits the ball over the cover boundary. First maximum for the home team. India are 17-1 after 3 overs.
19:13 IST: Great stuff from England so far. They have given nothing away.
19:11 IST: Raina tries an expansive drive and almost ends up giving an easy catch to mid-off. India need to be a little careful here.
19:06 IST: WICKET!! Kohli is gone! Run out for 2. Huge setback for India. Kohli dabbed the ball and set off for a quick single but was sent back. Jordan got to the ball in no time and threw down the stumps. India are 8-1 after 2 overs.
19:04 IST: Four runs from the first over. India off to a cautious start.
19:03 IST: Good start by Mills so far. He has quickly got his radar right.
19:01 IST: First run for India and it's a wide down the leg-side by Mills.
18:59 IST: Here come the two Indian openers -- Virat Kohli and KL Rahul. There was a lot of talk about Pant opening the batting but that hasn't happened.
18:55 IST: The two teams walk out for the national anthems.
16:40 IST: Let's listen in to what the two captains had to say during the toss.
18:35 IST: Here is how the two teams line-up for tonight's decider.
IND XI: L Rahul, V Kohli, MS Dhoni, Y Singh, R Pant, H Pandya, S Raina, A Mishra, Y Chahal, A Nehra, J Bumrah

— BCCI (@BCCI) February 1, 2017
ENG XI: J Roy, S Billings, J Root, E Morgan, B Stokes, J Buttler, M Ali, C Jordan, L Plunkett, A Rashid, T Mills

— BCCI (@BCCI) February 1, 2017
18:30 IST: Morgan wins the toss and elects to bowl. Rishabh Pant comes replaces Manish Pandey in India's playing XI and will make his T20I debut.
18:28 IST: Toss time!! Both captains are out on the field.
18:20 IST: Four T20Is have been played at the M Chinaswamy and the highest score batting first on this ground has been just 157 - by Australia against Bangladesh, during last year's T20 World Cup.
18:16 IST: Early news coming in is that umpire C Shamshuddin, who was in the news for some poor decisions in the second T20I, is not feeling a 100 percent and will not be one of the two on-field umpires. He instead has been put on third-umpire duties.
18:15 IST: Hello and welcome to the live blog of the third and final T20I between India and England. The series in the balance and both teams will be fired up.
India had comfortably won the Test and ODI series, and now have an opportunity to complete a tour sweep if they win the third and final T20I. However, the hosts will know that will not be an easy task.
The English batting looked very solid in the first T20s and if not for the late heroics of Bumrah and Nehra, the visitors would have had the series in the bag. Eoin Morgan and Joe Root have done the job in the middle order while Ben Stokes has provided the fireworks later on. England openers Jason Roy and Sam Billings have given their team fast starts but have been unable to convert it into big scores.
For India, Kohli's promotion to the opening slot hasn't worked out to plan and there might be a case for him to return to his usual one-down position in the batting order. KL Rahul showcased his class with a stormy innings in Nagpur but it was the only score of note for the Indians in the second T20I.
Both Suresh Raina and Yuvraj Singh have struggled while Mahendra Singh Dhoni has come in too late to really make an impact.