Story Progress
Back to home
Highlights, India vs England, 2nd T20I, Nagpur: India Beat England By 5 Runs, Level Series 1-1
Jasprit Bumrah conceded just two runs from the final over as India edged out England by 5 runs in the 2nd T20I in Nagpur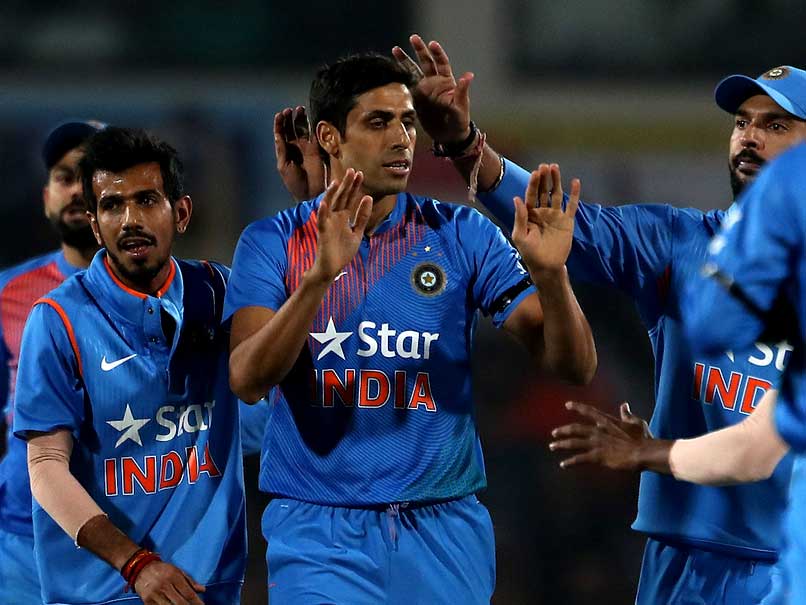 Ashish Nehra powered India to a tense finish against England in the second T20I
© AFP
Jasprit Bumrah conceded just two runs from the final over as India edged out England by 5 runs in the 2nd T20I in Nagpur on Sunday, to level the three-match series 1-1. Ashish Nehra was pick of the bowlers for India as he took three wickets for 28 in his four overs. Earlier, riding on Lokesh Rahul's quickfire 71, India had set 145-run target for England. Apart from him, Manish Pandey scored 30. The third match of the series will be played on February 1 in Bengaluru. (Scorecard)
Get India vs England 2nd T20 highlights here.
22:52 IST:What a match! What a turnaround from Bumrah and Nehra at the end. The duo were sensational in their use of off-cutters combined with some brilliant yorkers. Hope you enjoyed our coverage. That's it from us. Adios!!
22:49 IST: India captain Virat Kohli: It's important to have a self belief. It was a case of us executing really well in the beginning. Bumrah and Nehra were outstanding in the end. To defend 40 in five overs with dew present is outstanding. Raina bowled four for us so we didn't have to bowl Pandya with the wet ball. Strong character shown by the side, something I am proud of. Nehra is an experienced performer, he knows what to do. Bumrah was asking me what to do every ball. It was an outstanding innings from Rahul on a pitch where shot-making was difficult. He's one player who has all the shots in the book. It's like my second home, can't wait to go there. Some things we need to tighten up but all in all a very good performance.
22:47 IST: England captain Eoin Morgan: We were in the driving seat right up until the last over. Didn't start the over well. A decision went against us. Fair play to Bumrah to produce a match winning over. These last two games, we've been right on the money with the ball. All credit to the bowlers. We never let the rate get away from us in the chase. Root and Stokes played well. Unbelievably disappointing to lose this game. It's extremely competitive. Two teams not giving each other an inch.
22:46 IST: Jasprit Bumrah: It's always difficult bowling in the death. I try to focus on my good days and remember those days when I am bowling. We saw the first innings; the wicket was difficult. To clear the back of a length deliveries and slower balls out of the ground was difficult. We were trying to execute that. I try to stick to my basics. The ball was getting wet, so bowling yorkers was difficult. Hence I bowled back of a length and on the stumps.
22:44 IST: Jasprit Bumrah received the Man of the Match award for bowling a superb final over
22:28 IST: It's a dot ball and India win the match by 5 runs
22:27 IST: Dhoni is setting the field now and he is with one wicket keeping glove
22:26 IST: Just a single and they need 6 runs from the last ball
22:25 IST: OUT!!! Bumrah bowls Buttler out on 15. England need 7 from 2 balls now
22:24 IST:Dot ball again and England need 7 from 3 balls
22:23 IST:Moeen Ali gets the single and 7 runs needed off 4 balls now
22:21 IST: OUT!!Appeal for an LBW and Joe Root given out by the umpire on 38
22:19 IST: SIX!!!Jos Buttler mistimes it but still goes for the maximum. England need 8 runs from the last over now
22:18 IST: FOUR!!Buttler hits it for a boundary. Important one for England
22:16 IST:England need 20 from 9 balls now. Getting tighter and tighter!!!
22:15 IST: Nehra to bowl the 19th over
22:13 IST:Bumrah almost got the wicket there. Just three from this over. England need 24 from 12 balls
22:12 IST:Can this be change of fortunes for India? Superb bowling by Bumrah. England need 26 from 13 balls
22:11 IST:Two dot-balls by Jasprit Bumrah
22:10 IST: England need 27 from 18 balls
22:05 IST: OUT!!Ashish Nehra picks up his third wicket. Very clever bowling by him. Ben Stokes out on 38. England 117/4
22:03 IST:India need wickets now as Nehra comes into the attack
21:59 IST: FOUR!!Bumrah has not been able to bowl the yorkers well. Getting difficult for India
21:56 IST:11 off the over and it's 104/3. England need 41 runs from 30 balls
21:55 IST: SIX!!That's clubbed off the back foot by Ben Stokes. He is getting dangerous for India
21:51 IST: SIX!!And Stokes goes for the big one. Pressure on India
21:50 IST: FOUR!!Little short from Raina and Stokes hits the straight boundary
21:48 IST: England 80/3 after 13 overs. Need 65 from 42 balls
21:47 IST:The ball is wet and towels are out on the field. Mishra is bowling off-breaks now
21:45 IST: England 77/3 after 12 overs, need 68 runs in 48 balls
21:41 IST:Two wides in the over by Suresh Raina. England need 72 from 53 balls
21:37 IST:Bowled him!!! Ben Stokes falls and Mishra gives India the double strike. But, the drama here!! that's a big no-ball and decision turned by the third umpire
21:35 IST: OUT!!!Loss in concentration after the break for England captain. Delight for Mishra as he takes the wicket off his quicker off-break delivery. He goes for 17
21:29 IST: England are 60/2 after 9 overs. Require 85 in 11 overs
21:27 IST: FOUR!!Unlucky there Amit Mishra. He bowled a googly but Root got the inside edge for a boundary
21:22 IST:Interesting move by captain Kohli, Raina comes into the attack
21:17 IST:Close call on the second run. Huge roar went up as Dhoni broke the stumps but Root seems at ease.
21:13 IST:Amit Mishra to bowl his first over in the series. Starts with a slider
21:12 IST: FOUR!!Morgan gets the placement right on the off side and hits it through the covers for a boundary
21:10 IST:Excellent comeback by Chahal after the 15-run over, just 5 from it
21:05 IST:The two experienced batsmen Eoin Morgan and Joe Root at the crease and Chahal bowling his third over
20:59 IST: OUT!!Two-in-two for India. Jason Roy is out on 10 after mistiming a shot
20:58 IST: OUT!!Billings tries to go for the big shot and finds a man at the deep fine-leg. Bumrah takes a good catch and Nehra gives India the much needed breakthrough
20:55 IST: SIX!!Two sixes in Chahal's over. England are off to a good start here
20:53 IST:Five runs from Nehra's first over. England 7/0 after two overs (Billings 4*, Roy 3*).
20:51 IST:Change of bats for Jason Roy. He takes a single from the next ball.
20:48 IST:Good start for India. Yuzvendra Chahal concedes just two runs from the hosts' first over.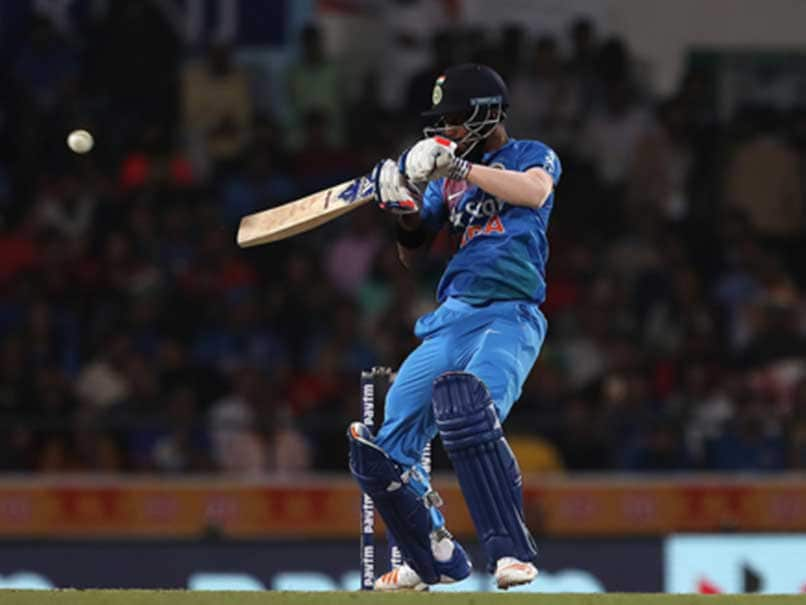 Photo Credit: BCCI
20:32 IST: OUT!!Inside edge on to the stumps. Dhoni is out bowled as three wickets fall in the final over. India end the innings remains at 144/8.
20:31 IST: OUT!!Another run-out here. Good work by the fielder as Amit Mishra goes without scoring
20:30 IST: Just three runs in the first four balls
20:29 IST: OUT!!Pandya hits the ball and there was never a run there. But fair enough as Dhoni wanted the strike. Pandya is run-out on 2
20:28 IST:Two quick runs by Pandya. India 142/5 in 19.2 overs
20:27 IST:Just one over to go and India will look to score at least 150
20:26 IST: OUT!!Brilliant bowling by Mills. Pandey out bowled on 30
20:25 IST: SIX!!!Pandey gets hold of this and hits it over the mid wicket. Slower ball by Tymal Mills and Pandey picked it up early
20:24 IST:150 can be a par score at this ground
20:22 IST:Credit should be given to the England bowlers but also the pitch is not good to bat on
20:18 IST:MS Dhoni comes in next and he gets a big applause as usual
20:16 IST: OUT!!KL Rahul is out. Tried to hit Chris Jordan for a big shot but finds a man in the deep. He is out on 71
20:15 IST:England bowlers are nicely mixing it up. The perfect way to bowl in these conditions
20:14 IST: So, three overs to go now.
20:12 IST: FOUR!!After 19 balls India break the shackles with a boundary. Finally it comes, not from the sweetest spot of the bat though
20:10 IST:Morgan is banking on his fast bowlers. Rahul will have to go for everything now
20:05 IST:India 114/3 after 16 overs. Four overs to go now
20:03 IST:OHHH!!! That had hit the stumps but bails didn't go off
20:01 IST:15th over underway!! These two are well set now
19:59 IST: FOUR!!100 up for India with that boundary by KL Rahul. These two have added 34 off 19 balls now.
19:56 IST: FOUR!KL Rahul is dealing in boundaries now. Making this look like a good batting surface, which is not the case
Half century for @klrahul11 and it receives the applause of @msdhoni #TeamIndia #INDvENG pic.twitter.com/tyxeOovTBI

— BCCI (@BCCI) January 29, 2017
19:53 IST: FIFTY!KL Rahul completes his maiden fifty from 32 balls. India need him to stay till the end.
19:52 IST: FOUR!Rahul is on a roll, hits it towards the mid-wicket boundary
19:50 IST: SIX!!KL Rahul smashes it over the long on for a massive one, greets Dawson in style
19:46 IST: OUT!!Yuvraj Singh tries to play the sweep shot and misses it. He is out on 4 off 12. India 69/3
19:41 IST: SIX!!Easy full-toss for Rahul and make full use of the poor delivery. Much needed for India
19:39 IST: Oohhhsharp turn and bounce. Yuvraj was caught back, expecting the ball to slide back in.
19:37 IST:Yuvraj Singh comes in at No.4. Tidy over by Rashid, it's 56/2 after 8 overs
19:35 IST: OUT!!Raina tries the lofted shot and finds a man in the deep. He goes for 7
19:33 IST:Third spinner Adil Rashid comes into the attack.
19:31 IST: With three runs by Raina,  fifty comes up for India in the seventh over
19:26 IST: FOUR!!Lovely shot by KL Rahul. Hitting it through the line for a boundary
19:21 IST:Suresh Raina comes in at No.3 position
19:20 IST: FOUR!KL Rahul slices it over the covers for a boundary
19:18 IST: OUT!Virat tries for a lofted shot and mistimes it. Good catch by Liam Dawson. India skipper out on 21 (15 balls)
19:17 IST:Two to end the over. 15 runs off the over. India 30/0 after 4 overs
19:15 IST: FOUR!He hits it towards the leg side now. Mills under pressure
19:14 IST: SIX!!Terrific shot by Virat Kohli and on the backfoot hits it over the long-off for a maximum
19:12 IST: Five runs again in the third over. It's 15/0 after 3 overs
19:11 IST:A loud shout by Jordan and that was very tight. Not-out given by the umpire. Replays show the ball was hitting the stumps, so lifeline for the skipper
#TeamIndia is wearing a black armband to condole the sad demise of India U19 trainer Rajesh Sawant and M Shami's father pic.twitter.com/1XRnXIiTUk

— BCCI (@BCCI) January 29, 2017
19:10 IST:Change of bowling for England and Chris Jordan replaces Liam Dawson
19:08 IST:Just a four and a single in this over. It's 10 for no loss after two overs
19:05 IST: FOUR!!A back of length delivery by Tymal Mills and hits the top edge of Virat Kohli's bat for a four. Top effort by Sam Billings at the third man boundary
19:03 IST:A tidy start for England. It's 5/0 after the first over
19:02 IST:Virat Kohli gets off the mark in the first ball
19:01 IST:So spin straightaway for England!!
19:00 IST:Virat Kohli to open the batting with KL Rahul again. Liam Dawson to start the proceedings for England
18:57 IST:The atmosphere is already buzzing and if India batsmen start with some quality boundaries, it is going to be even more wonderful.
18:55 IST:Both the teams are all set for the national anthems
#TeamIndia Playing XI for the 2nd T20I at Nagpur #INDvENG @Paytm pic.twitter.com/SbXXUlR5Qh

— BCCI (@BCCI) January 29, 2017
2nd T20I. England win the toss and elect to field https://t.co/YOlUsifWTM @Paytm #IndvEng

— BCCI (@BCCI) January 29, 2017
18:37 IST: India have made one change in their line-up. Leg spinner Amit Mishra comes in place of Parvez Rasool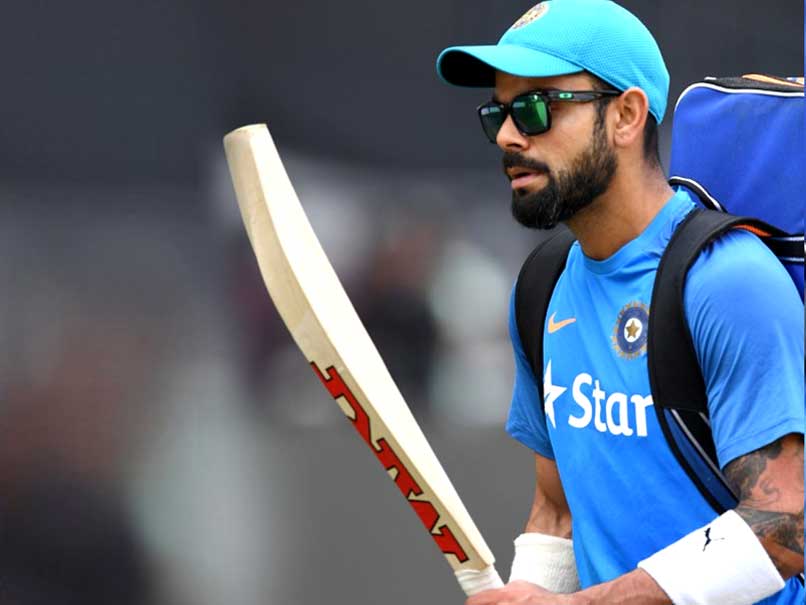 Photo Credit: BCCI
India (Playing XI): Lokesh Rahul, Virat Kohli(c), Suresh Raina, Yuvraj Singh, MS Dhoni(w), Manish Pandey, Hardik Pandya, Amit Mishra, Jasprit Bumrah, Yuzvendra Chahal, Ashish Nehra
Virat Kohli: "Preferably wanted to bowl first, but seeing the last game against New Zealand, it became a lot difficult to chase and the wicket became slow. The pitch will deteriorate as the game progress. We've got an extra leg spinner. For an off-spinner, we thought we could use Raina as an option. 8 overs from two leg spinners might be the difference between them. Two leg spinners might create some difference. There will be turn for sure. First innings is the best time to bat on for sure. We are not too upset about losing the toss. Just the one change and rest of the side are same."
England (Playing XI): Jason Roy, Sam Billings, Joe Root, Eoin Morgan(c), Ben Stokes, Jos Buttler(w), Moeen Ali, Liam Dawson, Chris Jordan, Adil Rashid, Tymal Mills
Eoin Morgan: "We are going to bowl first. There is a bit of grass on it and looks like a typical Indian wicket. Plunket misses out and Dawson is playing, we've got an extra spinner. It is coming towards the end of the tour and we are looking to finish it as well as we can. Lot of determination out there and winning in India is difficult. We aren't taking our last two wins granted."
"I think it will turn more than it did in the T20 World Cup that was played between India and New Zealand. It is a lot drier today. England are bringing in an extra spinner. There will be dew factor for sure." analyse Sunil Gavaskar and Nasser Hussain in their pitch report
As far as the teams are concerned, England wouldn't want to tinker their winning combination much and are likely to go unchanged. Meanwhile for India, with Rahul's failure at the top, Mandeep Singh and Rishabh Pant - the two reserve batsmen in the squad who are primarily openers in the shortest form - may come into the fray.
18:31 IST: Toss time!! England captain Eoin Morgan wins toss and opts to bowl
18:30 IST: Hello and Welcome to the live blog.
Virat Kohli was modestly successful in opening the innings and though the captain has been saving the day for his team more often than not, his teammates should rise to the occasion especially when it matters.
India can also bring in medium pacer Bhuvneshwar in the second match after Ashish Nehra and Jasprit Bumrah proved expensive, even according to T20I standards.
England, on the other hand, will be full of confidence after a complete team performance at Green Park.
Topics mentioned in this article