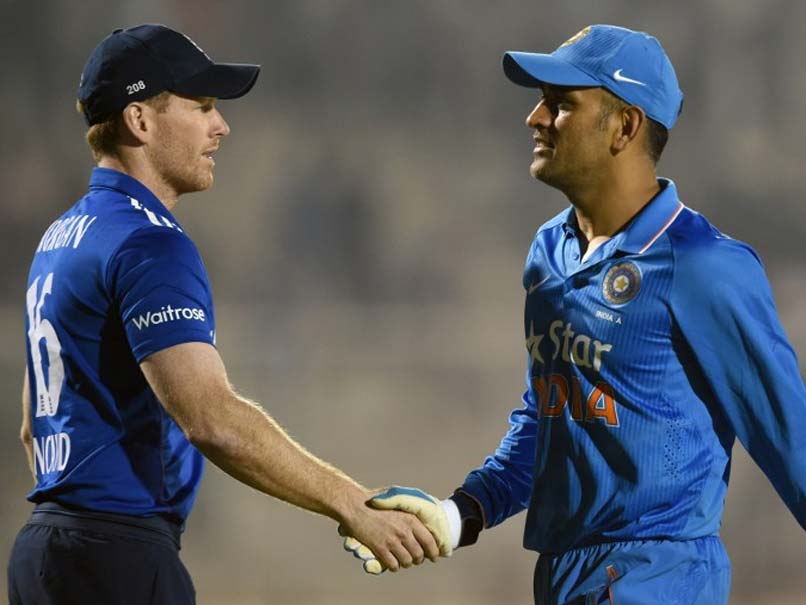 MS Dhoni shakes hands with Eoin Morgan after England XI beat India A by 3 wickets.
© AFP
Ambati Rayudu's brilliant century and half-centuries from Yuvraj Singh and Mahendra Singh Dhoni helped India score 304 for five after being put into bat. Jason Roy and Alex Hales gave England a flying start but spinners -- Kuldeep Yadav and Yuzvendra Chahal -- pegged the visitors back. However, Sam Billings scored a brilliant 93 to keep England's chase on track with Chris Woakes finishing off the match with seven balls to spare.
Catch all the highlights from the India A vs England XI warm-up match in Mumbai here:
21:25 IST: That's it from us. Do join us for the second warm-up match on January 12.
21:20 IST: Kuldeep's heroics have gone in vain but brilliant performance from the youngster. Sam Billings was the star for England. They will be expecting a lot more from him when the ODI series starts.
21:16 IST: Four!! And that's it! The tourists have won the first warm-up by three wickets.
21:13 IST: Four!! Short from Pandya and Woakes pulls it to the deep mid-wicket boundary.
21:12 IST: Two dot balls from Pandya. India still have a chance. England are still not put of the woods.
21:10 IST: Four runs from the Mohit Sharma over. England need 7 runs off 12 balls.
21:08 IST: Mohit Sharma and Ashish Nehra have been the two weak links for India today.
21:05 IST: Four!! Short and wide from Pandya and Adil Rashid helps himself to a boundary. England need 11 runs to win off 18 balls.
21:01 IST: Out!! Pandya gets the big wicket of Billings. He falls for 93 off 85 balls. The Englishman was a touch unlucky as the ball ricocheted off the pads and onto the wicket. India have a sniff here can they pull off a miracle.
20:56 IST: Out!! Fifth wicket for Kuldeep as Liam Dawson falls for 41(47). But a little too late for India now. England are 290-6 after 45.1 overs. Need 15 off 29 balls.
20:53 IST: Billings moves into the nineties. A match-winning innings from him.
20:51 IST: Dropped!! Yuvraj is the surprise culprit. Billings with a reverse pull of sorts and the ball was travelling. Yuvraj got both hands to it but the ball just didn't stick. Could have been Kuldeep's fifth wicket and how he has deserved that.
20:48 IST: Dawson also has played a solid hand here. The partnership between the two now is 79. England need 35 off 42 balls.
20:44 IST: Four!! An uppish sweep shot from Billings but it's in the gap. He moves to 76 with that boundary. England need just 41 off 48 balls.
20:42 IST: Kuldeep has three overs left and holds the key for India now. He has just been brilliant today.
20:40 IST: The required run rate has gone below 6 now. England don't need to do anything outlandish.
20:35 IST: Back to back fours!! It's Nehra on the receiving end again. Billings has pressed on the accelerator.
20:33 IST: England need 71 off 66 balls. England look favourites now. India need to break this partnership.
20:29 IST: Four!! England have had numerous streaky boundaries in this match and one more can be added. Dawson's inside edge runs away to the fine leg boundary.
20:28 IST: A leading edge from Billings and that wasn't too far away from Dhawan at point. Still no luck for Nehra.
20:21 IST: Billings is the key wicket for India here. England need 84 off 80 balls.
20:13 IST: Four!! Dawson with another boundary. The English are getting the boundaries regularly.
20:05 IST: Four!! Short from Chahal and Dawson rocks onto the backfoot and smashes it to the square leg boundary. England are 204-5 after 34 overs.
20:02 IST: Four!! Short from Kuldeep and Dawson dispatches it clinically.
19:55 IST: Out!! There's no stopping Kuldeep Yadav. Moeen is given out lbw. England are 191/5 in 30.4 ovs
19:52 IST: Out!! Kuldeep gets his third wicket. Buttler departs for 46 off 38 balls.
19:45 IST: Back to back fours for Billings! The partnership between Billings and Buttler has swelled to 66 off just 11 overs.
19:43 IST: Kuldeep back into the attack. He was the one to put a brake in the England innings in his previous spell. Can he do it again?
19:41 IST: 16 runs from the Yuvraj Singh over. England are 166-3 after 28 overs. Need 137 runs more to win.
19:39 IST: Six!! Buttler comes down the track and deposits Yuvraj over the long-off boundary.
19:37 IST: England are 146/3 after 26 overs.
19:35 IST: Ooooh! Just wife of Yuvraj, the bowler.
19:33 IST: The England batsman makes a comeback - a lovely boundary though the covers
19:32 IST: Edged but no slip. Buttler is living right on the edge at the moment! 
19:30 IST: Dropped! Buttler hit it straight to backward point and Mandeep Singh could not hold on to the ball! At this level, that is a sitter!
19:28 IST: Four runs from Yuvraj's first over!
19:25 IST: Yuvraj Singh has come in to roll over his arm!
19:23 IST: After 23 overs, England XI are 131/3!
19:19 IST: Billings and Buttler have steadied the ship to an extent.
19:17 IST: India have pegged back England with those three quick wickets.
19:02 IST: Out!! Brilliant one-handed catch by Dhawan. Chahal gets the big wicket of Eoin Morgan (3). England are 112/3 in 18 overs.
18:58 IST: Kuldeep Yadav gets his 2nd wicket. Jason Roy departs for 62(57). England are 106-2 after 16.2 overs.
18:53 IST: Six!! England might have just lost a wicket but that seems to have no effect on Roy.
18:46 IST: Out!! Kuldeep Yadav has finally given India their first breakthrough. Alex Hales c Samson b Kuldeep 40(37).
18:43 IST: Fifty for Roy!! Brilliant attacking innings from the opener.
18:41 IST: Six!! Full from Mohit, and Hales smashes it right back over his head for a maximum. This is not looking good for India. England are 88-0 after 13 overs.
18:39 IST: Four!! Mohit again strays on to the pads of Hales and gets flicked to deep-midwicket boundary. England are motoring along now.
18:36 IST: Roy is taking the attack to Chahal. This over has already yielded two boundaries.
18:34 IST: Chahal into the attack! Let's see how the English fare against some spin now.
18:27 IST: Hardik Pandya has been brilliant but has had no luck so far. England are 58-0 after 10 overs (Roy 34*, Hales 22*)
18:25 IST: Dropped!! Tough chance for Shikhar Dhawan at slips and he puts it down. Roy tried to run it to third man but the ball from Pandya was just too close to his body.
18:23 IST: Four!! Mohit over compensates and bowls it too wide and is once again punished by Hales. England are 51-0 after 9 overs.
18:22 IST: Four!! Straight and full from Mohit and Hales has no problem in dispatching it to the mid-wicket boundary. Not good signs these for India.
18:19 IST: Mohit Sharma replaces Nehra.
18:17 IST: While Hardik has been very disciplined from one end, Nehra has been all over the place and it shows in the bowling figures. Surely, Dhoni won't give Nehra another over.
18:13 IST: Four!! This is going from bad to worse for Nehra. Full length ball and Roy dispatches it through the covers for another boundary. England are 39-0 after 7 overs.
18:12 IST: Four!! Another inside edge from Roy and another boundary to fine leg.
18:11 IST: Six!! Roy is taking Nehra to the cleaners. The left-arm pacer is being carted to all parts of the ground.
18:10 IST: Pandya has so far bowled three overs and given away just six runs. Great discipline shown by the youngster.
18:05 IST: Four!! Inside edge from Roy and it runs away to the fine leg boundary. Nehra was so close to giving India their first breakthrough. The ball just evaded the stumps. England are 20-0 after 5 overs.
18:00 IST: Nehra has leaked 13 runs from his two overs. He needs to tighten up a bit.
17:59 IST: A maiden over from Hardik. It has been a good start from him. England are 15-0 after 4 overs.
17:54 IST: Four!! Nehra slides on the pads of Hales and the Englishman just flicks it to the square leg boundary for the third four of the English innings. England are up and running, Nehra has to find his rhythm quickly.
17:52 IST: Just two runs from the Pandya over. Very impressive bowling. He immediately found the right line and length and got the ball to move off the pitch. England are 10/0 after 2 overs.
17:50 IST: Hardik Pandya beats the bat of Alex Hales. Just a hint of movement for the Indian all-rounder.
17:47 IST: Four! Three dot balls from Nehra and looked like it was a good comeback but the fifth ball has again been dispatched by Roy. Great start for England.
17:45 IST: Four!! The first ball from Nehra has been put away for a boundary by Roy.
17:40 IST: The players are walking out to the middle. Jason Roy and Alex Hales are the two openers for England. Ashish Nehra will start the proceedings for India.
17:05 IST: Dhoni adds 23 runs from the final over to end his innings on 68 not out and take India's total to 304/4 in the stipulated 50 overs.
17:00 IST: Eight runs off that over. India are 281/4 after 49 overs (Dhoni 45*, Hardik 4*).
16:55 IST: Dhoni ends the over with another boundary. India are 273/4 after 48 overs (Dhoni 38*, Hardik 3*).
16:51 IST: A boundary from Dhoni in that over. India A 265/4 after 47 overs (Dhoni 32*, Hardik 1*).
16:46 IST: Sanju Samson dismissed for a duck. India A 257/4 after 45.5 overs.
16:41 IST: Yuvraj falls for a score of 56 after going for a big one. India 250/3 after 45 overs.
16:35 IST: Two consecutive boundaries from Dhoni from the first two balls of the 44th over. India 245/2 (Yuvraj 54*, Dhoni 15*).
16:25 IST: MS Dhoni replaces Ambati Rayudu, who retires not out. Dhoni opens his account with a single. India are 228/2 after 42 overs.
16:21 IST: Ambati Rayudu completes his century. India A 226/2 after 40.5 overs.
16:17 IST: Yuvraj Singh completes his fifty with a boundary.
16:14 IST: Rayudu retains strike with a single. India are 219/2 after 40 overs (Rayudu 98*, Yuvraj 46*).
16:10 IST: 13 runs off that over. India A are 210/2 after 39 overs (Rayudu 90, Yuvraj 45*).
16:06 IST: 15 runs off Woakes' over. India are 197/2 after 38 overs (Rayudu 82*, Yuvraj 40*).
15:58 IST: Yuvraj ends the over with a boundary. India A are 178/2 after 36 overs (Rayudu 76*, Yuvraj 28*).
15:47 IST: A couple of huge sixes from Yuvraj off Adil Rashid. India are 172/2 after 34 overs (Rayudu 74*, Yuvraj 24*).
15:40 IST: India are 150/2 after 32 overs. (Rayudu 67*, Yuvraj 10*).
15:34 IST: Three runs off the next over. India 141/2 after 30 overs (Rayudu 66*, Yuvraj 2*).
15:30 IST: Yuvraj Singh arrives at the crease. India 138/2 after 29 overs (Rayudu 64*, Yuvraj 1*).
15:25 IST: Dhawan is caught behind from a Jake Ball delivery. He goes for 63.
15:16 IST: Dhawan completes his fifty with a fine boundary. India 118/1 after 26 overs (Shikhar 60*, Rayudu 48*).
15:09 IST: Shikhar ends the over with a boundary. India A are 97/1 after 24 overs (Shikhar 49*, Rayudu 38*).
15:04 IST: A well-timed and well-placed boundary from Dhawan. India A are 89/1 after 23 overs (Shikhar 44*, Rayudu 35*).
14:57 IST: Four runs from the 20th over. India A are 76/1 (Shikhar 39*, Rayudu 27*).
14:53 IST: India A are 72/1 after 19 overs (Shikhar 38*, Rayudu 24*).
14:49 IST: Two boundaries and a total of 12 runs from Jake Ball's over. India 69/1 (Shikhar 37*, Rayudu 22*).
14:46 IST: 75 dot balls for India A so far. They are 57/1 after 17 overs (Shikhar 30*, Rayudu 18*).
14:37 IST: England overhit a throw and the ball travels to the boundary, seeing India get five runs off it. The hosts are 52/1 after 16 overs (Shikhar 29*, Rayudu 14*).
14:34 IST: Just one run off Moeen Ali's over. India 45/1 after 15 overs.
14:33 IST: Dhawan and Rayudu continue to be very cautious here. India 44/1 after 14 overs (Shikhar 26*, Rayudu 9*).
14:27 IST: Just one run off the 13th over. India 43/1 (Shikhar 25*, Rayudu 9*).
14:25 IST: India are 42/1 after 12 overs (Shikhar 24*, Rayudu 9*).
14:16 IST: Ten overs gone. India A have started off with a relatively slow run rate. The hosts are 33/1 after 10 overs (Dhawan 22*, Rayudu 2*).
14:11 IST: India A are 27/1 after 8 overs (Dhawan 18*, Ambati Rayudu 1*).
14:03 IST: Mandeep Singh is bowled by Willey. India A 25/1 after 7.2 overs.
13:58 IST: Four by Dhawan off Willey. India A 24/0 after six overs (Shikhar 17*, Mandeep 7*).
13:53 IST: Dhawan hits Woakes for a six. India A 19/0 after 5 overs (Shikhar 13*, Mandeep 6*).
13:50 IST: A four from Mandeep to end the fourth over. India A 13/0 (Shikhar 7*, Mandeep 6*).
13:45 IST: Dhawan smashes a Woakes delivery to the boundary. India A 9/0 after three overs. (Shikhar 7*, Mandeep 2*).
13:40 IST: Three runs from the second over. India A 3/0 (Shikhar 2*, Mandeep 1*).
13:37 IST: Chris Woakes bowls a maiden in the opening over.
13:34 IST: Mandeep Singh and Shikhar Dhawan have opened the batting for India A
13:18 IST: Eoin Morgan won the toss and opted to field first in Mumbai.
England have won the toss and have elected to field first against India A pic.twitter.com/1pU8ZyikM9

— BCCI (@BCCI) January 10, 2017
India A: Shikhar Dhawan, Mandeep Singh, Ambati Rayudu, Yuvraj Singh, MS Dhoni (capt and wk), Hardik Pandya, Sanju Samson, Kuldeep Yadav, Yuzvendra Chahal, Ashish Nehra, Mohit Sharma, Siddharth Kaul.
England: Eoin Morgan (captain), Moeen Ali, Jonny Bairstow, Jake Ball, Sam Billings, Jos Buttler, Liam Dawson, Alex Hales, Liam Plunkett, Adil Rashid, Joe Root, Jason Roy, Ben Stokes, David Willey and Chris Woakes.