Story Progress
Back to home
Virat Kohli Says Still Friends With Australians, Comments Misinterpreted
India captain Virat Kohli said that his comments about the end of his friendship with the Australian cricketers had been blown out of proportion.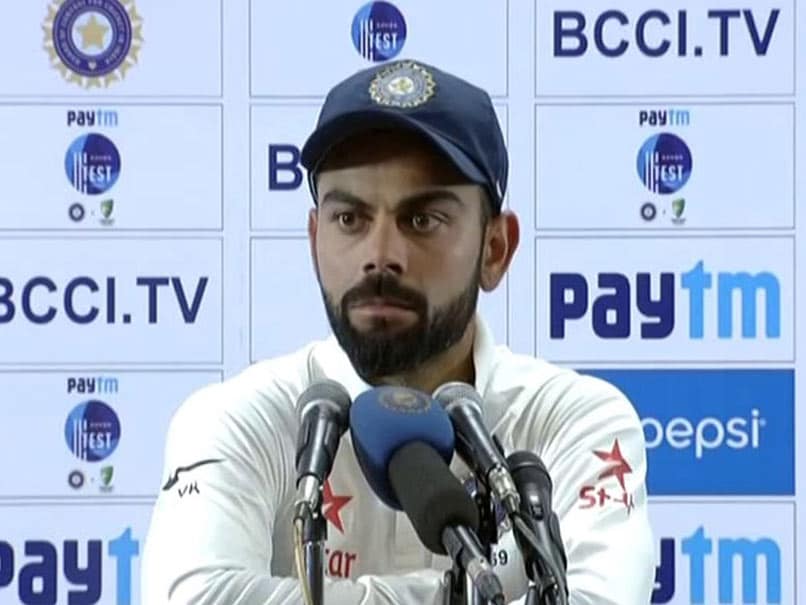 Virat Kohli clarified his stand on his comments about the Australian team in Dharamsala
© BCCI
Highlights
Virat Kohli clarifies stand on friendship with Australian cricketers

Kohli tweeted that his comments on the issue were blown out of proportion

After the series, Kohli said he was no longer friends with the Aussies
India captain Virat Kohlion Thursday clarified that his 'no-longer-friends' with Australian cricketers comment had been blown out of proportion and he continues to be on good terms with the "few guys" he knows and those who have played with him at Royal Challengers Bangalore (RCB) in the Indian Premier League (IPL). Kohli's clarification comes after he received widespread criticism from the Australian mediaon what they dubbed as 'classless' comments.
1/2 My answer at the post match conference has been blown way out of proportion. I did not categorically say the whole Australian team but

— Virat Kohli (@imVkohli) March 30, 2017
2/2only a couple of individuals.I continue to be in good terms with the few guys I know & who I've played with at RCB & that doesn't change.

— Virat Kohli (@imVkohli) March 30, 2017
The Indian captain was asked after the end of the Dharamsala Test if he still considered Steve Smith's men as his friends off the field -- something Kohli had strongly maintained at the start of the series.
Well then#INDvAUS pic.twitter.com/xciqRDoma8

— cricket.com.au Video (@CricketVideo) March 28, 2017
"No, it has changed for sure. I thought that was the case but it has changed for sure. As I said in the heat of the battle, you want to be competitive but yeah I have been proven wrong. The thing I said before the first Test, I have certainly been proven wrong and you won't hear me say that ever again," Kohli said.
Kohli has often said he was not bothered by what the Australian players or media had said about him, but it seems he was more affected than he would like to admit.
Kohli's clarification comes on a day when former Australia batsman Brad Hodge too took to Twitter to apologise to the Indian captain about some uncharitable comments he had made about Kohli's shoulder injury.
The India-Australia Test series had ended with a lot of acrimony and hostility, with both sides fighting toe-to-toe on and off the field.
But even as Australian skipper Steve Smith apologised for his behaviour during the series, Kohli was not so magnanimous and had neither apologised, nor stepped back from his aggressive stand.
Topics mentioned in this article