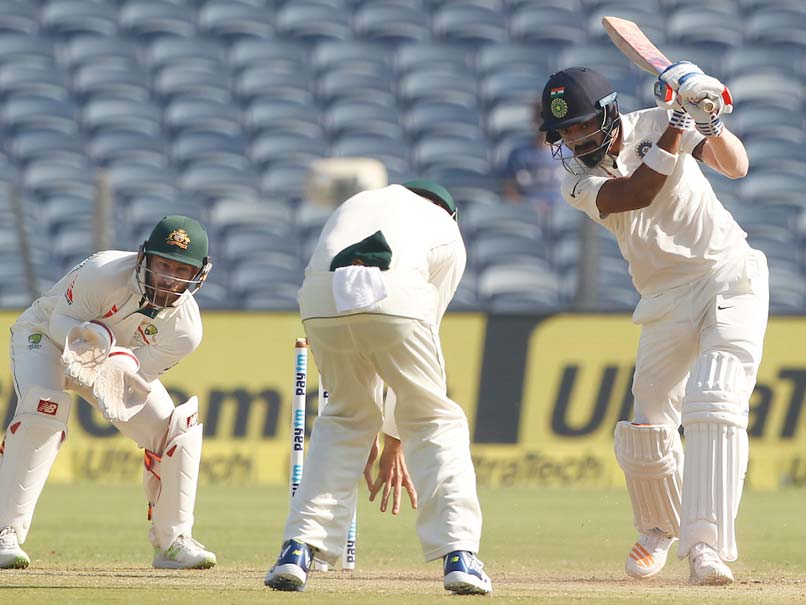 The seeming frustration of fans with KL Rahul's form was witnessed on Twitter.
© BCCI
The Indian cricket team endured a nightmarish start to the ongoing series against Australia. The hosts were crushed by 333 runs in the first Test at Pune by Steve Smith's men. The defeat also ended India's 19-match unbeaten run in Test cricket. The lack of application from the Indian batsmen disappointed not just fans but also former cricketers. "I am disappointed with a lack of fight shown by the Indian team. Getting out in 75 overs in two innings is just not done. This was one of the worst defeats of the Indian team," said Sunil Gavaskar after the Pune Test.
KL Rahul was one of the finds of 2016 for the Indian cricket team. The Karnataka batsman's form across all three formats last year was one of the high points for Indian cricket. The stylish right-hander however, hasn't enjoyed a great run in 2017. Rahul has been criticised for not putting a value on his wicket. He also played an irresponsible shot in the Pune Test, leading a collapse of the Indian batting line-up.
The seeming frustration of fans with Rahul was witnessed on Twitter after the batsman indulged in some banter with teammate Ravichandran Ashwin.
Oh my my.. what a start to the day?? got the legend @ashwinravi99 to follow me. #humbled #blessed pic.twitter.com/Lyf8hXlNhA

— K L Rahul (@klrahul11) February 28, 2017
'Forget all this. Focus on scoring runs," replied a user.
@klrahul11 @ashwinravi99 ye sab chhodo .. runs kaise bane uspe dhyan de ..

— BeingChirag Dave (@BeingChiragDave) February 28, 2017
'Please come and teach us, brother. I'm sue you know how to score runs," was Rahul's quick retort.
Plz come and teach us bhai. Im sure aapko pata hain kaise banate hain runs. https://t.co/KyiuAWFusz

— K L Rahul (@klrahul11) February 28, 2017
Rahul has scored two fifties in 10 outings, with a highest score of 71, across formats in 2017. The 24-year-old is a key component of India's Test side and needs to provide a solid start at the top.
Rahul will be raring to go in the next Test in order to prove his detractors wrong on his home turf in Bengaluru. A fit and firing Rahul is an asset to the current Indian team.