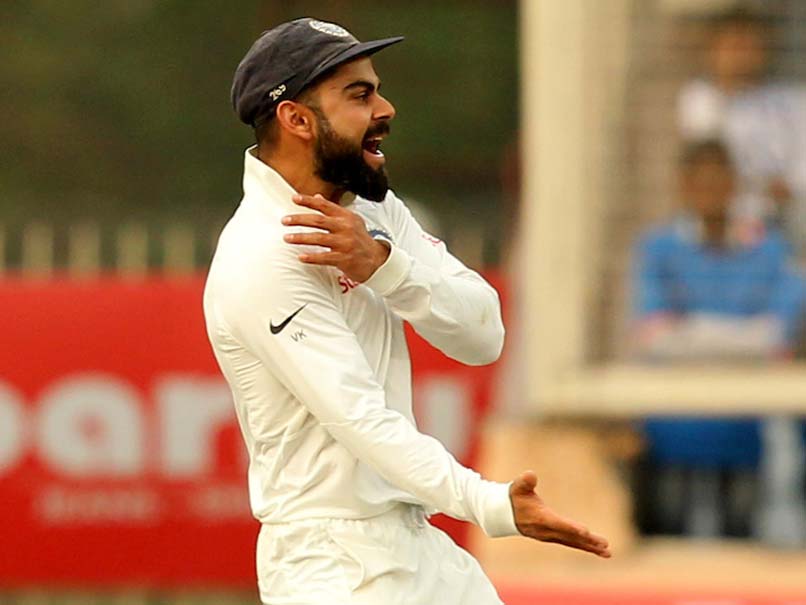 A fired up Virat Kohli celebrated wildly after David Warner's dismissal on Day 4.
© BCCI
Virat Kohli was on the receiving end of some crude jokes from the Australian camp on Day 3 of the third Test but on the fourth day, the Indian skipper decided to get his own back by giving David Warner an animated send-off. Australian batsman Glenn Maxwell made fun of Kohli by mocking his shoulder injury on the third day of the Ranchi Test while fielding. Kohli must have been watching all this go by because when Ravindra Jadeja castled Warner just before stumps on Day 4, Kohli celebrated wildly by holding and patting his injured shoulder.
Maxwell, who had struck a brilliant hundred on Friday, was on Saturday seen mocking Kohli's injury when he replicated the Indian skipper's action by clutching his right shoulder after his dive to save a boundary in the 80th over.
Kohli, obviously fired up by Australia's antics, decided to take matters into his own hands and instead of Maxwell, Warner faced the Indian skipper's ire after being clean bowled by Jadeja for 14 in the second innings.
Fans were quick to pick this up and took to Twitter to talk about the incident.
I see Aussies are whining again for Kohli's celebration after Warner wicket. thought they enjoyed when Maxwell mocked VK yesterday?#AUSvIND

— Twelfth Man (@D_Misplaced1) March 19, 2017
Jadeja got the ball to spin sharply from the rough and the ball turned past Warner's inside edge, stayed a touch low and cleaned him up. Kohli and the others broke into wild celebrations and the Indian captain patted his injured shoulder several times in his send-off.
The third Test is perfectly poised with India holding the upperhand as the match goes into the final stretch. India, buoyed by a double century from Cheteshwar Pujara and a gritty ton from Wriddhiman Saha, posted a mammoth 603 for nine declared, giving them a lead of 152 runs.
Australia were 23 for two at stumps with Jadeja accounting for both the wickets to fall. Nightwatchman Nathan Lyon was the other wicket to fall as Australia trailed India by 129 runs at the end of day's play.