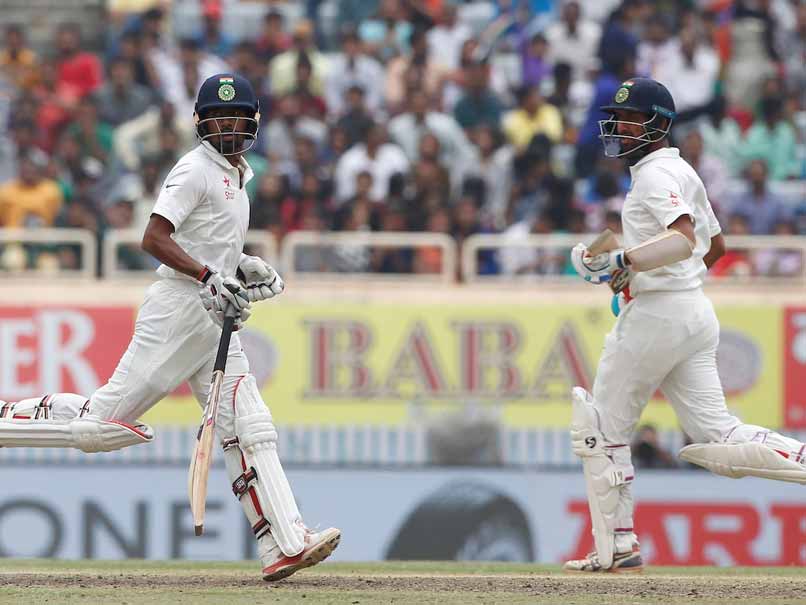 India vs Australia: Pujara , Saha shared a 199-run stand
© BCCI
Cheteshwar Pujara and Wriddhiman Saha added 199 runs for the seventh wicket to put India in a commanding position before the end of the fourth day's play in Ranchi. Ravindra Jadeja used the long handle to good effect when he came out to bat as he scored a quick-fire half-century in as many balls, taking India's lead past the 150-run mark. The left-arm spinner then, removed opener David Warner and nightwatchman Nathan Lyon in quick succession to leave the visitors tottering at 23 for 2 at stumps.   (SCORECARD)
Catch the highlights on India vs Australia straight from Ranchi, India.
16:37: Australia 23 for 2 at stumps. Jadeja has picked up both the wickets.
That's Stumps on Day 4. Australia are (451 & 23/2), trail India 603/9d by 129 runs #INDvAUS pic.twitter.com/ta7izqfrqX

— BCCI (@BCCI) March 19, 2017
16:35 IST: Wicket! Lyon departs. That was a beauty from Jadeja. Pitched on middle and off and takes the off-stump. Lyon had no clue about that one. That is the end of day's play. Steve Smith will come out to bat first up in the morning.
16:30 IST: So Nathan Lyon in as a nightwatchman. Survives Jadeja's over.
16:27 IST: Wicket! Pitched in the rough and turned back sharply into the left-hander. Warner unable to negotiate the turn gets cleaned up by Jadeja. India get their first breakthrough. Need another nine to go 2-1 up in the series.
16:25 IST: Quiet over from Ashwin. Australia 17 for 0 after 5 overs.
16:23 IST: Three in a row. Renshaw beaten all ends up. Jadeja making life difficult for the Australian opener.
16:19 IST: Aggressive start from the openers. Warner comes down the track and gets it over the top of mid-off. Four runs!
16:16 IST: Jadeja comes on from the other end. So both the spinners bowling with the new ball.
16:16 IST: Another boundary. Second of the over. Warner again gets it away. Eight from the Ashwin over.
16:13 IST: Four! Warner goes for the cut and finds the gap. First boundary for Australia
16:10 IST: Ashwin to take the new ball for India. Warner to take strike.
16:09 IST: So both the Australian openers are out there in the middle. India in a huddle at the moment.
16:01 IST: Jadeja gets that one fine and picks up a boundary. There goes the declaration. India have declared their first innings after taking a lead of 152 runs. Eight overs of play remaining in today's play.
15:58 IST: Jadeja slaps it through mid-wicket and finds the gap. Gets to his half-century in style. Four runs!
15:54 IST: Wicket! Umesh Yadav goes for the big one but only manages to find David Warner at mid-off who took a very good catch. India nine down. O'Keefe picks up his third wicket.
15:54 IST: Bouncer by Cummins and well played by Umesh Yadav. 50 Partnership between these two. 
15:52 IST: Now, Umesh Yadav joins the party and welcomes Cummins with a boundary. India are 590/8 now, lead Australia by 139 runs.
15:50 IST: Pat Cummins comes back into the attack
​15:48 IST: SIX!! Jadeja bludgeons that away again and the result is the same . No half-measures for the southpaw 
15:44 IST: WHACK!! Jadeja dances down the track and hits a straight six 
15:32 IST: Umesh Yadav can bat by all means.
Umesh Yadav once made 90 at #10 - in 78m, 66b, 5s, 11f vs Australia A at Brisbane in July 2014#IndvAus#justsaying

— Mohandas Menon (@mohanstatsman) March 19, 2017
15:21 IST: So the lead is well past 100 now. India lead by 106 runs.
15:16 IST: Great Shot! Jadeja steers it down the vacant third man region. Four runs!
15:13 IST: A milestone for Steve O'Keefe.
Steve O'Keefe has now bowled the most overs by an Aussie player in a Test innings since 1979 #INDvAUS https://t.co/naXmhrR4us

— cricket.com.au (@CricketAus) March 19, 2017
15:09 IST: Dropped! Umesh Yadav survives a scare. Tries to go for the big one but fails to make a good connection. O'Keefe at mid-on gets one hand to it but failed to hold on to it.
15:04 IST: Jadeja gets into the act. Comes down the track and hits it over mid-wicket. Four runs!
15:02 IST: Wicket! Saha departs in trying to up the ante. O'Keefe picks up his second wicket. India 541 for 8. Lead by 90 runs.
14:58 IST: Meanwhile Saha has reached his highest Test score. Batting on 117 at the moment.
14:54 IST: Ravindra Jadeja is the next man in.
14:50 IST: Out! Finally Australia break the partnership. Just chipped it in the air to Maxwell at mid-wicket. Lyon takes the wicket.  Pujara departs.
14:48 IST: Saha goes inside out and gets four for it. He is beginning to open up now.
Great going Team India, Pujara & Saha brilliant stuff. Another good hour after tea and we should be in a strong position in this Test match

— Rohit Sharma (@ImRo45) March 19, 2017
14:44 IST: That's it for Pujara. Gets to his double-century with a single. Pujara has not put a foot wrong in this innings.
DOUBLE! An incredible display of concentration from Pujara as he brings up his third Test double-century off 521 balls. Take a bow #INDvAUS pic.twitter.com/hyVi6rpory

— cricket.com.au (@CricketAus) March 19, 2017
14:38 IST: Pujara getting close to another double century. Batting on 197 at the moment,
14:32 IST: Wriddhiman Saha takes a single and brings up his third century in Test cricket.
CENTURY! What a performance from Saha, bringing up his third Test ton to help hand India the lead: https://t.co/EgbDSOUWdB #INDvAUS pic.twitter.com/DkBuSfO2M8

— cricket.com.au (@CricketAus) March 19, 2017
14:31 iST: Welcome back to the final session of play.
14:12 IST: We will be back in 20 minutes.
14:10 IST: That is tea. India 503 for 6. Lead Australia by 52 runs.
14:04 IST: Saha comes down the track and takes the aerial route. Four! Moves to 96.
Cheteshwara Pujara first Indian to face 500 balls in a Test innings!#IndvAus

— Mohandas Menon (@mohanstatsman) March 19, 2017
14:01 IST: Pujara has now faced 497 balls. Most by an Indian batsmen, going past Rahul Dravid.
14:00 IST: In a scenario where the hosts look to bat out the whole day, one would expect India to be ahead by more than 150 runs. Will that be enough? Only time will tell.
13:56 IST: Last 10 overs India have scored 19 runs. This is playing in the hands of Australia. The more time India bat, it gives Australia more of an opportunity to play for a draw.
13:53 IST: Pujara is playing a marathon knock but Steve O'Keefe is not far away. He has bowled 65 overs, more than anybody in the series in an innings. 
13:42 IST: Good short ball from Cummins and Saha did well to get out of the way. Hits his chest and flies off to first slip. Smith appeals but the umpire is convinced that it has come of the chest. The Australian captain opts for the review and the third umpire rules it in favour of the hosts. Now the visitors have lost both their reviews.
13:41 IST: Can't agree more on this with former India batsman Sanjay Manjrekar.
When you look at this Ind team you don't see Pujara as the fittest. Then what's this? More than 10 hours at the crease & fresh for more.

— Sanjay Manjrekar (@sanjaymanjrekar) March 19, 2017
13:34 IST: The hosts need to make a move on. With a little over four sessions left in the Test, India are in a position to dictate terms.
Almost 180 overs in the field, tired, frustrated bowlers.....best time for India to get a move on given they can't lose

— Harsha Bhogle (@bhogleharsha) March 19, 2017
13:30 IST: Pujara and Saha have stitched together a partnership of 150 runs so far.
13:29 IST: India 478 for 6. Lead by 27 runs.
13:22 IST: Cheteshwar Pujara has now faced more balls than anybody else at home for India, going past VVS Laxman who faced 452 balls against Australia during his marathon knock of 281 in 2001 at Eden Gardens.
13:18 IST: Lights are on here in Ranchi because of the overcast conditions.
13:10 IST: Every now and then Hazlewood produces a great delivery. Goes wide of the crease and brings it back to Pujara. Goes between the bat and pad through to the keeper. Good take by Wade behind the stumps.
13:08 IST: Hazlewood strays down the leg-side and Pujara helps it away for a boundary in the fine-leg region.
13:04 IST: Australia have already bowled more overs than India in this innings. While India bowled close to 138 overs, Australia have already got in 173 overs. Some tired legs out there for the visitors.
12:55 IST: This partnership of 135 runs between Cheteshwar Pujara and Wriddhiman Saha is the best seventh wicket partnership for India against Australia.
Well done @cheteshwar1 @Wriddhipops top stuff another 100 runs stand will be really good guys. Keep going strong Guys @BCCI

— Harbhajan Turbanator (@harbhajan_singh) March 19, 2017
12:50 IST: Josh Hazlewood showing some aggression. Saha hits it back to the bowler and Hazlewood has a go at the stumps.
12:46 IST: The pitch is still playing well. India need to get a healthy lead to put the Aussies under pressure. Still a lot of time left in the Test match. But India would fancy their chances.
12:36 IST: So India take the lead. Pujara and Saha have been brilliant so far for the hosts. Both have managed to add 124 runs so far for the seventh wicket. India 452 for 6 in 166 overs.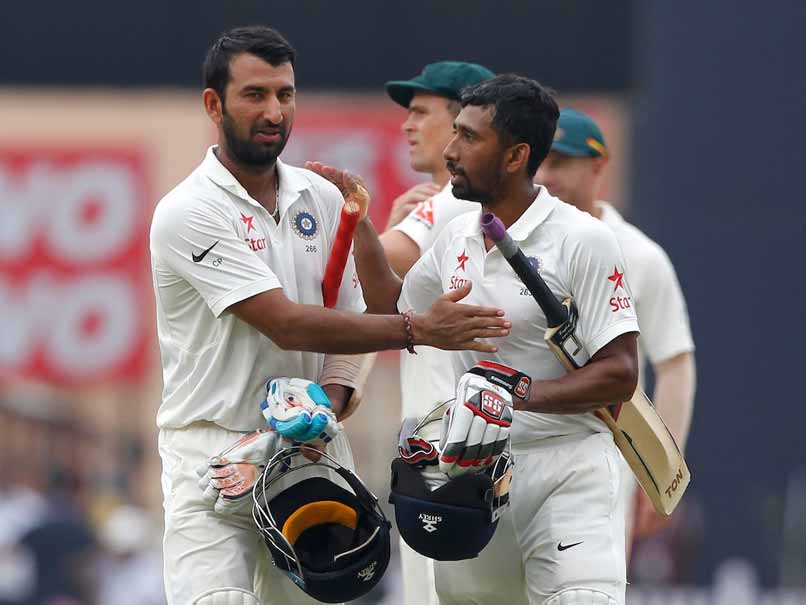 12:26 IST: India now trail by only 3 runs!
12:23 IST: A lovely boundary for Saha through the covers! 
12:17 IST: STAT ATTACK! This is the first time since that epic knock of 281 by VVS Laxman in 2001 that an Indian batsman has faced 400 deliveries or more at home in an innings. This is only the sixth time this feat has been achieved overall.
12:11 IST: And the second session of play begins!
11:31 IST: Excellent session for India. Added 75 runs and have taken India to a position where they are unlikely to lose this Test match. Do join us for the post-lunch session in about 30 minutes.
That's lunch on Day 4 and #TeamIndia are on 435/6 (Pujara 164*, Saha 59*), trail Australia (451) by 16 runs #INDvAUS pic.twitter.com/YkyjczWFVR

— BCCI (@BCCI) March 19, 2017
11:30 IST: That is lunch. India 435 for 6, trail by 16 runs.
11:28 IST: Saha goes for the sweep. Misses it altogether. Big appeal for a caught behind. Umpires gives it not out but Australia still opt for the review. Replays show Saha had missed the ball by quite some distance. The visitors lose one review.
11:21 IST: 100-run partnership between Cheteshwar Pujara and Wriddhiman Saha.
11:11 IST: Dropped! O'Keefe gets it bounce a bit as Saha goes for the cut. Gets a thick edge but Matthew Wade behind the stumps couldn't hold on to the catch.
And now a chance goes down behind the stumps off O'Keefe's bowling. Not a great session for the Aussies... #INDvAUS pic.twitter.com/n23M5BKRfI

— cricket.com.au (@CricketAus) March 19, 2017
11:06 IST: Lyon comes round the wicket. Gets it to turn a bit. Pujara lunges forward but the ball hits the front pad. Huge appeal and the umpire gives it OUT! Pujara straight away goes for the review. Replays suggest it is clearly missing leg. Ian Gould will have to reverse his decision.
The Pujara review... #INDvAUS pic.twitter.com/hAHnVnYpAd

— cricket.com.au (@CricketAus) March 19, 2017
11:00 IST: Now Saha brings up his fifty. India slowly getting close to that Australian total. Trail by 32 runs.
10:59 IST: Saha comes down the track and lofts Lyon over the in field. Don't worry about that. That's gone all the way. Six!
10:58 IST: Just when India needed it, Pujara comes to the party.
150 comes up for @cheteshwar1 #INDvAUS pic.twitter.com/p7xS96M6kp

— BCCI (@BCCI) March 19, 2017
10:51 IST: Cheteshwar Pujara brings up his 150. India 403 for 6.
10:50 IST: Very few will disagree with Michael Clarke.
First hour goes to 37 runs for no loss. Still 54 behind

— Michael Clarke (@MClarke23) March 19, 2017
10: 48 IST: Saha is batting on 38 and is past his best score against Australia which was 35 in Adelaide 2012.
10:45 IST: Saha, on the other hand, is heading towards his fifth Test half-century and his first against Australia.
10:39 IST: Pujara has crossed the 150-run mark four times in Tests, twice out of which he went on to score a double hundred. This means his conversion rate is 50 percent. But will he able to do it today, considering India only has four wickets in hand?
10:37 IST: Pujara is also three short of yet another 150 in Test cricket
10:34 IST: Pujara and Saha have batted well to not lose a wicket in the first hour of play on Day 4
10:31 IST: India are just three short of the 400-run mark with four wickets in hand.
10:24 IST: Punched of the front foot and Pujara picks up a couple.
10:15 IST: Conditions are overcast at the moment. India would look to extend this partnership.
10:09 IST: Short ball and Pujara goes for the pull. Misses it altogether.
10:00 IST: 50-run partnership between Cheteshwar Pujara and Wriddhiman Saha.
9:50 IST: Four! Pujara rocks back and pulls it through mid-wicket.
9:47 IST: India 370 for 6. Trail by 81 runs.
9:37 IST: Four! Great response from Saha. Foot to the pitch of the ball and gets it away through the cover point region. First boundary of the day.
The Saha review #INDvAUS pic.twitter.com/cTCon5RjhU

— cricket.com.au (@CricketAus) March 19, 2017
9:36 IST: Great review by Saha. The ball is clearly missing the leg-stump. No damage done as the umpire will have to change his decision.
9:35 IST: Rapped on the pads and a huge appeal for leg before. The umpire raises the finger. Saha opts for the review.
9:33 IST: Pujara scampers through for a single off the first ball. India are away on Day 4.
9:32 IST: So Steve O'Keefe to start things off on Day 4 for Australia. Pujara to take strike.
9:32 IST: Virat Kohli talking with former India captain Ravi Shastri.
Some pre-start talk between @RaviShastriOfc and @imVkohli #INDvAUS pic.twitter.com/mTrTFQX4KC

— BCCI (@BCCI) March 19, 2017
9:30 IST: Important for India that Jadeja gets some runs today.
The @imjadeja willow flourish #INDvAUS #TeamIndia @Paytm Test cricket pic.twitter.com/RHQ9lBMLmx

— BCCI (@BCCI) March 19, 2017
9:28 IST: Team India in a huddle before the start of day's play.
Day 4! #TeamIndia #INDvAUS @Paytm Test cricket pic.twitter.com/mIlMCum1Qt

— BCCI (@BCCI) March 19, 2017
9:27 IST: A closer look at the pitch on Day 4.
The pitch getting some attendance this morning #INDvAUS @Paytm Test cricket pic.twitter.com/XkdXee6gIM

— BCCI (@BCCI) March 19, 2017
9: 25 IST: Australia on the other hand would look to pick up the last four wickets at the earliest and get a healthy lead. Batting fourth would not be easy for India.
9:22 IST: India would look to get as close to the Australian total as possible. Cheteshwar Pujara is still there for India. Wriddhiman Saha giving him good company.
9:22 IST: Hello and welcome to the coverage of the fourth day's play.
India resumed the day at 120/1 with Murali Vijay and Cheteshwar Pujara at the crease. Vijay and Pujara batted really well in the morning session to add 102 runs for the second wicket with the former scoring his 15th half-century in Tests. Pujara continued his onslaught to bring up his half-century and then his 11th Test hundred but kept running out of partners.
Kohli (6), Ajinkya Rahane (14), Karun Nair (23) and Ravichandran Ashwin (3) all departed cheaply after getting starts and it was left to Pujara to handle the Indian innings from the other end.
Kohli, who turned out to bat at his regular No.4 spot laying to rest any injury concerns, could only last 23 balls before edging a catch to his opposite number Steve Smith at second slip.