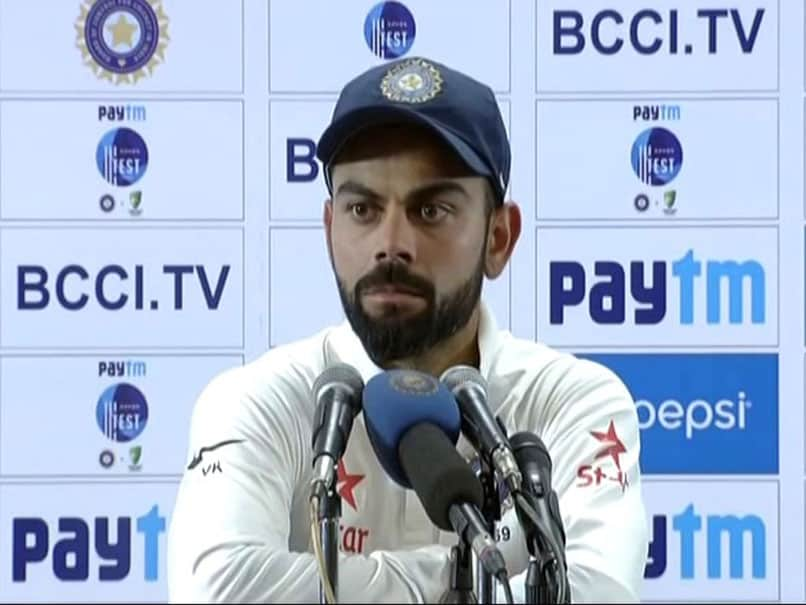 Virat Kohli took the DRS battle off the field
© NDTV
Virat Kohli is back in his elements and that invariably means more fireworks from the mercurial Indian captain. After having taken on Australian skipper Steve Smith on the field for trying to get references from the dressing room before going for the Decision Review System (DRS), Kohli continued with his tirade after the match, stopping just short of calling Smith a cheat in the post-match press conference."We have been inconsistent with the DRS but we take our decisions on the field, we don't ask for confirmation from the dressing room," Kohli sarcastically let fly after India's 75-run win in the 2nd Test at the M Chinnaswamy Stadium in Bengaluru on Tuesday.
"I have seen it twice while batting. I have seen their players looking upstairs (dressing room). I told the umpires, this had to stop. I don't want to mention the word but it falls in that bracket. I would never do something like that on the cricket field," the skipper added.
But he didn't actually use the word. Asked if he was accusing the Australian team of cheating, Kohli retorted, "I have not said that either."
Smith was trapped LBW by pacer Umesh Yadav and having already blown a DRS call, involving David Warner, the Australians were in a fix on whether to go for another referral.
Smith didn't get much help from non-striker Peter Handscomb about whether he should go for the DRS, so he turned to the dressing room and asked them
Umpire Nigel Llong intervened immediately, but wasn't as quick as Virat Kohli, who really took Smith to task as the latter left the ground.
Rules pertaining to the usage of DRS clearly state that "signals from dressing room must not be given".
In the post-match press conference, Smith sought to douse the fire, calling his actions a "brain fade" and something he shouldn't have done.
But Kohli was in no mood to relent and claimed that this was not the first time the Australians had sought dressing room instructions on DRS calls.
"I can only say, if it happens more than twice, it's not brain fade," he said.
(With inputs from PTI)