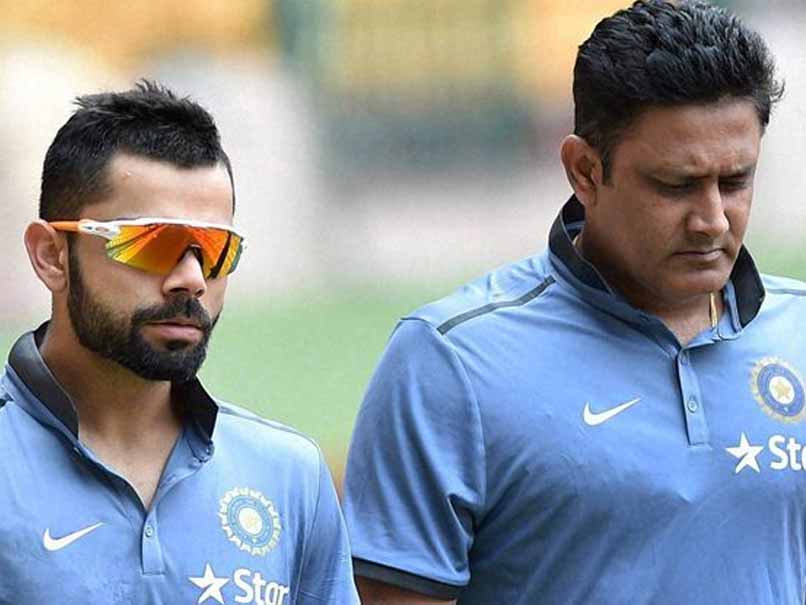 Anil Kumble reckons India are ready for any kind of challenge in the Test series
© PTI
Knowing that Australia would come hard at the Indian team at the start of the four-match Test series, India coach Anil Kumble said that the hosts would treat the series just like any other, without attaching any special significance to it. India had decimated the Aussies 4-0 in their earlier visit to this country four years ago and Kumble said that they have a plan in place for every other Aussie player in the upcoming series with the first Test match starting on February 23 at Pune.
"We respect every opposition. We spoke about this even before the season started with New Zealand. England was tougher. We all know the Australian team. They are really professional, but I would like to treat them as any other team," Kumble said.
"I don't think we need to attach any other significance to this series other than what we need to do to tick all those boxes we have been doing over last six to eight months.
"They are a good side, have some good batters and bowlers. The approach they tend to take is to be aggressive. We are aware of it and we will put together strategies in place to counter that," he added.
The 46-year-old said that his team is up and ready for any kind of challenge that may come their way and is focussed on things that are in their control rather than worrying about the pitch or the conditions that lie ahead of the first Test match.
India had come out of difficult situations in the past in the current home season and the former leg-spinner lamented on the fact that this team is well prepared for anything ahead of them.
"If you look back at the nine Tests that we've played at home, each one has its own challenges. We've played on some new venues, first Test match. We've played at venues where Test cricket hasn't been played before. So in that sense this team is capable of adjusting and adapting to whatever challenges that may come up. Really satisfied with the way things have gone," Kumble said.
"On the last day of the Test match in Chennai, I don't think many gave India a chance to win the Test, let alone after England scored almost 500 runs in the first innings. Even in Mumbai it was a similar case, where we lost the toss and they put 400 runs and we won by an innings. That's the beauty about this team.
"Even in Kolkata where we played New Zealand, it was in very different conditions where the seamers came into the picture. We had answers to all those questions. That's what you want from a champion team and that's exactly what we're trying to build towards and not really worry about the pitch or conditions," said India's highest Test wicket-taker.
Kumble said that the team is now experienced enough to recognise the key moments of the match and have done well in the past precisely because of that reason.
"To recognise the key moments, you need experience and we have it. We have won the key moments in the past few Tests. The team knows which are the key moments, the role of captain (Virat Kohli) is important and he has led from the front," he said.
(With PTI Inputs)