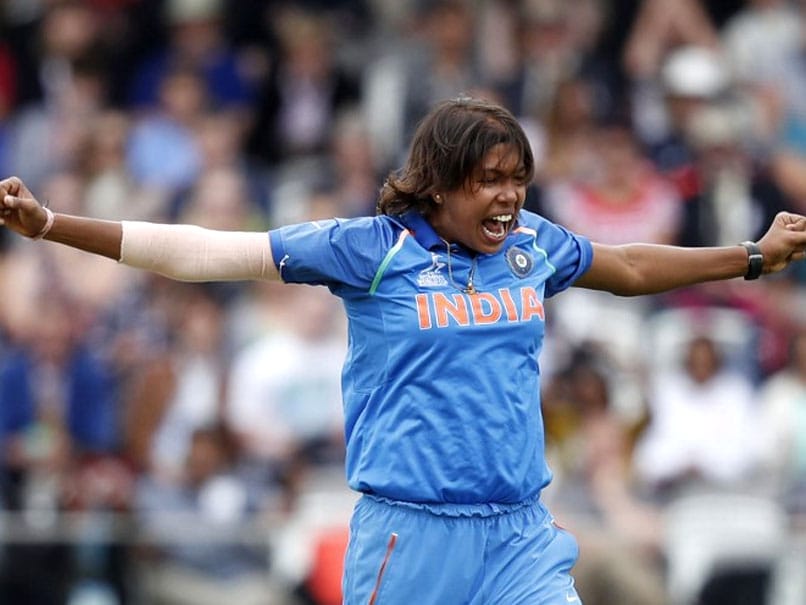 Jhulan Goswami returned with figures of 3 for 23 in the World Cup final
© AFP
The Indian women's team's fast bowling spearhead, Jhulan Goswami, who might well have played her last World Cup match at Lord's on Sunday, reckoned that this was the best cricket that India had ever played at that level. Her figures of 3 for 23 were the best by an Indian in the final that helped the visitors restrict England to a modest total. Talking exclusively to NDTV, Jhulan said, "This is the best cricket we have ever played at a World Cup. We didn't think that we would reach the final. We had all decided that this time we would do well and go. This was very important for women's cricket.
"We had decided that we would win the Cup. Unfortunately, that didn't happen. But we are happy we were able to motivate girls in India. We knew women's cricket will get recognition if a dhamaka happened. There can be no bigger dhamaka than this."
Jhulan was India's most experienced bowler in the World Cup but she had a tough time with the ball in the first couple of matches. With wickets not coming her way, India missed that firepower early on in the tournament but she worked her way back to rhythm in the business end of the tournament.
"I kept learning through the World Cup. First two matches I was wicketless. I talked to the team coach. Why the best performance is not coming? So we got back to basics. Net practice became match practice. Thought of each Indian player as an opposition player in the nets and tried to make a plan for each opposition player and executed it in the nets," Jhulan revealed.
While the 34-year-old seamer is not getting younger day by day but her experience will be of immense value to the younger members of the team. With the next World Cup four years away, Jhulan in all likelihood will not be a part of it but she doesn't have any plans of hanging up her boots.
"Not retiring. Not thinking of retiring. Thinking of playing as long as I can. The atmosphere of this team is the best I have ever seen in my entire career. This platform is the biggest and the learning has been so hard.
"This has been the best learning experience for all of us. We didn't keep our nerves at the crucial time," added Jhulan.
India won five out of their seven matches in the group stages and got the better of Australia in the semi-finals. Talking about their inspiring performance Jhulan said, "No idea how many girls we have inspired. But me and Mithali have spoken about how important it is to perform at the World Cup stage because recognition will come only then.
"In India, the World Cup revolution happened in 1983, then in 2007 after winning the T20 World Cup. So, this was important to motivate young generation to make them play professionally but still this is the best time for women's cricket," she added.