Story Progress
Back to home
Lewis Hamilton Sad, Not Surprised by Nico Rosberg's Retirement
Nico Rosberg defeated Mercedes teammate Lewis Hamilton in the 2016 Formula 1 drivers' title race.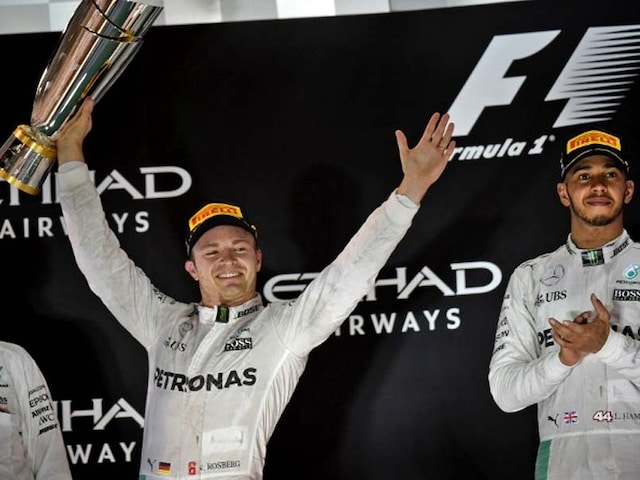 Nico Rosberg won the 2016 Formula 1 World Championship from Lewis Hamilton on Sunday.
© AFP
Highlights
Nico Rosberg announced his retirement from F1 on Friday

He won the 2016 F1 World Championship

He has been racing with Mercedes since 2010
Vienna:
Lewis Hamilton says he is "sad but not surprised" at Nico Rosberg's sudden decision to quit Formula One.
Rosberg stunned motor sport when announcing his retirement on Friday, five days after finally claiming his maiden world title.
Hamilton and Rosberg's careers have developed in tandem, from the go-kart circuits of their teenage years to F1 and the dominant Mercedes team.
And while Rosberg's revelation stunned F1 fans, his friend and fierce rival was unfazed by the news.
"I'm probably one of the only people that it was not a surprise to, but that's because I've known him for a long time," Hamilton told autosport.com in Vienna at F1's annual awards ceremony.
"This is the first time he's won in 18 years, hence why it was not a surprise that he decided to stop.
"But he's also got a family to focus on, having children, and Formula 1 takes so much of your time."
Three-time world champion Hamilton added: "We started out when we were 13 and we'd always talked about being champions.
"When I joined this team (Mercedes) Nico was there, which was again something we talked about when we were kids.
"It's going to be very very strange, and it will be sad not to have him in the team next year. The sport will miss him, and I wish him all the best."
We said we'd be champions back then, now we both are! Congratulations Nico, you did everything a champion needed to do. Well deserved pic.twitter.com/CIFPw1K2Fq

— Lewis Hamilton (@LewisHamilton) November 30, 2016
Unlike Hamilton, Rosberg's exit caught Jean Todt, the president of motor sport's ruling body the FIA, unawares.
"I was very surprised, as I'm sure everyone is, but Nico has demonstrated across the year that he is extremely brave," the Frenchman said.
"I speak with a lot of emotion, because I knew him as a small boy.
"He was five, at the time I was head of Peugeot Motorsport and his father (former world champion Keke) was one of the drivers of the 905 Peugeot, so I had friendly links with his father, with his mother and the little boy that was there. He has had an amazing career since then."
Jamaican sprint legend Usain Bolt said he was bemused by the German's decision.
Bolt, due to retire himself next year, said from Monaco: "I can't understand. Everybody has their reasons for everything, but I really don't know.
Promoted
"I guess he felt like he has gotten what he wanted.
"I think he said he had never won a championship and that's what he wanted. If you accomplish your goal, there's no reason to stay around. That's what you wanted, you got what you want, just move on."
Topics mentioned in this article