Story Progress
Back to home
New Formula 1 World Champion Nico Rosberg Announces Shock Retirement
Nico Rosberg won the 2016 Formula 1 World Championship from Mercedes teammate Lewis Hamilton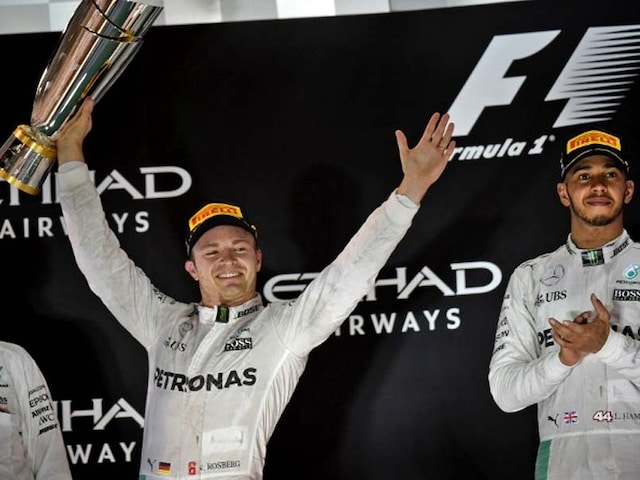 Nico Rosberg won the 2016 Formula 1 World Championship on November 27.
© AFP
Highlights
Nico Rosberg won the 2016 F1 drivers' championship

He is the son of former Formula 1 World Champion Keke Rosberg

He drove for Mercedes alongside Lewis Hamilton
Newly crowned Formula 1 World Champion Nico Rosberg announced his retirement with immediate effect, shocking the motorsport world on Friday. The Mercedes driver made the bombshell revelation in Vienna ahead of the international automobile federation (FIA) annual awards ceremony.
Rosberg won the 2016 Formula 1 World Championship after the conclusion of the Abu Dhabi Grand Prix on November 27, the season's last race.
He beat Mercedes teammate Lewis Hamilton, a three-time and defending champion, for the title.
The German is the son of former F1 drivers' champion Keke Rosberg, who clinched the title way back in 1982.
Nico and Keke are the only father-son pair to win the Formula 1 drivers' title along with Graham (1962, 1968) and Damon Hill (1996).
Going into the last race Rosberg needed to be on the podium to win the championship irrespective of where title rival Hamilton finished.
And the 31-year-old did just that, starting from second place, he finished second to clinch the prestigious honour to become only the third German driver after the legendary Michael Schumacher and Ferrari's Sebastian Vettel to earn the honour.
He not just overtook Red Bull's Max Verstappen in a critical move but also brilliantly defended against a rampant Ferrari of Vettel who eventually finished third.
He is the first reigning champion to retire from the sport since 1993 when the great Alain Prost hung his boots from his Williams seat.
"I have climbed my mountain, I am on the peak, so this feels right"@nico_rosberg confirms retirement from #F1 https://t.co/y20vc2fdwN

— Formula 1 (@F1) December 2, 2016
The new champion issued the following statement immediately after his retirement on social networking platforms. Here is the statement:
"Since 25 years in racing, it has been my dream, my 'one thing' to become Formula One World Champion. Through the hard work, the pain, the sacrifices, this has been my target.And now I've made it. I have climbed my mountain, I am on the peak, so this feels right. My strongest emotion right now is deep gratitude to everybody who supported me to make that dream happen.
"This season, I tell you, it was so damn tough. I pushed like crazy in every area after the disappointments of the last two years; they fuelled my motivation to levels I had never experienced before. And of course that had an impact on the ones I love, too - it was a whole family effort of sacrifice, putting everything behind our target. I cannot find enough words to thank my wife Vivian; she has been incredible. She understood that this year was the big one, our opportunity to do it, and created the space for me to get full recovery between every race, looking after our daughter each night, taking over when things got tough and putting our championship first.
"When I won the race in Suzuka, from the moment when the destiny of the title was in my own hands, the big pressure started and I began to think about ending my racing career if I became World Champion. On Sunday morning in Abu Dhabi, I knew that it could be my last race and that feeling cleared my head before the start. I wanted to enjoy every part of the experience, knowing it might be the last time... and then the lights went out and I had the most intense 55 laps of my life. I took my decision on Monday evening. After reflecting for a day, the first people I told were Vivian and Georg (Nolte, from Nico's management team), followed by Toto.
I have a message for you: https://t.co/XtL5AWuY4n pic.twitter.com/LGK4Xnihoq

— Nico Rosberg (@nico_rosberg) December 2, 2016
"The only thing that makes this decision in any way difficult for me is because I am putting my racing family into a tough situation. But Toto understood. He knew straight away that I was completely convinced and that reassured me. My proudest achievement in racing will always be to have won the world championship with this incredible team of people,the Silver Arrows.
"Now, I'm just here to enjoy the moment. There is time to savour the next weeks, to reflect on the season and to enjoy every experience that comes my way. After that, I will turn the next corner in my life and see what it has in store for me..."
Rosberg arrived in F1 with Williams via the Formula 3 Euro Series and winning the inaugural GP2 title in 2005. Before joining Williams, he turned down a place at Imperial College, London, to study aeronautical engineering.
Rosberg claimed his first podium at the 2008 Australian Grand Prix, sharing the moment with a victorious Hamilton who had arrived in F1 with McLaren a year earlier.
In 2010, he moved to the rebranded Mercedes team created by the German manufacturer's takeover of the 2009 champions Brawn.
He recorded consistent finishes as team-mate to returning Michael Schumacher before the seven-time champion's final retirement and the arrival, in 2013, of Hamilton.
.@MercedesAMGF1 boss Toto Wolff pays tribute to Nico Rosberg after the reigning world champion announced his retirement from #F1 pic.twitter.com/y3J0zryNYu

— Formula 1 (@F1) December 2, 2016
Their partnership ignited the team's spell of dominance. Though Hamilton beat him to be champion in 2014 and 2015, the methodical Rosberg finally took the crown in 2016.
Rosberg takes his leave of Formula One with 23 race wins and 30 pole positions.
Promoted
He is now relinquishing life in the fast lane to spend time with his wife, his childhood sweetheart Vivian Sibold with whom he has a daughter, Alaia, born in August last year.
(With inputs from AFP)
Topics mentioned in this article