Story Progress
Back to home
Yuvraj Singh Pays Tribute To MS Dhoni As Captain, Shares Video Highlighting Friendship
Yuvraj Singh shares a video about his great friendship with the former Indian captain MS Dhoni and also asks him questions related to his journey as skipper. Dhoni, as usual, answers with poise.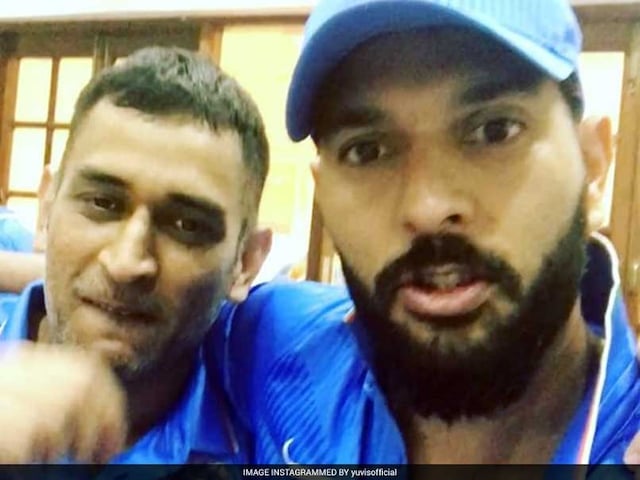 Yuvraj Singh shared a video on Instagram and Twitter with MS Dhoni with hands around his shoulder.
© Yuvraj Singh Instagram
Highlights
Yuvraj Singh shared a video on Instagram and Twitter

Both of them asked questions from each other

Yuvraj scored 56, MS Dhoni scored 68* against England for India A on Tues
Whatever allegedly bitter relations people may think Yuvraj Singh and MS Dhoni share, the video posted by the southpaw after the India A vs England match on Tuesday was an attempt towards putting an end to all the speculations and rumours. It certainly gives an impression of a great friendship between the two big hitters of Indian cricket. Yuvraj Singh posted the video with hands around MS Dhoni's shoulder on Instagram and Twitter with a message, "Well done @msdhoni on your career as captain ! 3 major wins 2 w cups, time to unleash the old dhoni"
Both credited one another for contributions in their cricketing journey and were quite upbeat about what they will achieve in the times to come. Yuvraj shared about his great friendship with the former Indian captain and even asked questions related to his cricketing journey as captain, to which Dhoni, as usual, answered with his usual poise. Yuvraj also credited Dhoni for the success of the Indian team.
The video starts with Yuvraj asking MS Dhoni about his journey as captain of the Indian cricket team, to which Dhoni replied by saying, "The journey has been good, fantastic. It's good to have the players like you, the job becomes much more easier. Enjoyed my 10 years and hopefully I enjoy what more I have."
Yuvi says, "He was the best captain ever, I would like to tell you that and it's been amazing playing under you, winning three big championships - winning the World Cup and being the No.1 Test team."
Dhoni cuts him short and says, "Thanks to you, I witnessed the 6 sixes at the best seat." Yuvi replied, "Thanks mate! Thanks for giving me the opportunity to slog as always."
Yuvraj then asks, "Now, since you are not the captain, are you going to hit more sixes?"
Dhoni replies, "Let's see, if they bowl in my areas, the right areas and the situation permits, I will look to hit sixes."
Promoted
India A lost the game by three wickets to England, but Dhoni and Yuvraj made a valuable contributions, scoring 68 not out (40 balls) and 56 (48 balls) respectively.
Yuvraj and Dhoni have been impeccable in the cricketing journey together over the last decade and the pair helped India win many games from difficult positions. These two were at the crease when India lifted the 50-over World Cup in Mumbai in 2011, after 28 years.
 
Topics mentioned in this article